Flossophy owner Danielle McIver is kept up at night with ideas for unique sweet treats for her specialty candy business.
Flossophy is a candy shop in Peterborough's East City that specializes in hand-spun cotton candy. Their signature candy floss menu, which is continually growing, has over 35 rotating flavours. Flossophy also offers gourmet popcorn, homemade chocolate, soft-serve ice cream, and a candy collection featuring custom 'build a bag' candy packages.
"The ideas are endless," Danielle tells kawarthaNOW. "I've always been inspired by the different, rare, and unique types of candies and desserts."
Advertisement - story continues below
"When I was a kid, it was always cotton candy. As I got older, I found that cotton candy became the stuff you buy at the dollar store and grocery store. It lost its appeal to me, and I thought, 'I wonder if I could do something to bring that back?'"
Danielle was ready to run with the idea in March 2020, right when the COVID-19 pandemic hit. She set aside her initial idea for a unique candy shop and instead started Flossophy as a home-based business that just offered specialty candy floss.
After a year of operating through online orders, Flossophy was doing so well that Danielle decided to open a storefront in East City and go ahead with all aspects of the full-blown confectionery store she initially had in mind. Flossophy opened at 75 Hunter Street East in Peterborough this past June.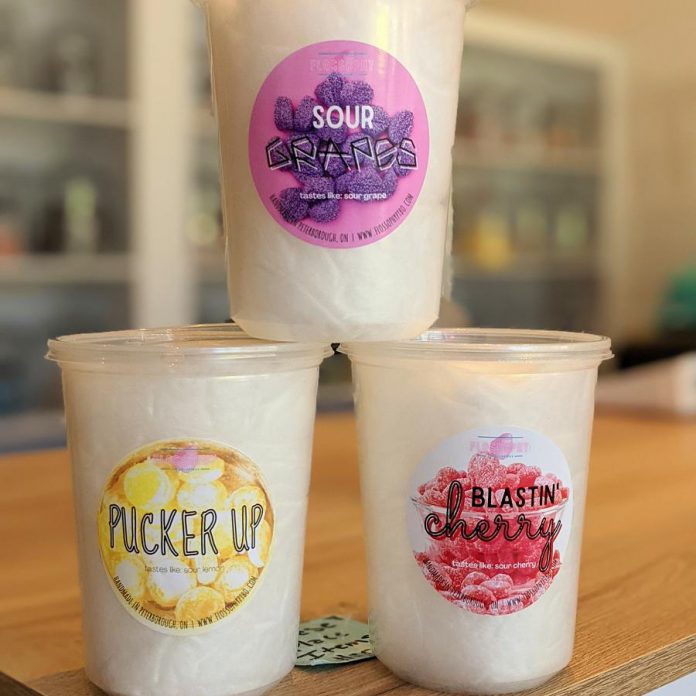 "I happened to find a unique place that I thought was the perfect location for it," Danielle says. "I love East City and that was the deciding factor. I also live in East City, so it seemed like a great fit."
When creating the Flossophy store, Danielle was inspired by shops in Los Angeles that go above and beyond to make their retail space more exciting than just what they are selling. The Flossophy store has an aesthetically fun cotton-candy theme, with a selfie wall near the entrance.
"A huge part of it is making sure people feel like they're coming into something they can have a bit of fun in," Danielle explains. "It's not just a place where you can buy some candy — it's also a place where you can take a cute shot with your friends."
Advertisement - story continues below
The unique and special vibe of the Flossophy store complements the products you will find within it. Danielle says her brand is all about offering as much hand-made and hand-curated product as possible.
"Even with the product that we have on the shelf, like our gummies, we try to find the rarest, most unique kinds of candies, and we curate them into packages," Danielle says. "We are careful to pick items that we can put our touch on. Even though our ice-cream whips are using Central Smith vanilla, we're whipping down the flavour and making it very different."
For Flossophy's signature cotton candy, Danielle makes the sugars from scratch with special flavourings and colours to bring customers unique cotton candy flavours such as mango, cookies and cream, and even dill pickle.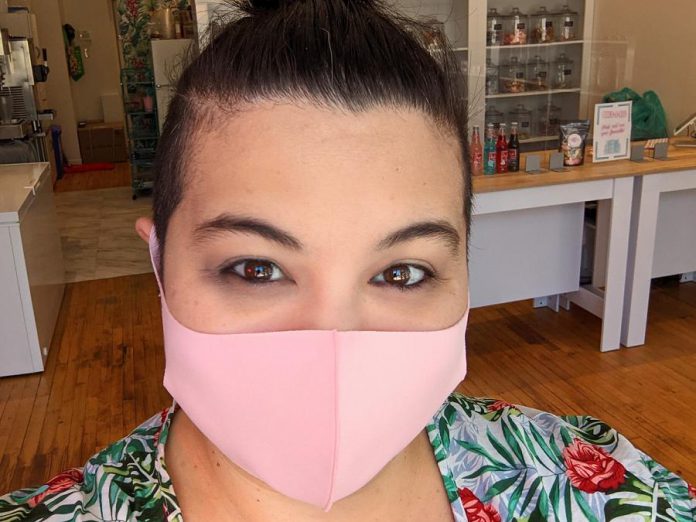 According to Danielle, her stranger candy floss flavours — like the aforementioned dill pickle as well as mac and cheese and jalapeño — were originally intended to be novelty items but have since garnered a significant number of genuine fans.
"The one that has blown my expectations is the dill pickle," Danielle says. "That one has gone beyond novelty, and people will come in repetitively to buy it specifically. That blew me away a bit."
Flossophy's cotton candy is hand-spun, which makes a world of difference in quality according to Danielle. Although it takes far longer to hand-spin cotton candy, she notes that keeping up the quality of her product is worth it.
Advertisement - story continues below
Danielle says customer experience and satisfaction are paramount for her. Before opening Flossophy, she had a 22-year career as a veterinary technician, where she worked mainly in management and consulting. Danielle says her most significant take-away from her previous career is customer relations.
"My years of customer experience management have translated into delivering an excellent customer experience," she notes.
Although Danielle is not a first-time entrepreneur, having previously run an events business related to dogs, Flossophy is her first venture into food retail and launching during the pandemic presented a unique challenge.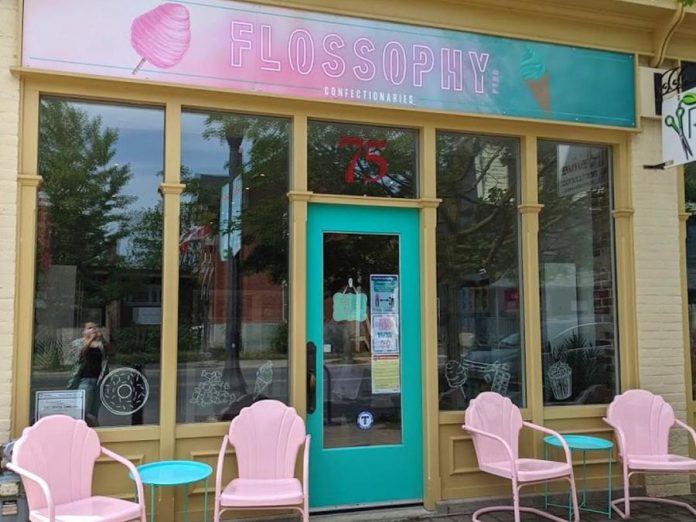 "I think the biggest thing has been learning what you typically do as a restaurant-style business versus what you do during COVID," Danielle explains. "I never had a pre-COVID. For me, opening up was listening to all the rules and talking with the health unit."
Currently, Flossophy has a capacity limit of six customers in the store at a time. They sanitize all touch points often and control flow inside the space.
In addition, customers can still make Flossophy orders online for pickup and local delivery. Danielle is looking into offering nationwide shipping but first has to figure out how to successfully ship cotton candy, which is a temperamental product.
Advertisement - story continues below
According to Danielle, cotton candy doesn't like heat, humidity, or vibration, so shipping the product requires temperature control and tight packing. She's doing a lot of research to ensure the cotton candy arrives in the same condition it left the store.
Flossophy customers can trust that, as Danielle's ideas continue to flow, there will always be something new coming to the confectionery shop.
Most recently, Danielle launched a line of candy apples, ranging from plain caramel to deluxe flavours including smores, butterfinger, oreo, cotton candy, chocolate pretzel, lucky charms, and more.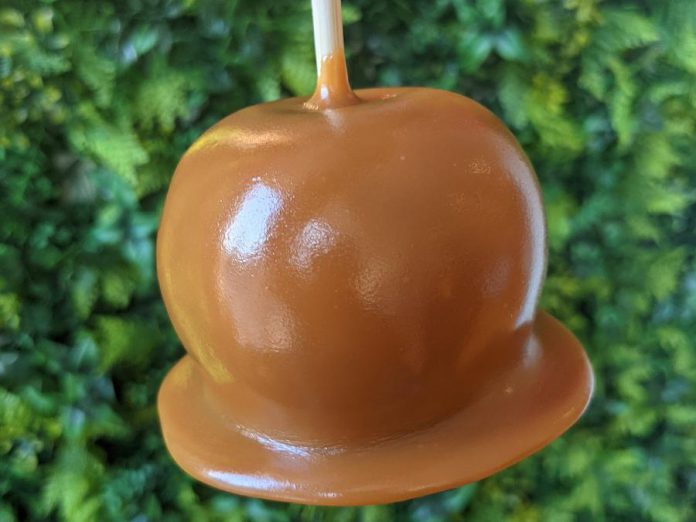 According to Danielle, candy apples are only one of the many exciting treats coming to the shop this fall. Flossophy has also begin to introduce monthly themes. Each month, all Flossophy products will be themed around a different movie, TV show, or event. In September, the theme is Schitt's Creek.
Danielle says this is one of the many ways Flossophy will grow and introduce new products over the next several years.
"In two and a half short months, we've already introduced so many new products to the store, and I'd like to keep growing with that," Danielle says. "The ideas are absolutely endless. I stay up at night thinking about it."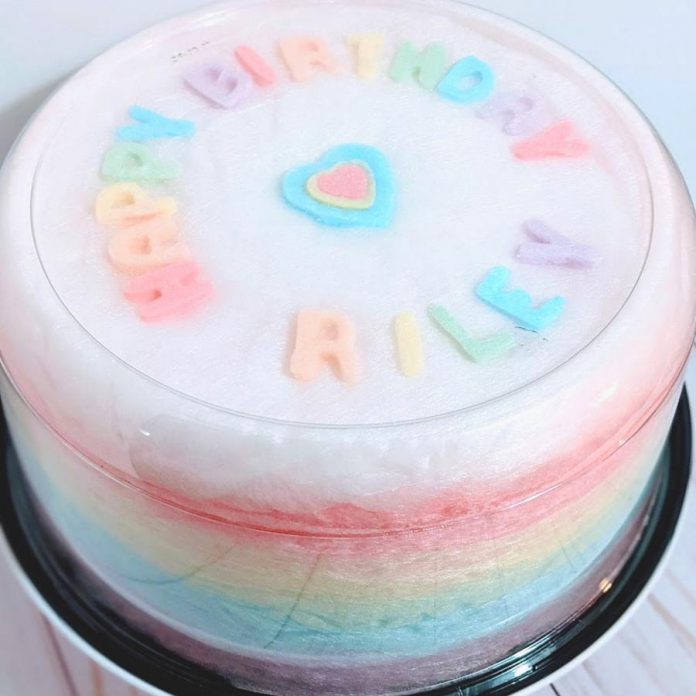 Flossophy also takes orders for party favours and custom cotton candy cakes. Danielle asks the community to keep her small business in mind when looking for unique sweet treats for events or birthday parties.
"Like any small business, remember that we're here," she asks. "Working with a small company gives you a different experience. We're all about catering to you to make sure you've got the best end product."
"The support I've seen from the community has been quite overwhelming," she adds. "East City has been incredible. They embrace new stores and want to see them thrive and grow — because that means East City thrives and grows."
Located at 75 Hunter Street East in Peterborough, Flossophy is open from 11 a.m. to 6 p.m. Wednesday to Saturday and from noon to 4 p.m. on Sunday. To learn more about the candy shop and to place an order for pickup or delivery, visit their website at www.flossophyptbo.com. You can also follow Flossophy on Facebook and Instagram.