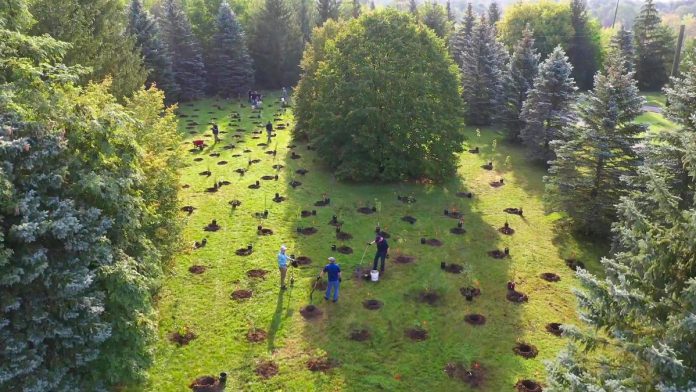 Volunteers from the Rotary Club of Peterborough planted 481 new trees along the Rotary Trail in Peterborough on Saturday (September 25).
The tree-planting initiative was sponsored by RBC Dominion Securities with a $3,000 donation through the RBC Foundation, with assistance provided by the City of Peterborough's forestry division.
The 481 new trees are in addition to the City of Peterborough's regular tree planting program, which sees about 400 trees planted annually.
Advertisement - story continues below
The trees were planted adjacent to the Rotary Centennial project, which built a new shade shelter on the trail near Hazlitt Street, and include a variety of native trees.
The tree planting supports the city's urban forest strategic plan, which aims to improve soil and water conservation, store carbon, moderate local climate by providing shade, increase wildlife habitat, and improve the land's capacity to adapt to climate change.
"Planting a tree is the simplest way to mitigate climate change," said Michael Papadacos, the city's manager of infrastructure management, in a media release.
"Donations, partnerships, and public education are all needed to protect our urban canopy," Papadacos added. "The city's urban forest has lost approximately 10 per cent of its canopy in the last five years. Planting new trees is a high priority."
Local development company the Excelsior Group contributed 100 trees to the initiative.
"Trees are the life blood of this planet we call our home," said Satish Thakkar of Excelsior Group, who noted the planting event took place on the birthday of his recently passed wife. "Planting trees in the memory of a departed loved one is the best tribute one can give and keep them alive."
VIDEO: Donations bolster the City's urban forest with new trees on Rotary Trail