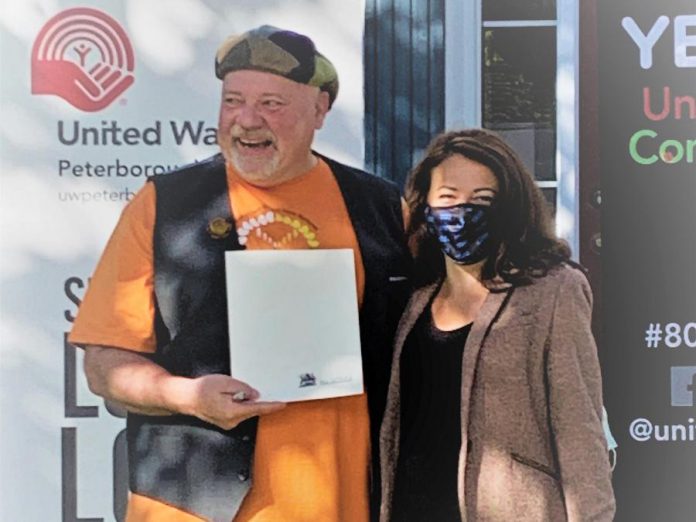 The United Way Peterborough & District launched the second leg of a three-year fundraising campaign at an event outside the organization's office in downtown Peterborough on Wednesday (September 29).
The organization aims to raise $5 million by 2023. The 2021-2022 campaign also marks the 80th year the United Way has been working with donors to address the root causes of societal issues.
"I am so pleased to be here today to make this proclamation of United Way Peterborough and District's commitment of 80 years working to support the most vulnerable in our community," said Peterborough Mayor Diane Therrien, who delivered the proclamation to commemorate the organization's contribution to the community.
Advertisement - story continues below
Dr. Marcus Harvey, a long-time member of the United Way's cabinet and board, will once again lead this year's campaign.
"This past year posed challenges that the United Way was ideally situated to address," he said. "We ensured that our partner agencies got the resources they needed to manage the COVID-19 crisis and attracted $1.8 million in new federal grants to the community."
Harvey added the United Way is "on track" to meet its $5 million goal by 2023, thanks to both individual and corporate donors.
"Many long-time donors increased their contributions, despite the pandemic," Harvey said. "Or maybe they did it to spite the pandemic."
During 2020-2021, the United Way provided more than $2.7 million in support to 51 local agencies and 103 programs. However, as that amount included one-time and emergency grants from the federal government and local foundations, so additional fundraising will be needed this year.
For Kathy Neill, executive director of John Howard Society of Peterborough, the United Way is more than just a source of funding.
"I am grateful for the strong voice that the United Way brings to our community, especially around the complex issue of local homelessness and housing," she explained. "Through their research, such as Housing is Fundamental Report, Living Wage Report, and the Point in Time Enumeration, United Way leads and engages in capacity building initiatives that create meaningful impact across our social service sector."
Advertisement - story continues below
Jim Russell, CEO of United Way Peterborough & District, drew a parallel between the pandemic and the origins of the United Way 80 years ago.
"The United Way started as the Community Chest, a response to the war effort, born out of crisis and reflecting the response recovery and resilience of that time," Russell said.
"We look back with gratitude over 80 years of building community with you. We look forward to the coming 80 years, confident in this community's resilience and certain of our ability together to respond and recover from any challenge. To our donors, workplaces, partner agencies, and volunteers — a humble and hearty thank you."
To donate to the United Way Peterborough & District, and to say up to date on events during the 2021-2022 campaign, visit www.uwpeterborough.ca.