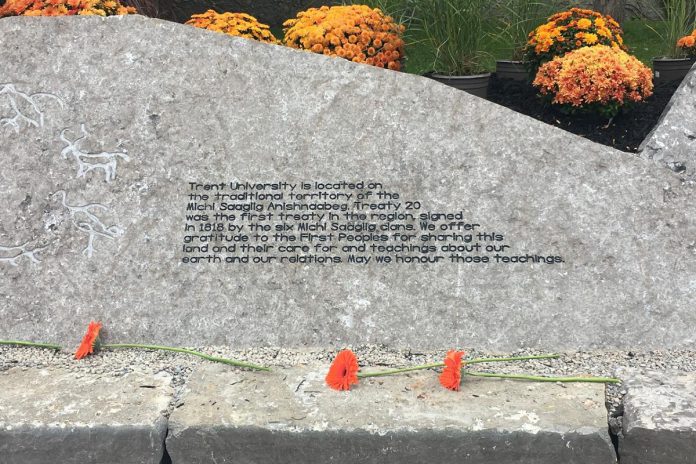 On the day now set aside for Canadians to acknowledge the intergenerational impact of Canada's residential school system on Indigenous peoples, as well as recognize the process of reconciliation, Trent University continued its long practice of being a leader in Indigenous education and awareness of longstanding issues affecting first people across the country.
On Thursday (September 30), the inaugural National Day for Truth and Reconciliation, the university unveiled a 'treaty rock' — a new installation that recognizes the local treaty lands upon which the university is located — outside the Bata Library on Trent's Symons Campus.
The installation is comprised of three limestone boulders, each bearing the symbols of the dodem (clan totem) carvings of the Treaty 20 Michi Saagiig signatories.
Advertisement - content continues below
Its engraved inscription acknowledges that Trent University is located on Michi Saagiig Anishnaabeg traditional territory, reading "Treaty 20 was the first treaty in the region, signed in 1818 by the six Michi Saagiig clans. We offer gratitude for the First Peoples for sharing this land and their care for teachings about our earth and our relations. May we honour those teachings."
For the unveiling, Trent University president Leo Groarke was joined by Curve Lake First Nation Chief Emily Whetung and Elder Doug Williams. All three spoke, with Chief Whetung referencing "the gold standard relationship" that Curve Lake First Nation and the university share.
"We are very pleased to see this installation, developed in a true partnership, come to life," said Chief Whetung, adding "The meaningful acknowledgement of our ancestral lands, and the treaty in which the university is situated, will raise awareness in all who pass through."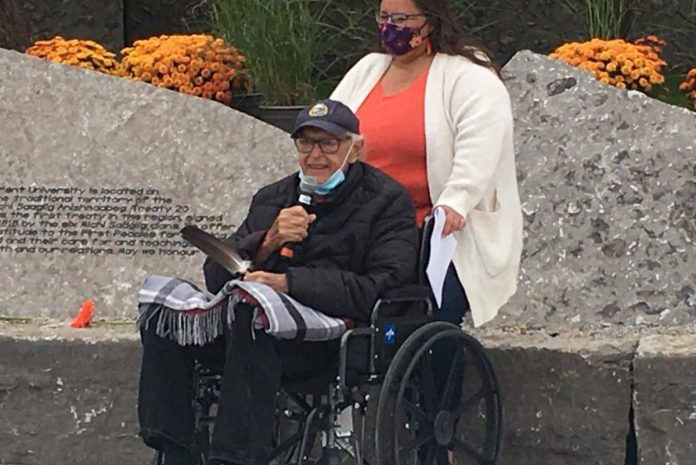 Meanwhile, Elder Williams explained the significance of the dodem carvings that represent the clans that signed the 1818 treaty, symbolized by the clan symbols of an eagle, a caribou, a crane, a fish, and a snake.
"They made it possible for you to come into this territory and settle," Elder Williams said. "I'm one of the rare Michi Saagiig left that speaks the language. There's only about 50 of us. It's good for me to see this."
But the event's most poignant remarks were made by Curve Lake First Nation member Lorenzo Whetung, who closed out the event with a prayer addressed to The Creator.
Advertisement - content continues below
"Thank you for the cold to remind us that life isn't always comfortable and that it was never comfortable for the people at our residential schools," he said.
"The chill that we feel now is nothing compared to the chill that was felt by the children at our residential schools. Thank you for bringing a little bit of that chill to us today so that we might use it to fuel the questions in our mind, to fuel the answers in our minds, and bring us together so that we can do something when we leave here."
Julie Davis, Trent's vice-president of external relations and development, also spoke to the day's broader significance.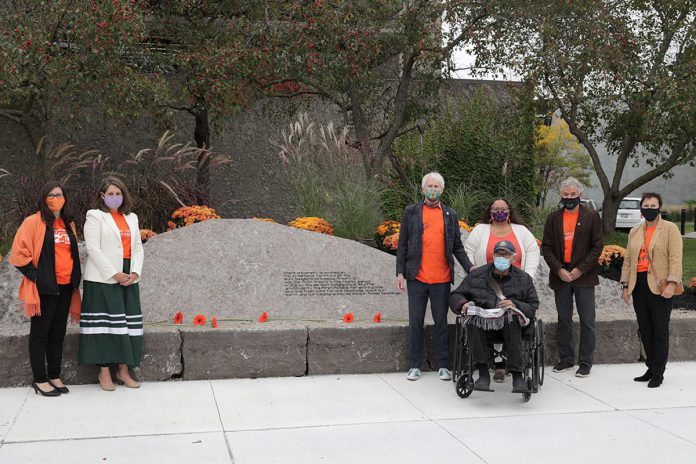 "Perhaps, like me, you're unsure of what emotions to bring with you today," she said. "Sorrow for the lives, language, and land that has been lost. Maybe anger for the stripping away of culture and children from their families. Perhaps you feel determination to have this be the beginning of a path we're all walking on together with a stronger understanding of the truth."
"And perhaps you feel hope looking around here at the young people, Indigenous and non-Indigenous, who have come here with a fierce determination to make this a country where all of the voices are heard."
The unveiling drew a large crowd of students, most wearing orange t-shirt. September 30th is also Orange Shirt Day, a legacy of the St. Joseph Mission residential school commemoration event held in the May 2013 in Williams Lake, BC.
Advertisement - content continues below
Orange Shirt Day grew out of the experience of Phyllis (Jack) Webstad who, as a six-year-old child in 1973, had her new orange shirt — a gift from her grandmother — taken from her on her first day at the mission. The orange shirt, accompanied by the phrase "Every Child Matters", has become a symbol of Canada's efforts to strip Indigenous peoples of their language, culture, and heritage, largely through the residential school system.
Meanwhile, a similar ceremony was held Thursday at Trent University's Durham campus in Oshawa that saw the unveiling of a treaty wall in the campus' atrium. It features original signatory documents and pre-Confederation treaty map.
National Day for Truth and Reconciliation became a federal statutory holiday on June 5 when legislative amendments made by Parliament received Royal Assent. It will be marked every September 30th moving forward as a day that "honours the lost children and survivors of residential schools, their families and their communities."