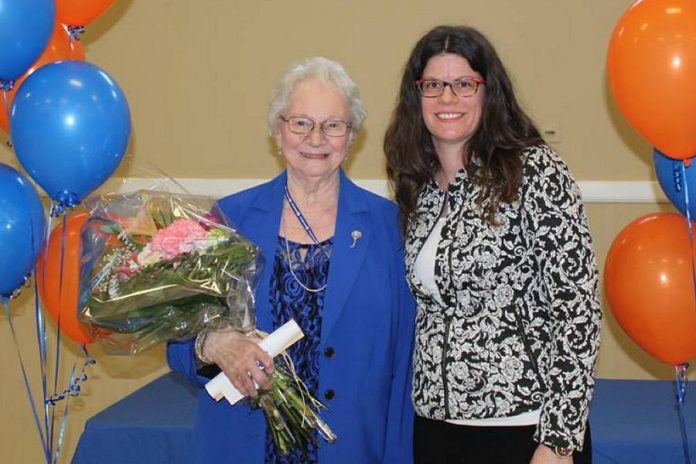 A retired nurse from Lindsay is one of 15 recipients of the Ontario government's Senior Achievement Awards.
The awards, which recognize people for significant contributions to their communities after the age of 65, were announced on Friday (October 1).
"Beverly Baxter of Lindsay, a retired registered nurse, known for her compassion and caring, continues to put her professional skills to good use in the community through her work to establish a local palliative care program and by volunteering at monthly blood pressure clinics," reads the announcement. "Beverly received a 25-year service award from the City of Kawartha Lakes Community Care in 2016."
Advertisement - story continues below
The other 14 recipients are Leo Blindenbach of Newcastle, Michele Boniface of Stratford, Joan M. Goldsmith of Oro-Medonte, Donald Hishon of Kitchener, Pat Kolb of Bolton, David A. Longstaff of Hamilton, George Lowes of Iron Bridge, Lawrence Martin of London, Darrel O'Shaughnessy of Arnprior, Dr. Sally Elizabeth Palmer of Dundas, Janice Preiss of Beeton, Thomas Shura of Kenora, Sonja Elizabeth Smith of Bracebridge, and Touran Vakilzadeh of North York.
"Seniors across the province have felt most directly the impacts of the COVID-19 pandemic and it is a delight to be able to celebrate the positive difference seniors make to our communities," says Lieutenant Governor of Ontario Elizabeth Dowdeswell in a media release. "Today's recipients are role models to Ontarians of all ages."
The recipients are being recognized by Dowdeswell and seniors and accessibility minister Raymond Cho at a virtual recognition ceremony.
Since the Ontario Senior Achievement Award was created in 1987, 660 seniors have received an award.