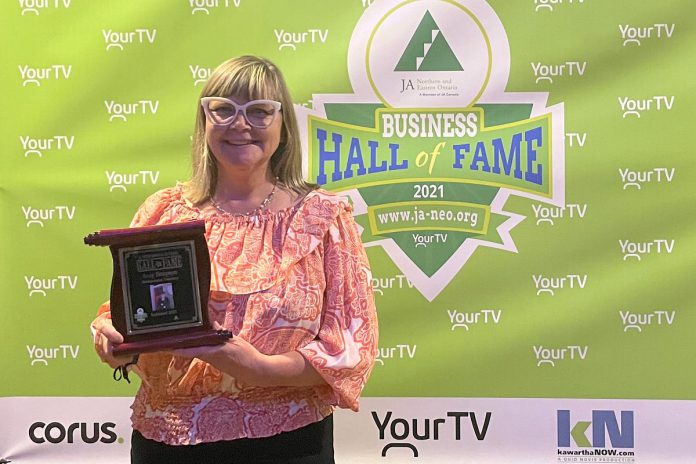 Eight more business leaders from the Peterborough area, including two posthumously, were inducted into Junior Achievement of Northern and Eastern Ontario's 6th annual Business Hall of Fame on Wednesday night (September 29).
The annual event recognizes men and women who have strengthened the local economy and community through exemplary accomplishments of vision, leadership, and commitment to excellence.
Around 150 people attended Wednesday night's ceremony, held at The Venue in downtown Peterborough, which was limited to the inductees and their family and friends because of the pandemic.
Advertisement - story continues below
Emceed by Monika Carmichael of Trent Valley Honda (the returning Business Hall of Fame chancellor and a 2018 inductee) along with Tiffany Arcari from the Greater Peterborough Chamber of Commerce, the event was livestreamed on Facebook and YouTube.
This year's inductees are:
Tony Ambler of Swish Maintenance Group of Companies and Yorkshire Valley Farms
Simone Dobson of Euphoria Wellness Spa
John Gillespie of Flying Colours Corp.
Allan Gillis of Milltronics (posthumously)
Allan Hill of Domino's Pizza
Franz Roessl of Franz's Butcher Shop & Catering
Joe Sabatino of Villa Auto Wash (posthumously)
Amy Simpson of MicroAge Peterborough–Whitby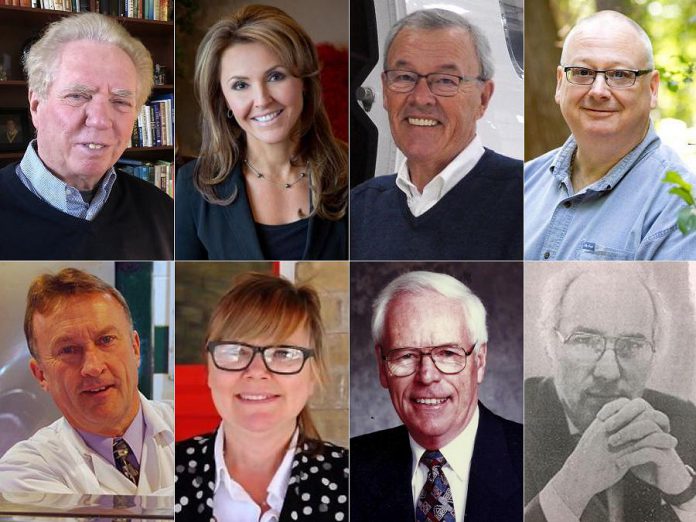 "For entrepreneurs, all I can say is you just never know what's going to happen, so do a good job and be unforgettable," said Amy Simpson when accepting her award. "If you look after your staff, and your customers, and your community, that's kind of it. The rest should fall into place."
"To me, your goal should never be the money," she added. "If you're going for the money, forget the whole thing because you're never going to be happy. That's not what it's about — it's about the people."
Before the induction ceremony, Junior Achievement of Northern and Eastern Ontario also announced the first two members of the Founders Club: Brent Perry of Alf Curtis Home Improvements Inc. and Peterborough Truss & Floor Ltd. and Terry Windrem of Park Place Financial and Peak Benefit Solutions.
Perry, whose grandparents Alf and June Curtis were inducted in 2018, presented Junior Achievement's Legacy Fund initiative with donations from both of his companies totalling $35,000. Over the past four years, Perry has donated $80,000 to the initiative, which supports skilled trades programs. Windrem also made a sizeable donation to the Legacy Fund.
VIDEO: JA 2021 Business Hall of Fame and Induction Ceremony

Advertisement - story continues below
Previous Business Hall of Fame Inductees
2020: Morris Cox; Lisa Dixon; Bill and Cora Edgar; Jim Glenn; Haig Kelly; Bill and Marion Morrison; and Sanjeev Sukumaran.
2019: John Gillis; Michael Konopaski; Dr. Ramesh Makhija; Janet McLeod; Dave Smith (of DNS Real Estate); Scott Stewart and Dana Empey; Glenn Stuart; Mike and Shelby Watt; Robert Winslow; and Scott Wood.
2018: Alf and June Curtis; Paul Bennett; John A. McColl and James H. Turner; John James (Jack) Stewart; Sally Harding; Monika Carmichael; Robert Gauvreau; Paschal McCloskey; and Carl Oake.
2017: Jack McGee; Robert Young; Joseph James (JJ) Duffus; Isadore Black; Darrell Drain; Rhonda Barnet; John Bowes; and Michael Skinner.
2016: Erica, Harry, and Meyer Cherney; Cameron Taylor; Charlotte and Robert Nicholls; Bill, Chester and Frank Fisher: Keith Brown; David Fife; James Stevenson; and Ross Smith.
kawarthaNOW is proud to be a media sponsor of the Junior Achievement of Northern and Eastern Ontario's Business Hall of Fame.