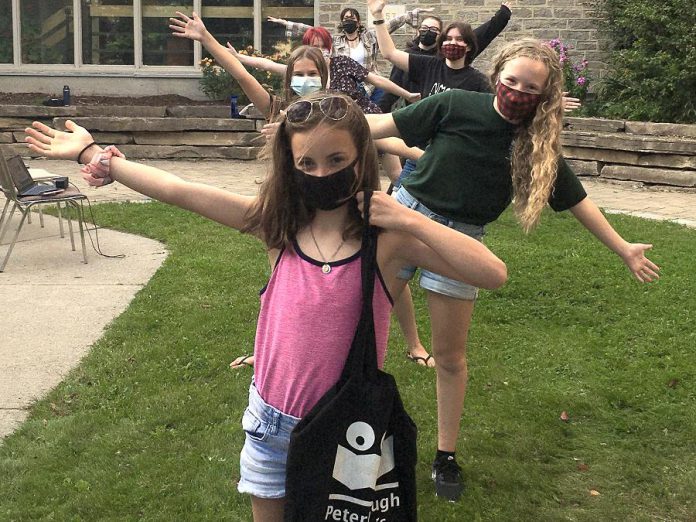 At the onset of the pandemic, the Peterborough Children's Chorus was only halfway through the 2019-2020 season when they had to halt all rehearsals and performances. Now, a year and a half later, they are celebrating the return to in-person rehearsals, beginning with a single choir for children and youth aged 12 to 18 in place of the usual concert and youth choirs.
An auditioned choir open to all children and youth aged 8 to 18, the Peterborough Children's Chorus strives for choral excellence while building community among singers. Choristers experience concerts, competitions, and opportunities to sing with other choirs, in addition to weekly rehearsals.
Although it has been a while since they've sung in the same room together, Peterborough Children's Chorus members have stayed connected online throughout the pandemic.
Julie Deck, the artistic director of Peterborough Children's Chorus, says they initially switched to an online format to keep their members engaged, rehearsing virtually as well as inviting choristers to perform for each other online.
"We opened it up so they could perform to each other," Deck recalls. "We knew they wouldn't be performing, but we wanted them to stay connected as everything else had disappeared in their world. That was pretty successful."
Last fall, the choir launched their 2020-2021 season with a structured online program. A single virtual choir rehearsed online for the year, with choristers receiving online sight-singing and music theory lessons, and produced two virtual pieces.
"We also had guests come for an inspirational piece," says Deck. "We had some speakers come in and engage our singers by talking about different styles of singing and why choir was important to them. They performed a bit of scatting or a piece of a musical they do."
There were also guest coaches from the Peterborough Pop Ensemble as well as Peterborough Children's Chorus alumni.
While the online format was suitable for keeping young singers engaged throughout the pandemic, Deck says everyone is "ready to go and excited to be back in person together."
"Over the past year and a half, it has been challenging to remain connected," she adds. "COVID-19 stopped all in-person singing opportunities."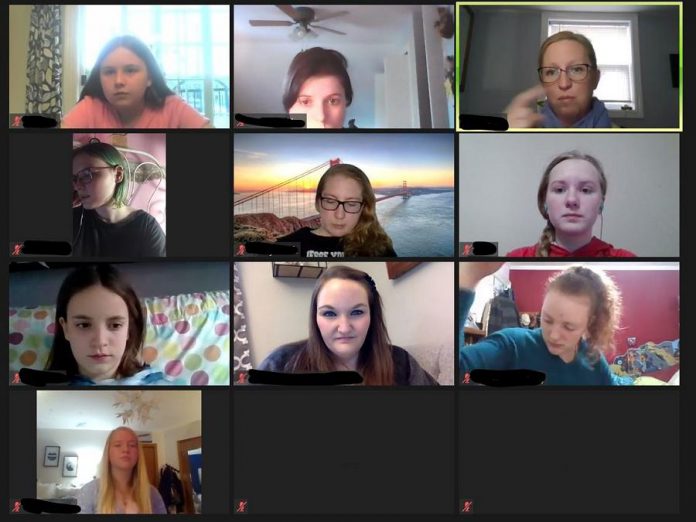 The Peterborough Children's Chorus is returning to in-person singing cautiously, beginning with a single choir for children and youth aged 12 to 18.
Deck says they look forward to bringing back the junior choir in the future, but they chose to start with this age group as they will find it easier to adapt to COVID safety protocols.
In rehearsals, every singer is required to wear a mask and maintain physical distancing. A weekly COVID screening is also mandatory, and Deck says there is an HVAC system with good air exchange in their rehearsal space.
For the youngest singers, Deck says current pandemic protocols don't allow for the best choral experience, so the Peterborough Children's Chorus has put the junior choir program on hold for the fall.
"Young children need each other to create sound and keep it going, which they can't do if they're far apart or if they're behind a mask. There's a whole bunch of stumbling blocks that we don't want to start them off with. We want to start them off successfully, so we'll wait until we can do that well."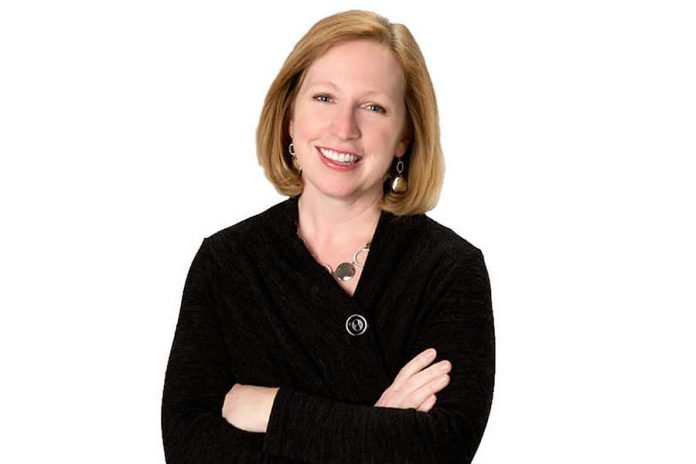 When they do bring back the junior choir, the Peterborough Children's Chorus plans to add a non-auditioned open group, with its main goal to generate children's interest and enthusiasm for singing.
In the meantime, choir auditions for children and youth aged 12 to 18 are ongoing. According to Deck, these auditions are more of a "vocal assessment" than a formal audition. Youth can sing any piece of music they like, such as "O Canada", a popular song they like, or a song they are learning in vocal lessons. Deck says the experience is casual and private, and she will sing along with children who may be extra nervous.
"They do a few vocal and rhythm exercises, just to get a sense of where their musicianship is at," Deck notes. "It's not meant to intimidate — it's meant just to find out a little bit about their voice and their interest in singing."
The choir is a great extracurricular option for children and youth looking for a musical activity that doesn't require a huge investment of money or time. Since there are no musical instruments involved, the only cost is the yearly tuition price, with a time commitment of attending one practice per week.
Singing in a chorus, Deck explains, is all about children discovering their voices.
"It's their voices and it's music generating out of their bodies," she says. "I think that's pretty cool about singing. The chorus offers that to children: to engage in that side of themselves that maybe they haven't explored."
With all the impacts of social isolation during the pandemic, especially on the mental and emotional well-being of children, Deck says the work of the Peterborough Children's Chorus is more critical than ever.
"It highlights how much it is essential to the core of our being, not just as musicians but as human beings," Deck says. "We all have a voice. We all have these beautiful vocal cords. We all get to do it together in a choir. After being apart for so long, it just reminds us of how important it is — that part of being human — in being beside someone."
VIDEO: "You've Got A Friend In Me" – Peterborough Children's Chorus

As the Peterborough Children's Chorus rebuilds after a year and a half of COVID, they need community support. You can support the choir by registering your child, spreading the word about their offerings, or by donating or sponsoring the organization.
"Community Foundations have been very supportive, the city has been supportive," Deck points out. "I don't think we've ever encountered a barrier when we've approached people and to talk about it or asked for support, whether it's hands-on support or financial support. People want to hear and see these kids grow and excel and have the opportunity to be together."
To learn more about the Peterborough Children's Chorus and to schedule an audition, you can visit the Peterborough Children's Chorus website at www.peterboroughchildrenschorus.com.
You can also follow them on Facebook and Instagram.
This story was created in partnership with the Peterborough Children's Chorus.