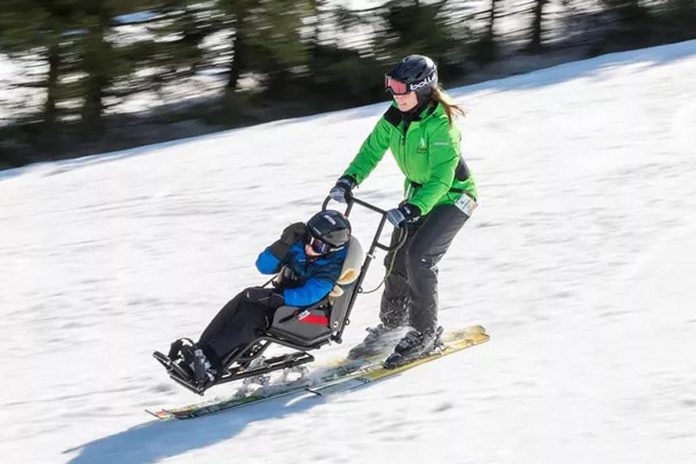 A Peterborough woman has launched a crowdfunding campaign so her nephew with cerebral palsy can participate in downhill skiing with his family this winter.
Jacyln Harris is trying to raise money to purchase a sit-ski, a moulded bucket seat suspended above a pair of skis with a shock absorber below the seat.
Harris' nephew Nico Iemma — who turns 13 this fall — has cerebral palsy, a neurological disability that appears in early childhood and affects a person's ability to move and maintain balance and posture. For the Oshawa resident, all four of his limbs are affected, requiring him to use a wheelchair.
Advertisement - story continues below
Nico is a young athlete with a special interest in boccia, a precision ball sport played by athletes with severe physical disabilities. In February, Nico was named ParaSport Ontario's junior athlete of the year in recognition of his skill at the game.
Nico also enjoys downhill skiing with his family. According to Harris, many of Nico's family have taken training to drive a sit-ski so Nico to enjoy a day out on the slopes.
Before the pandemic, Nico's family participated in a program where they had access to a sit-ski for a couple of hours a week.
VIDEo: Nico Iemma is named Parasport junior athlete of the year

However, the program did not run last year and it may not run this year either. Harris is trying to raise $9,000 so the family can purchase a sit-ski for Nico that he can continue to use for years.
Nico's parents Susan and Patrick, who also have two other young children, cannot afford to purchase the expensive piece of equipment, which costs around $6,300 in U.S. dollars.
"Caring for a child with such physical needs is pricey and Patrick and I try very hard not to let cost effect Nico's ability to be a kid and be included in all our activities," Susan writes on her Facebook page.
Advertisement - story continues below
"With a new power chair on the way and new seating in his regular chair required this fall, the ski is out of our reach," Susan adds. "We so appreciate those who are willing to help us keep active and not ever leave Nico behind even when it's a struggle."
If you'd like to help the Iemma family, you can donate at gofundme.com/f/help-nico-ski-with-his-family.