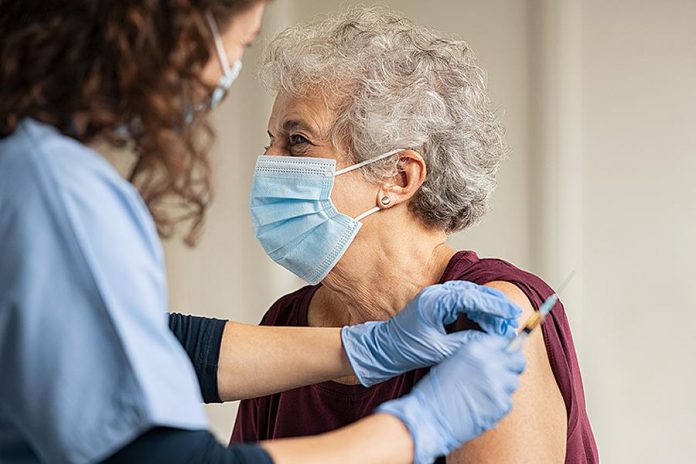 Effective Saturday (November 6), the Ontario government will be expanding eligibility for booster doses of the COVID-19 vaccine to those aged 70 or older, health care workers, and First Nation, Inuit, and Metis adults and their non-Indigenous household members, as well as people who received two doses of the AstraZeneca vaccine.
Provincial officials provided details of Ontario's booster dose rollout during a technical media briefing on Wednesday (November 3), prior to an announcement by Ontario's chief medical officer of health Dr. Kieran Moore on Wednesday afternoon.
Currently, third doses of COVID-19 vaccines are only being offered to people who are immunocompromised, at an interval of eight weeks after their second dose. More than 161,000 of the 250,000 currently eligible for third doses have received them.
Advertisement - content continues below
Beginning November 6, those eligible for a third dose can book their booster dose appointment through the government's COVID-19 vaccination portal at covid19.ontariohealth.ca or by calling the provincial vaccine contact centre at at 1-833-943-3900. between 8 a.m. and 8 p.m.
People can also book their booster dose directly through public health units that use their own booking systems or at select pharmacies. Hospital-based health care workers are encouraged to reach out to their hospital employer to get vaccinated directly through their hospital's vaccination program.
Either mRNA COVID-19 vaccine (Pfizer or Moderna) may be used as a booster dose, regardless of which COVID-19 vaccine was used for the first and second dose.
The expanded eligibility for the booster shots represents around 2.75 million people.
Officials said the government is making booster doses for those aged 70 and over a priority based on increased risk of gradual waning immunity six months after receiving their second dose and a high risk of severe illness from COVID-19.
First Nation, Inuit and Metis adults and their non-Indigenous household members are being prioritized due to increased risk of gradual waning immunity, as well as these communities having been disproportionately affected by COVID-19 in Ontario and inequities related to the social determinants of health.
Health care workers are being prioritized based on increased risk of gradual waning immunity and a higher risk of exposure to COVID-19 due to their work environments. which could result in an increased risk of transmission to vulnerable populations.
Advertisement - content continues below
The list of health care workers eligible for a booster dose is broad, including all hospital and acute care staff, all patient-facing health care workers and staff, medical first responders, health care workers and essential caregivers in congregate settings, and home and community health care workers providing in-person care.
The government also announced it would be proceeding with first and second doses of the Pfizer vaccine for children aged 5 to 11 beginning in November, pending approval of COVID-19 vaccines by Health Canada (expected during November).
The vaccine will be delivered through mass immunization clinics, school-based clinics, pharmacies, and more. Parental or caregiver consent will be required for the Pfizer vaccine for children, which will at a lower dose than the adult version.
Government officials said the province will focus on expanded third doses until the vaccine for 5 to 11 year olds is approved and available in Ontario, at which point the priority will shift to vaccinating that age group with first doses.
Officials said the province is also planning to gradually expand eligibility for booster doses to all Ontarians sometime next year, with timing for the rollout to the general public to be based on clinical recommendations.