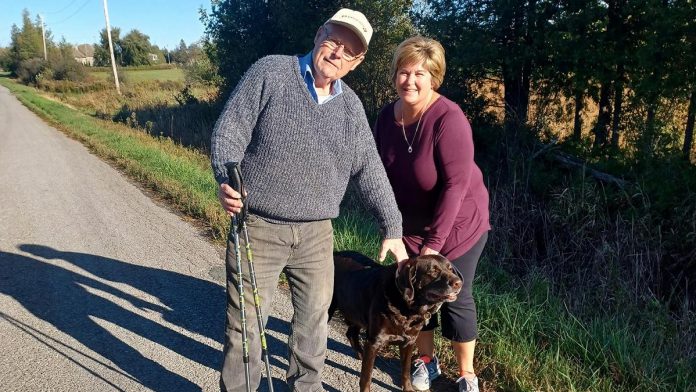 When Dave Graham was diagnosed with colon cancer in late March 2020, he came to that proverbial fork in road: either wallow in self-pity while thinking endlessly of a possible tragic outcome, or take action to ensure others facing a similar trial continue to have the healthcare they need locally.
With surgery now well in his rear-view mirror, the 74-year-old Bridgenorth resident is looking very much forward as he undergoes twice-monthly chemotherapy treatments, having chosen to go the latter route by walking a very challenging 7,000 steps daily to raise money for cancer care at Peterborough Regional Health Centre (PRHC).
To date, he's logged in excess of 650,000 of his goal of 735,000 steps — an estimated 225 kilometres. More notably, since beginning his daily walks August 1, Graham has raised more than $7,500 in donations for the PRHC Foundation — an amount well in excess of his original $5,000 goal. With plans to continue his walks until early December when his chemotherapy ends, Graham has set a new goal of $10,000.
Advertisement - content continues below
Donations in his name can be made online through his PRHC Foundation fundraising page at prhcf.akaraisin.com/ui/PRHCFPersonalFundraisingPages/participant/7077596.
"When I was diagnosed, my wife and I were both in the room — we were floored," recalls Graham, noting the results of an at-home cancer screening test suggested there was a problem and a subsequent colonoscopy confirmed his cancer.
"We came home and talked about it. I've got cancer and there's nothing I can do about it, so I might as well make the best of it. I thought there's got to be something good that can come out of this. Shortly after, I came to the conclusion that I'll do this walk and we'll see what happens. I then went to the hospital and spoke to the foundation and they set up the fundraising page."
Admitting his 10 chemotherapy treatments to date "knock the energy out of you," Graham readily admits to days when he wants to "stay in bed" or "sit down and do nothing" but credits his faith with helping him stay the course. In addition, there's the selfless support of his family: his wife Liz, their daughter Leslie, and their sons Matt and Alan.
"I can't describe how proud I am of my kids that they have stepped up to support me the way they have," says Graham.
On November 13 at her Bridgenorth home, Leslie will have her head shaved while her brother Matt will shave off his "signature" handlebar moustache. That commitment has brought in close to $2,000 in pledges, yet to be added to the overall fundraising total.
Advertisement - content continues below
"My plan was to somehow put myself in a position outside my comfort zone to say 'I'm here with you,'" says Leslie.
"You can't take it away," she adds, referring to her father's cancer. "You can't fix it. You can wish and wish, and pray and pray, and hope and hope. This is a way for me to feel a little bit out of my comfort zone. I want do that for him."
Leslie admits to being "completely in awe" of her father's walking fundraiser, noting his cancer diagnosis "has given him a different determination and grit."
"I can't take the diagnosis and the fear away — what we can do is something like this," she says of her and Matt's hair-shaving fundraiser. "We're saying 'You're not alone. We're behind you and we're beside you.'"
"I'm more proud of my dad than I thought was possible," Leslie adds. "I stand behind him 100 per cent in what he's doing. He's going through chemo and wants to do 7,000 steps a day up until his final treatment. That seems unreachable, yet here he is. I'm amazed."
According to PRHC Foundation president and CEO Lesley Heighway, while she's most appreciative of the funds being committed in Graham's name, the bigger value of what he has undertaken can be found in the message it sends.
"It gives people hope and it inspires other people to consider making a difference of their own by doing something similar," says Heighway.
"As we're still navigating the pandemic, these fundraising events are more important than they have ever been for so many reasons. Yes, financially, they are extremely important for our hospital but they also galvanize people. They bring people together. He's inspiring others to think 'Wow, look at what he's doing. Maybe I could do something similar.'"
Advertisement - content continues below
Heighway stresses that all fundraisers that benefit PRHC are vital, regardless of their scope and the amount ultimately raised.
"Many times they start with a patient experience — a patient saying thank you for the great care they received," she says. "The best way that they can give back is by organizing, or getting a group together to organize, an event like this one."
"There's so much joy with many of these events though. In Dave's case, he's still going through treatment. It's a difficult time, but look at what he has already accomplished. He set an inspired goal and he's already met it. Now he has raised the bar while still going through treatment for his cancer. That's pretty miraculous."
The foundation, notes Heighway, wholly supports such community fundraisers by making staff available to provide tips, answer questions, and set up a dedicated donation webpage.
Saying she's "surprised every day" by the community's support of PRHC, Heighway says there's no such thing as a small gift, adding "All of those gifts come together to enable the great care that we have here."
"It's a huge morale boost when staff and medical professionals see what people are undertaking in the community to ensure that the next person who comes after them can have access to world-class care."
Graham is quick to credit PRHC in return, saying the doctors, nurses, and staff he has had contact with throughout his cancer journey have been "absolutely wonderful."
"I am overwhelmed," he says. "The support I have received, both in the donations and through people sending me cards or giving me a phone call, has been just phenomenal. It gives me that little extra step, that little extra encouragement, to keep on going. They all say I'm in their prayers. That's the most important thing for me."
"There have been times when my wife has had to pull me up by the bootstraps and say 'Come on, get going.' You've got cancer. It's a deadly disease. You think 'How am I going to get through this?' My faith has carried me to the point where I've never really felt panicky. I've been reasonably calm about the whole thing."
Advertisement - content continues below
Graham's daughter Leslie says every donation, no matter what denomination, "is like a shot of adrenaline for my dad. He has this undiminished appreciation for people's generosity. It's almost like a child seeing a train for the very first time."
"We have had our struggles independently and jointly, but there's always something to smile about and there's always something to laugh about. There's always something positive that you can find and hang onto. Dad taught us that. When things are super tough, or you're dealing with something really hard, address it. When things are heavy, attach a balloon to it and it's okay. That's my dad."
Looking ahead, Graham has reason to be cautiously optimistic. With his chemotherapy treatments expected to come to an end in early December, his blood work to date has come back clear and a CAT scan produced a similarly favourable result.
In the meantime, he makes no secret of his strong religious faith and how it sustains him.
"Give it all to the Lord and he'll look after it. People will say 'Yeah, sure, okay, that's wonky', but the strength that He provides so you can keep a positive attitude is as important as anything. If you let it, it will get you down so fast and then you're in big trouble."