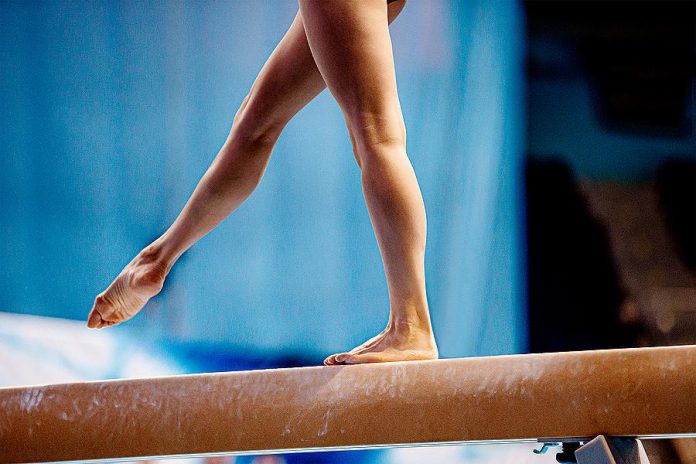 Gymnastics Ontario has now placed Marcel Rene, owner and operator of Champion Gymnastics in Peterborough, under interim suspension effective immediately.
On Monday (November 1), Rene, 71, had already received a lifetime suspension from Gymnastics Ontario — the sport's governing body in Ontario that sets operating standards and practices for member clubs — but that suspension was to take effect January 1, 2022, allowing Rene to continue his role at Champion Gymnastics.
The immediate suspension follows Rene's interviews with both kawarthaNOW and the Peterborough Examiner, in which he claimed his lifetime suspension was not the result of anything "nefarious", was "strictly a personal thing", and was a "private matter between myself and Gymnastics Ontario" that did not involve Champions Gymnastics club.
Advertisement - content continues below
In a statement about the suspension emailed to kawarthaNOW on Tuesday, Gymnastics Ontario CEO Dave Sandford stated Rene's suspension resulted "following complaints" received by the organization, but provided no details about the nature of the complaints "out of respect for the complainants."
After Rene's media interviews, Lindsay lawyer Jason Ward contacted the Peterborough Examiner at the request of his clients, Kaylie Hengg, 22, and Tonya "TJ" Kirkwood, 35, who had filed civil actions against Rene and Champion Gymnastics in November 2020 and January 2021 respectively, alleging sexual harassment in the workplace.
Ward subsequently provided kawarthaNOW with copies of the statements of claims for both women and the statements of defence from Rene, as well as the results of a code of conduct and ethics investigation conducted by an independent third party on behalf of Gymnastics Ontario.
"Kaylie Hengg and Tonya Kirkwood are equally courageous, brave and inspiring," Ward writes in an emailed statement to kawarthaNOW. "They are shocked and dumbfounded by Mr. Rene's representations to the media about himself and their lawsuit against him."
"They have sacrificed their own privacy and well being to step forward and publicly expose what happened to them and how it will forever change their lives. They did so to raise more awareness about sexual misconduct in gymnastics and elsewhere and to hopefully protect others in future."
Advertisement - content continues below
Both women were previously athletes at Champion Gymnastics and were working as coaches at the club when the harassment allegedly took place.
The women's statements of claims against Rene both allege he "engaged in prolonged and continuous sexual harassment and other improper conduct" through verbal and non-verbal conduct. Both statements include multiple allegations of inappropriate jokes, unwelcome comments of a sexual nature, and unwelcome sexual solicitations while the women were working at Champion Gymnastics.
Rene's statements of defence against both claims deny some of the allegations and admit to others, but state that each woman "was an active participant in sexual humour" and that neither "express(ed) any discomfort".
In one example from the statement of defence, "The Defendants admit that on one occasion in or around June 2020, Mr. Rene stated that he would not 'physically assault' Ms. Hengg because he viewed her as a friend, but that because he is a guy, the thought of it is 'always in the back of [his] head'."
As for the independent code of conduct and ethics investigation conducted for Gymnastics Ontario, the investigator found that inappropriate jokes and sexually charged comments took place, as did private interactions and sexual invitations, and that these constituted workplace harassment and sexual harassment that were unwelcome by both the women.
"I find that the behaviour exhibited by Marcel against Kaylie and TJ, meets the minimum threshold to constitute both workplace harassment and sexual harassment, as defined within the code," the investigator concluded.
The civil actions were settled out of court, with Rene agreeing to a lifetime suspension of membership in Gymnastics Ontario, according to Sandford.
During his interviews with media following news of the lifetime suspension, Rene did not mention the allegations or civil actions against him, telling kawarthaNOW "The only reason there's a sort of sensationalist attachment to this is I run a gymnastics club," and stating "It's not a big thing."
Advertisement - content continues below
These public comments led to Hengg and Kirkwood instructing Ward to release information about their allegations to the Peterborough Examiner.
"Neither will tolerate Mr. Rene's deliberate attempts to re-victimize them, particularly for his own benefit," Ward says in his emailed statement to kawarthaNOW. "Today no one should condone any attempt by any other to minimize, trivialize or conceal inappropriate and insidious sexual misconduct, particularly in the workplace."
"Our clients firmly believe this an attempt by Mr. Rene to manipulate the media and the public by means of declaring mistruths and falsehoods, designed to protect only himself and his business, while continually degrading, discounting and endangering those who have suffered during what is supposed to be a life-enriching experience."
Within 48 hours of the women's complaints against Rene first being published in the Peterborough Examiner, Gymnastics Ontario issued a notice of the immediate membership suspension of Marcel Rene, including a prohibition on coaching and training of athletes and contacting Champions Gymnastics' students, parents, staff, or employees.
"Effective immediately, Marcel Rene has been placed under interim suspension by Gymnastics Ontario," the notice reads. "Mr. Rene is not to have any contact with members of Gymnastics Ontario, in relation to Gymnastics Ontario matters, while the suspension is in effect."
On Friday (November 5), after this story was published, Marcel Rene provided a statement to kawarthaNOW:
"The dispute between myself and two former employees has been settled," the statement reads. "While I deny the allegations of sexual misconduct, I understand that my actions have had an unintended effect on my former employees and I regret that."
"I will be abiding by the agreement I made with Gymnastics Ontario to step away from Champions Gymnastics. I want to be clear that this matter had nothing to do with the youth who take part in the programming at Champions. The Club remains in good standing with Gymnastics Ontario and will continue to serve the community as they have for over 32 years."