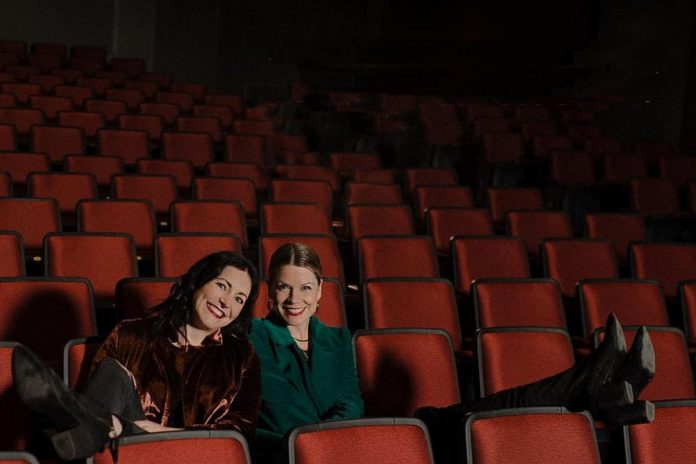 For the first time since the pandemic began, Showplace Performance Centre in downtown Peterborough is ready to welcome back audiences to the Erica Cherney Theatre in December, with new state-of-the-art seating now installed and a new schedule of upcoming performances.
Throughout the pandemic, Showplace's "Take A Seat For Act II" has been raising funds to replace the 640 worn-out seats, part of a larger capital projects fundraiser. The new seating, which has now been fully installed, is more comfortable, includes cup holders, and is also more accessible.
The refurbished theatre is an all-Canadian endeavour, with architecture by Lett Architects Inc. in Peterborough, flooring by Floortrends of Peterborough, painting by Jolley Painters of Peterborough, sconces by A.M.G Baytech of Oshawa, and the new seats by Ducharme Seating of Montreal.
Advertisement - story continues below
You'll have your first chance to experience the new seats in December, when the Erica Cherney Theatre reopens for four holiday-related performances.
On Saturday, December 11th at 7 p.m., and again on Sunday, December 12th at 2 p.m., The Verandah Society (Megan Murphy and Kate Suhr) will present their new performance, appropriately titled "Back Home for the Holidays", featuring music and stories to celebrate the season.
On Saturday, December 18th at 2 p.m., Rocklands Shows and Rubidge Retirement Residence brings Canadian fiddle champion Scott Woods' "An Old Time Country Christmas" to the main stage. The family-style show features your favourite Christmas carols along with fun fiddle tunes, trick fiddling, step dancing, humour, and more. Joining Woods on stage in the Scott Woods Band will be singer and instrumentalist Kendra Norris, 17-year-old singer, drummer and Canadian step-dance champion Leo Stock, and special guest country singer and yodeller Naomi Bristow.
VIDEO: The Scott Woods Band (2018)

On Sunday, December 19th at 2 p.m., A Cozy Christmas returns to the Erica Cherney Theatre. The popular annual holiday benefit concert features your favourite Christmas music by Bridget Foley and the Gospel Girls (and Guys), Asante (Theresa Foley, Sheila Prophet, and Norma Curtis), Steve Lynch and the Stage Cafe Band, Amelia Foley, Colleen Foley, Glen Carradus and Jessica Lindamen, Murray and Sibernie James-Bosch, and more.
Emcee Hugh Foley will also entertain the crowd with his Christmas trivia and entertaining stories. All proceeds will go towards paying teachers' wages at Hungerpiller Academy in Liberia, West Africa.
Proof of vaccination (or a signed medical exemption) is required for everyone 12 years and older entering the theatre, and face masks must be worn throughout the performances.
Advertisement - story continues below
Even more shows are coming in the new year, including:
Comedian Brent Butt at 8 p.m. on Wednesday, January 12th.
The Banff Film Festival, presented by Wild Rock Outfitters, at 7 p.m. on Friday, January 21st and Saturday, January 22nd.
"Wings of Sound" by the Peterborough Symphony Orchestra on Saturday, February 5th, with performances at 2:30 and 7:30 p.m.
"Menopause the Musical" at 7:30 p.m. on Thursday, March 31st.
"Forever in Blue Jeans, the Music of Neil Diamond" featuring Danny Bronson, at 8 p.m. on Friday, April 1st.
Bruce Cockburn, presented by Folk Under the Clock, at 7 p.m. on Tuesday, April 19th.
For even more upcoming shows (additional ones are being added all the time), and to purchase tickets for the above shows, visit Showplace's online box office tickets.showplace.org or call 705-742-7469.