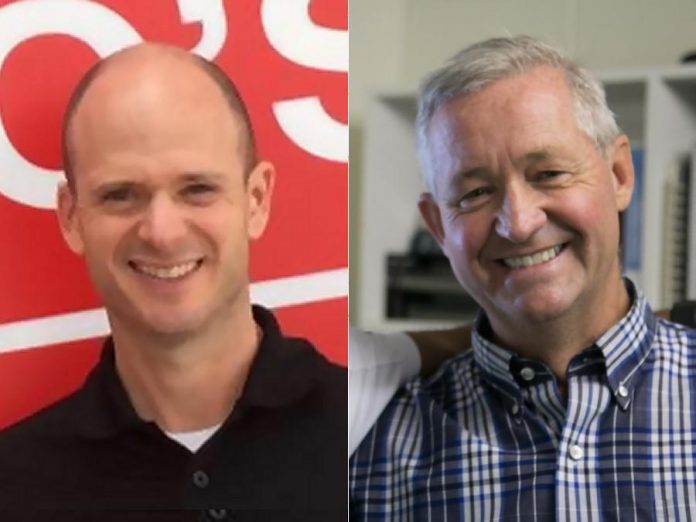 Peterborough's Dave Morello and David McNab are among four recipients of the YMCA of Central East Ontario's 2021 Peace Medal.
Morello is the owner and operator of Morello's Your Independent Grocer in Peterborough, and Dave McNab is a retired OPP officer, a Trent University professor, and a community activist.
For the YMCA, "peace" is more than just the absence of violence and conflict — it means developing fairness, inclusion, empathy, security, and respect for diversity. The charity use peace as an acronym for the values of participation, empathy, advocacy, community, and empowerment.
Advertisement - story continues below
The YMCA presents Peace Medals to individuals or groups who — without any special resources, status, wealth, or position — demonstrate a commitment to those values through contributions made within their local, national, or global community. The Peace Medals are presented every year during YMCA Peace Week, which takes place this year from November 13 to 20.
Morello is being honoured with a Peace Medal for his commitment to his community, which he demonstrates by supporting local charitable events at his grocery store, along with numerous volunteer roles and charitable contributions with and to organizations such as Easter Seals, Rotary Club of Peterborough, Five Counties Peterborough, and Hospice Peterborough.
He has received a number of awards in recognition of his community work, among them the Queens Diamond Jubilee Medallion, Peterborough and District Volunteer of the Year, and Peterborough Business Citizen of the Year,
McNab is being honoured with a Peace Medal for his acts of kindness and efforts to help others.
He and his wife Kristy Hiltz were instrumental in founding Salaam Peterborough, a group of families who came together in 2015 to sponsor a refugee family from Syria.
This past summer, McNab connected with Rashid, an 18-year-old Syrian refugee living alone in Turkey who was subject to online abuse and racism after he posted a desperate plea to come to Canada. McNab, who has been helping Rashid learn English and raising funds to bring him to Canada, also recently drove across the nation in a Lamborghini to help a young cancer survivor,
Advertisement - story continues below
The YMCA of Central East Ontario is also presenting 2021 Peace Medals to Eric and Liz Lehtinen of Belleville, in recognition of their support of over a dozen charitable organizations and their volunteer work, with a posthumous medal to John Williams of Quinte in honour of his community leadership and support of local not-for-profit organizations.
All four recipients of the 2021 YMCA Peace Medal will be recognized in a virtual ceremony at 10 a.m. on Thursday, November 18th. The event, which will be held on the Zoom video-conferencing platform, is free and open to all. For more information and to register, visit eventbrite.ca/e/y203919547857.
For more information about YMCA Peace Week, including 2021 Peace Week activities, and for full biographies of the 2021 YMCA Peace Medal recipients, visit ymcaofceo.ca/ymca-peace-week/.