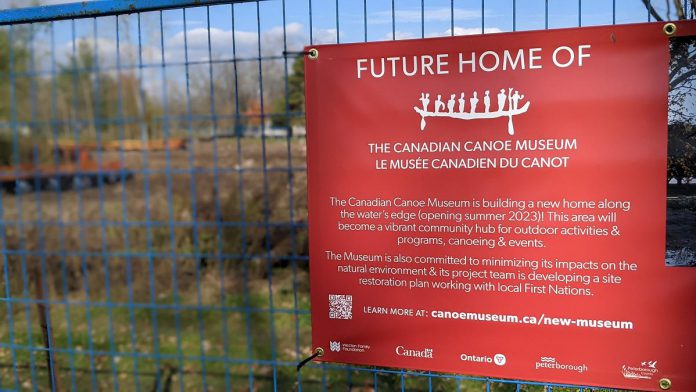 Peterborough's Canadian Canoe Museum has launched a $1.5 million public fundraising campaign for its "great portage" — preparing its collection for the move to the new museum now under construction.
The museum, currently located at 910 Monaghan Road, has more than 600 watercraft and 500 paddles, as well as hundreds of artifacts and an archives and library collection.
According to a media release from the museum, every item in the entire collection needs to be prepared for eventual transfer to the museum's new home at the Johnson Property at 2077 Ashburnham Drive in Peterborough.
Advertisement - story continues below
"Every vessel and artifact requires detailed cleaning, documentation, stabilizing, packaging, transportation, a quarantine and inspection process, and installation in the new museum," says museum curator Jeremy Ward. "Each step is crucial to preserve this renowned collection and its many stories so it can be shared for generations to come."
The museum is encouraging people to support the Move The Collection campaign at canoemuseum.ca/move by donating to move a canoe, kayak, paddle, or artifact.
Donation amounts range from $100 to $500 to support the transfer of paddles and related equipment all the way up to $5,000 to support the transfer of the largest vessels in the museum's collection.
VIDEO: Help us Move The Collection – Canoe Museum's great portage needs your help

Unlike the museum's existing facility, where only a portion of its collection is on public display, the museum's new facility will house the entire collection in a building that meets Class A conservation standards. The new facility, located near the shore of Little Lake beside Beavermead Park, is scheduled to open in summer 2023.
According to the museum, staff and interns under the direction of the museum's curatorial department will be carefully cleaning, photographing, documenting, and packing each canoe and kayak before placing it on a custom pallet to see it safely moved.
Once packed, each canoe will be tagged according to its future location in the racking system within new museum's collection hall or to be incorporated into brand new exhibits at the new museum.
Advertisement - story continues below
The museum will be hosting a virtual tour called "Moving the Collection: Behind-the-Scenes with Curator Jeremy Ward" at 7 p.m. on Thursday (November 25).
The Zoom tour will include "a look at the unique challenges and surprises of moving a collection of this size (and the stories these watercraft carry) to their new home at the water's edge."
Tickets are pay what you can, with proceeds supporting the new museum. For more information and to register, visit canoemuseum.ca/virtual-tours/.