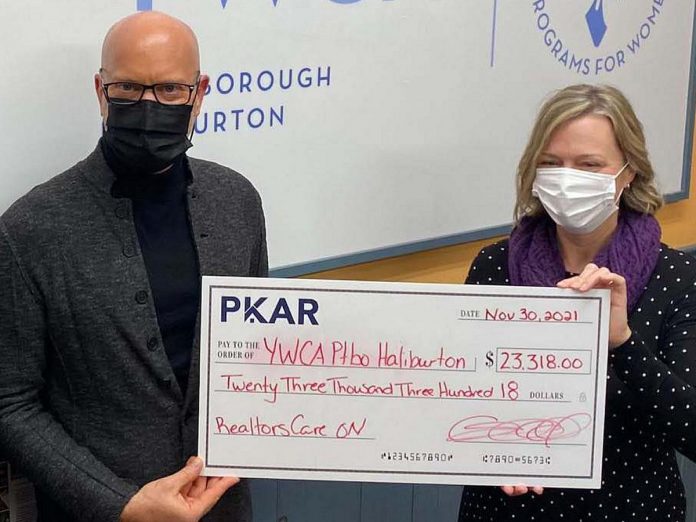 Members of the Peterborough and the Kawarthas Association of Realtors (PKAR) have donated $23,318.74 to YWCA Peterborough Haliburton.
Every year, PKAR members select a registered charity to support with a focus on initiatives that directly benefit shelter-based needs in our community.
Through programs and services including the YWCA Crossroads Shelter, YWCA Peterborough Haliburton helps women to safely escape dangerous situations involving violence and provides the necessary support to rebuild their lives.
Advertisement - story continues below

"It is integral for us to get behind this meaningful organization and contribute towards helping provide support for women who experience violence and abuse," says PKAR president Jon Maxwell in a media release. "As a result of the generosity of our members over the years, PKAR is proud to have donated over $100,000 to local charities like the YWCA."
A non-profit trade organization established in 1949, PKAR has more than 700 members across central Ontario, including the city and county of Peterborough and Northumberland and Hastings counties.
"YWCA Peterborough Haliburton is honoured to receive this generous donation from PKAR in order to provide much-needed safe shelter and support for local women and children experiencing gender-based violence," said Kim Dolan, YWCA Peterborough Haliburton's executive director.
"The need at YWCA Crossroads Shelter has increased as a result of the pandemic and we are immensely thankful to PKAR's membership for their dedicated and compassionate response."
To learn more about how you can donate to YWCA Peterborough Haliburton, visit ywcapeterborough.org/give/.