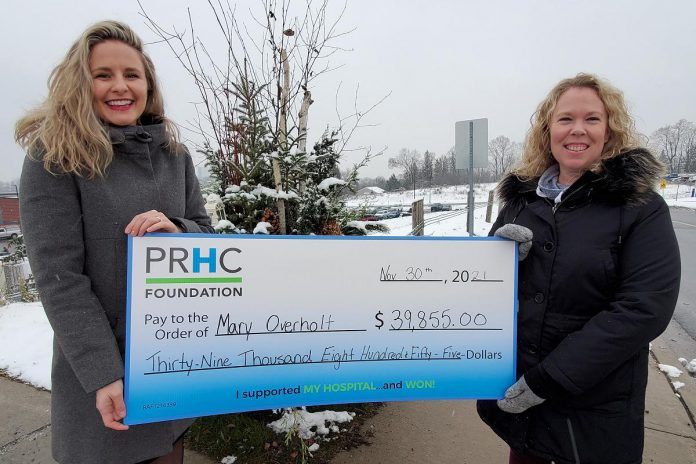 Peterborough resident Mary Overholt is the latest lucky winner of the Peterborough Regional Health Centre (PRHC) Foundation's 50/50 lottery.
Overholt won the November grand prize of $39,855 when her ticket number B-2740006 was drawn on Tuesday (November 30).
"I can't believe it, I have tears in my eyes," Overholt said when she received the call from PRHC Foundation staff. "Wow, thank you so much. Thank you for all the work that you do."
Advertisement - story continues below
Overholt also had the choice of a bonus prize of either a $2,500 Resorts of Ontario gift certificate or an additional $2,000 in cash. She chose the cash bonus prize, making her total winnings $41,855.
There were also two early bird winners during the November lottery, with Ruth Passant and Rebecca Schillemat each taking home $1,000 in cash.
Tickets for the December 50/50 lottery are now on sale at prhcfoundation5050.com, where you can buy 10 tickets for $10, 40 tickets for $20, 160 tickets for $40, or — in a special holiday deal — 750 tickets for $75 (350 more tickets than in previous months).
VIDEO: PRHC Foundation staff call Mary Overholt
The December lottery runs until Wednesday, December 29th with the grand prize winner drawn the following day. Two early bird draws will also be held on "WINter Wednesdays", where a total of four winners will each receive $500 in cash.
Ticket buyers must be 18 years of age or older and in the province of Ontario to play.
Half of all the ticket sales in the 50/50 lottery go the PRHC Foundation to support equipment and technology at the hospital that the government doesn't fund.