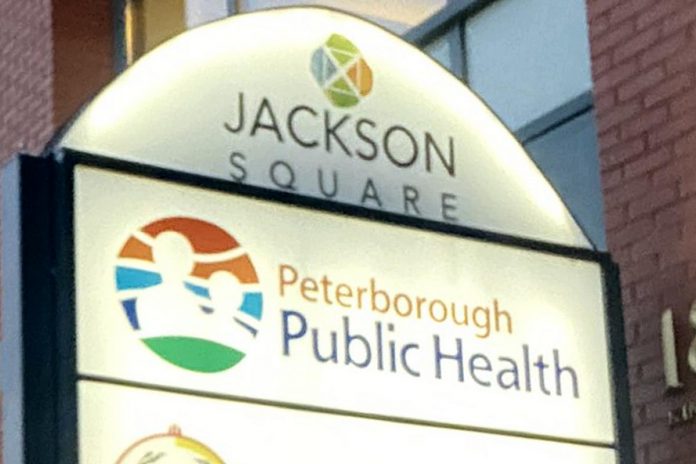 Any threats made against local public health staff will be taken "extremely seriously" warns Peterborough's new medical officer of health.
During a Peterborough Public Health media briefing held Thursday (December 2), Dr. Thomas Piggott said while just a "small minority" of people have threatened staff, it simply can't continue.
"Everyone has the right to free speech and to protest but these cannot be allowed to compromise our staff's safety or our response to the ongoing pandemic," said Dr. Piggott, not specifying if the threats received have been made in person, by email, by phone, or by a combination of all three.
Advertisement - story continues below
"We will be collaborating with police and ensuring any threats against safety will be investigated to the full extent of the law," Dr. Piggott added. "I have zero tolerance for this. We have been working tirelessly for nearly two years. This is the last thing we need as we continue our work of protecting the population."
Turning his attention to the emerging omicron variant, Dr. Piggott acknowledged "there certainly are more questions than answers at this point," particularly about the effectiveness of current vaccines against the variant.
"What's important is to assume and behave as if this variant is already in our region," he said. "If there's a silver lining, I think it's that we're hearing about this before the holiday season — before we have a number of gatherings. Had this information come to light only a few weeks later, the consequences could be much more dire and concerning."
As the omicron variant takes hold in more countries each day, including Canada, local COVID-19 infection numbers are rising at a "concerning" rate, according to Dr. Piggott.
As of late Wednesday afternoon, there were 45 active cases in the region with 345 close contacts of cases being monitored. Both these numbers are up dramatically from the last briefing two weeks ago, when 21 active cases and 108 close contacts were reported.
To date this week since Monday morning, 12 new local cases have been detected. This follows a week that saw 45 new cases emerge — the highest weekly new local case total seen since the week of September 6 when 49 new cases were confirmed.
Meanwhile, the total number of local COVID-related deaths reported since the pandemic's onset remains at 24. As for outbreaks, two are ongoing: one at Holy Cross Secondary School, which remains open with additional measures in place, and another at Rhema Christian School, which has transitioned to online learning.
Advertisement - story continues below
The news is more encouraging on the vaccination front, with all numbers showing an uptick.
As of late Wednesday afternoon, 87.6 per cent of eligible residents aged 12 and older have received one dose, while 85.1 per cent have received two doses. In the age 12 to 17 group, 88.1 per cent have received one dose while 83.2 per cent are now fully immunized.
As for booster shots, 5.8 per cent of eligible residents aged 18 and up have rolled up their sleeve for a third time. That number jumps to 15.4 per cent for the more vulnerable aged 70 and up age group. Those seeking a third shot can book an appointment online at covid19.ontariohealth.ca or by phone at 1-833-943-3900. Walk-ins will not be accommodated.
With the Ontario government having announced on Thursday the expansion of booster shots to include those 50 years old and older, Dr. Piggott assured local clinics will be ready to accommodate the higher number of those seeking a third shot.
"The team is constantly planning and anticipating the next step to ensure we're hitting the ground running," he said.
Meanwhile, the vaccination of local children aged five to 11, Dr. Piggott reported that close to 300 children have received a first shot, with another 2,300 children booked for their initial dose. With no walk-ins being taken, parents and guardians must book a vaccination appointment through the provincial booking system. Visit www.peterboroughpublichealth.ca/clinics for a listing of locations and times of clinics.
Advertisement - story continues below
On the enforcement front, Peterborough Public Health environmental health manager Julie Ingram said the Section 22 Order closure of the White House on Charlotte Street a few days after it was fined $880 resulted from "a greater risk in the extent of non-compliance primarily relating to overcrowding and overcapacity, as well as the nature of the activities taking place" such as dancing and the removal of masks by patrons.
Meanwhile, the situation at Peterburgers on George Street North continues to be closely monitored. To date, the business has received three fines of $880 each, and also received a Section 22 Order warning of closure if the business continues to ignore public health measures.
"I know the community has been watching as events transpire and we've being receiving a lot of calls," Ingram said. "There are processes that need to be followed and we will take any action that we need to take."
Also in attendance for Thursday's media briefing were Peterborough Mayor Diane Therrien, Peterborough County Warden J. Murray Jones, Hiawatha First Nation Chief Laurie Carr, Curve Lake First Nation Chief Emily Whetung, and Board of Health chair and Selwyn mayor Andy Mitchell.
Each took a few minutes to warmly welcome Dr. Piggott, who officially assumed the medical officer of health position on Wednesday. He was previously the medical officer of health of Labrador-Grenfell Health in the northern regions of Labrador, where he also served as the executive lead for population health and rural and remote health in the region.