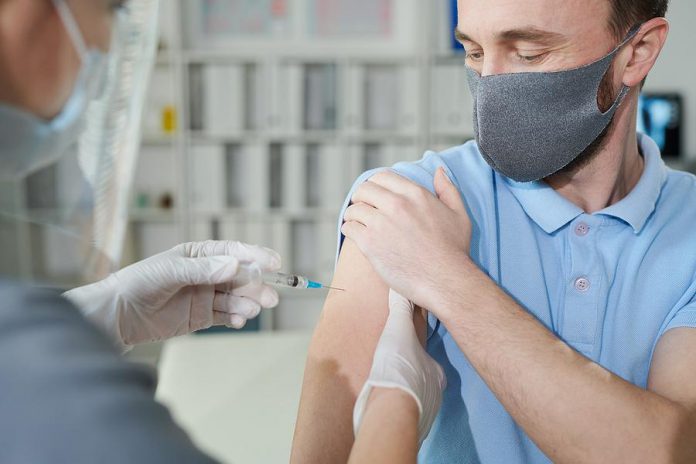 With Ontario reporting 959 new cases of COVID-19 on Thursday (December 2) and the potential threat of the omicron variant, the provincial government has announced Ontarians aged 50 and over will be eligible for COVID-19 vaccine booster doses starting on Monday, December 13.
The announcement comes five days after the the first two cases of the potentially more transmissible omicron variant were confirmed in Ontario. Since then, another three cases in Ontario have been confirmed.
Booster dose appointments will be booked for around six months (168 days) after the second dose was administered. That means Ontarians 50 or older who received their second dose on June 28 or earlier would be eligible to receive their booster dose in the month of December.
Advertisement - story continues below
"If you are eligible for a booster dose of the COVID-19 vaccine, please book your appointment as soon as you can to provide yourself with an extra layer of protection," said Dr. Kieran Moore, Ontario's chief medical officer of health, in a media conference on Thursday afternoon.
"If you have not yet received the vaccine, please do so today. This includes vaccinations for children aged five to 11. Achieving the highest vaccination rates possible remains our best tool to protect us, reduce the risk of COVID-19 transmission, and fight the significant surge of new cases and the new omicron variant."
The expansion of eligibility means around 4.6 million additional Ontarians are now eligible to receive a booster dose of the vaccine, for a total of about 5.7 million. To date, Ontario has administered more than 696,000 third or booster doses, including to 20 per cent of people aged 70 and over.
Beginning in January, Ontario will further expand eligibility for booster doses based on age and risk, with an interval of six to eight months from the second dose.
Dr. Moore said the province is staging the expansion of eligibility based on the capacity of the system to deliver booster doses and that, if that capacity isn't being used, may expand eligibility to younger age groups.
Advertisement - story continues below
"We want to able to provide the third doses in a timely fashion before the immunity fades, especially as we're seeing an increase in cases related to delta and the potential threat of omicron to our communities as well," Dr. Moore said.
In addition, the province is expanding eligibility immediately for people receiving dialysis, if it has been 56 days since their second dose. Also effective immediately, the province is recommending re-vaccination with a new COVID-19 vaccine primary series post-transplantation for those who receive hematopoietic stem cell transplants, hematopoietic cell transplants, and recipients of CAR-T-cell therapy, due to the loss of immunity following therapy or transplant.
The provincial government is also making a limited supply of the single-dose Johnson & Johnson COVID-19 vaccine available immediately. The Johnson & Johnson vaccine will be available to adults aged 18 and over who have an allergy or contraindication to mRNA vaccines, or at the request of those who have not yet been vaccinated by contacting their public health unit.
Ontarians aged 50 and over will be eligible to schedule their booster dose appointments starting at 8 a.m. on December 13 through the COVID-19 vaccination portal at covid19.ontariohealth.ca, by calling the Provincial Vaccine Contact Centre at 1-833-943-3900, through Indigenous-led vaccination clinics, and at select pharmacies and primary care settings.