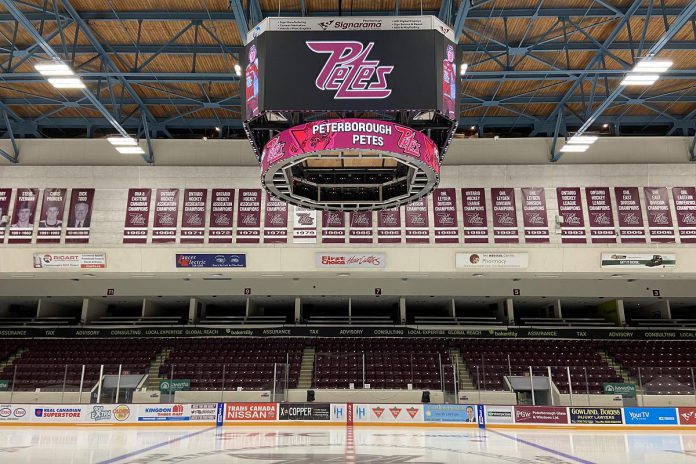 With confirmation of a positive COVID-19 case in the Peterborough Petes organization, Peterborough Public Health is reassuring Petes fans who attended the past two home games at the Peterborough Memorial Centre (November 28 and December 2) they are at "very low risk" of exposure.
On Friday (December 3), the Ontario Hockey League (OHL) announced the Peterborough Petes game against the Mississauga Steelheads, scheduled for Saturday evening, would be postponed because of COVID-19.
While the announcement provided no details, OHL commissioner David Branch subsequently confirmed to the Peterborough Examiner there has been one positive COVID-19 test in the Petes organization. He also said all the players are being tested.
Advertisement - story continues below
"All close contacts from this specific exposure have since been identified, tested, and remain in self-isolation while awaiting their results," said medical officer of health Dr. Thomas Piggott in a media release issued on Sunday (December 5).
"While the risk to others who attended those games is very low, this is a strong reminder for everyone that exposures can happen in any public setting, so it's always a good idea to monitor for symptoms and if they develop, get tested and isolate immediately."
According to the health unit, the Petes' general manager Mike Oke has confirmed all players and staff with the hockey club are fully vaccinated, and the entire Petes organization has been working closely with Peterborough Public Health to ensure all public health guidelines and protocols are being followed.
Advertisement - story continues below
Dr. Piggott noted everyone 12 years of age and older who attended the last two Petes' home games at the Peterborough Memorial Centre was required to provide proof of full vaccination.
However, he also acknowledged so-called "breakthrough cases" can occur — when someone who is fully vaccinated becomes infected with COVID-19 and develops symptoms.
"While the COVID-19 vaccination is proving effective at reducing transmission of the virus, its greatest strength is preventing severe illness," he said.