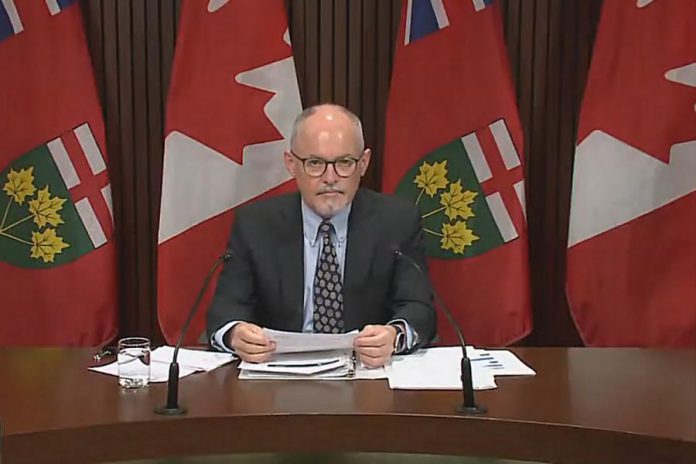 With COVID-19 cases continuing to increase in Ontario and with the release of "disconcerting" modelling data from the province's science advisory table, the Ontario government announced on Tuesday (December 7) it is extending its pause on the lifting of capacity limits in remaining higher-risk settings where proof of vaccination is required.
The announcement comes more than a week before the pause was set to expire. Originally, capacity limits on food or drink establishments with dance facilities (such as night clubs and wedding receptions in meeting/event spaces where there is dancing), strip clubs, and sex clubs and bathhouses were going to be lifted on November 15. On November 10, the government announced a pause until December 15 because of rising cases.
At a media conference in Toronto on Tuesday afternoon, Ontario's chief medical officer of health Dr. Kieran Moore said the pause would also allow the government to evaluate the impact of the omicron variant which is now circulating in Ontario.
Advertisement - story continues below
"We must remain cautious in the face of the virus, and this pause will allow us to continue monitoring trends in public health and health care indicators while also learning more about the omicron variant," Dr. Moore said.
The science table projects that, not taking into account any impact from omicron, ICU occupancy will likely grow to between 250 and 400 beds in January, putting hospitals under strain again. Along with continuing to follow public health measures to reduce transmission, the science table said Ontario needs to increase vaccinations, particularly among five to 11 year olds.
"There's no doubt that the months ahead will require continued vigilance," Dr. Moore said. "The science table's modelling released today has shown us that cases continue to rise even without the omicron variant factored in. And while hospitalization and ICU admissions are currently stable, they too will grow. While we expected to see increases as we enter the winter months, the emergence of omicron serves as a stark reminder of just how quickly things can change, and we must always keep our guard up."
Dr. Moore added we still don't know much about the transmissiblility and severity of omicron and its impact on vaccine effectiveness.
"What we do know is that the basic public health measures are effective against COVID-19 and the delta variant, and will also be effective against omicron," he said. "As we enter the holiday season, I'm encouraging all Ontarians to avoid large crowds, practise physical distancing, wear your mask and wear it properly, wash your hands frequently, stay home when you're sick, and get vaccinated."
Dr. Moore said he is concerned about the coming months and the potential impact on Ontario's health care system, and urged anyone who is not yet vaccinated to do so.
Advertisement - story continues below
"The modelling is disconcerting," he said. "We're seeing a continued rise in cases across Ontario and it's impact on the healthcare system. To me, as a public health physician, all of the cases for the most part are preventable. It saddens me deeply to see the vast majority of individuals in our intensive care units — they're unvaccinated. They never took advantage of the means to protect themselves. We know these vaccines are safe, they're effective, they will decrease the severity of infections in Ontarians. It's absolutely preventable what is happening in our acute care sector."
"If you haven't been vaccinated yet, please reconsider. They are highly beneficial to you as an individual, to your family, to the community. They will decrease the impact on our acute care sector."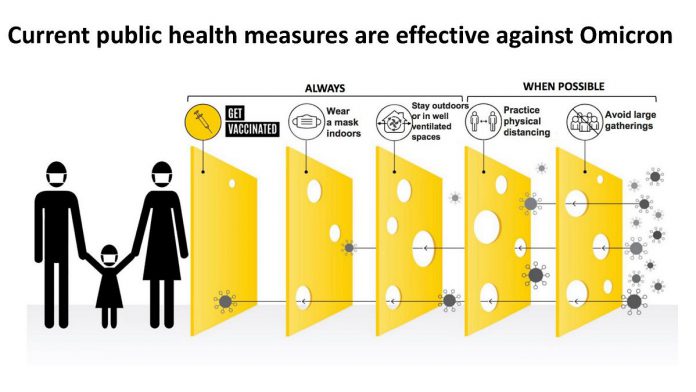 Dr. Moore said it is possible that the proof of vaccination requirement, originally projected to be lifted on January 17, may remain in place.
"A basic means of protecting individuals is stopping the mixing of unvaccinated and vaccinated, and if our cases continue through and after the holidays, we will make recommendation of government to continue the (vaccine) certification process in play," he said.
He urged Ontarians who have decided against getting vaccinated to reconsider their decision.
"You have a 23 times higher risk of being admitted to the intensive care unit if you are not vaccinated. You have a 13 times higher risk of being admitted to hospital if you are not vaccinated. And you have a five times higher risk of getting the illness itself — symptomatic COVID-19 — if you are not vaccinated."
Advertisement - story continues below
"Those numbers alone should cause alarm, should raise awareness, and should cause individuals to pause and why they haven't taken the benefit of these safe and effective vaccines to protect themselves and their family," Dr. Moore added. "The risk is going up — now's the time to reconsider and to protect yourself and, frankly, all Ontarians and our health system."
He noted that, unlike the previous wave of the pandemic, case increases and the impact on the health care system is "differential" across the province, with some health units including Windsor-Essex, Algoma, Sudbury, and Kingston, Frontenac and Lennox & Addington being affected more than cities like Toronto.
"This is a different game, now that there's such a different rate and impact on the acute care sector across Ontario," he said. "We're really having to try to put fires out where they come up, work very closely with those communities to limit the spread, and we'll continue to do that diligent and hard work with our sister health units."