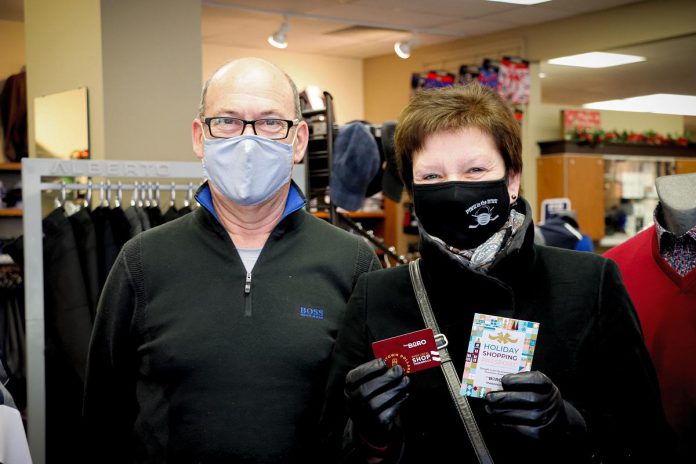 The Christmas spirit is alive and well in Gabi Hintelmann, the winner of the second $500 early bird draw in the Peterborough Downtown Business Improvement Area's Holiday Shopping Passport program.
Hintelmann will be using her $500 Boro gift card to purchase toys from The Toy Shop at 176 Hunter Street West in downtown Peterborough to donate to YWCA Peterborough Haliburton.
"It's the season of giving and I wanted to pass this gift on," Hintelmann said in a media release. "Helping children is something I'm very passionate about and I hope this donation will help brighten the holidays for quite a few children in our community."
Advertisement - story continues below
For ever $10 people spend at any of more than 150 participating downtown business, they receive a stamp in their holiday shopping passport. When a passport is filled with 20 stamps (representing $200 in spending), the completed passport is entered into a draw for three $500 early bird prizes and a $1,500 grand prize.
Hintelmann's winning passport was drawn on Wednesday (December 8) at Maple Moose Pub at at 331 George Street in downtown Peterborough. Her winning passport came from John Roberts Clothiers at 321 George Street North in Peterborough, where she purchased some Christmas presents for her family.
Owner John Martin presented her with her $500 gift card on Wednesday.
"Gabi is a wonderful customer who frequently supports the downtown core and our small business community," Martin said. "I'm so pleased that she won. It couldn't have happened to a more deserving person."
Advertisement - story continues below
Hintelmann is the second winner of three $500 early bird prizes drawn on Wednesdays in December. Derek Banville was the December 1st winner, and the remaining $500 winner will be drawn on December 15. The $1,500 grand prize winner will be drawn on Wednesday, January 12th.
You can get a holiday shopping passport at any of the participating shops, boutiques, salons, restaurants, and cafes in downtown Peterborough. Visit theboro.ca/holiday-shopping-passport/ for a list of all the participating businesses.
To start off your holiday shopping passport with no purchase necessary, you can get complimentary stamps at the Peterborough Public Library (345 Aylmer St. N.), the Peterborough & the Kawarthas Visitors Centre (270 George St. N.), and the Boro Holiday Hub (373 George St. N.).