When North of 7 Outfitters owner Angela McCurdy, a former technical director with CTV, left Oakville six years ago, she returned to her roots in "the North", resettling in Cordova northeast of Havelock.
Angela, who was born in the Yukon, never lost her affinity for all things North during the 22 years she lived and worked in the GTA. After her children left for post-secondary school, Angela's husband was offered a transfer that brought her to Cordova, where the idea for her North of 7 Outfitters apparel brand was born.
"I went to elementary school for a few years in Havelock and have deep family roots here," Angela explains. "I met my husband in the GTA. After our kids moved out, he asked if I would be open to the idea of leaving the city. At first I wasn't sure because of my career but, after spending an hour and a half stuck on the 401 one day, I decided 'Okay, we can do this but, if we're going to do it, we're moving home to Cordova'."
Fast forward to 2020, when Angela, like many people, found herself spending more time on social media during the pandemic.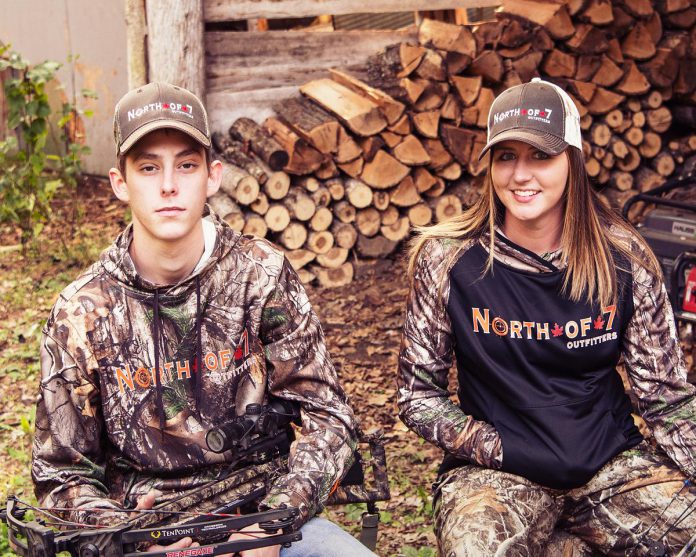 "I noticed many people were reinventing themselves and printing wearable items as a side business or hobby," she says. "I was using the hashtag North of 7 every time I would post about what I was doing — because everything I do happens north of 7, whether it's playing with my grandchildren, my dog, or spending time with my husband."
Angela is referring of course to Highway 7, historically known as the Northern Highway, which stretches 536 kilometres from London to Ottawa. The eastern segment of the highway begins in Markham and runs through Kawartha Lakes, Peterborough, and Hastings County on its way to Ottawa.
"I started to think that North of 7 should be on hats, hoodies, joggers, and more," she recalls. "I started to play around with designs on my computer and I did a little research on printing. I wanted this to be big, so a small at-home printing outfit wouldn't do. I wanted to start a North of 7 takeover where everyone would love and wear these clothes."
To bring her vision to life, Angela knew she would need a printer who could professionally embroider and screen print her designs. She reached out to Clinton Smith, owner of The Imprinted Apparel Store in Peterborough.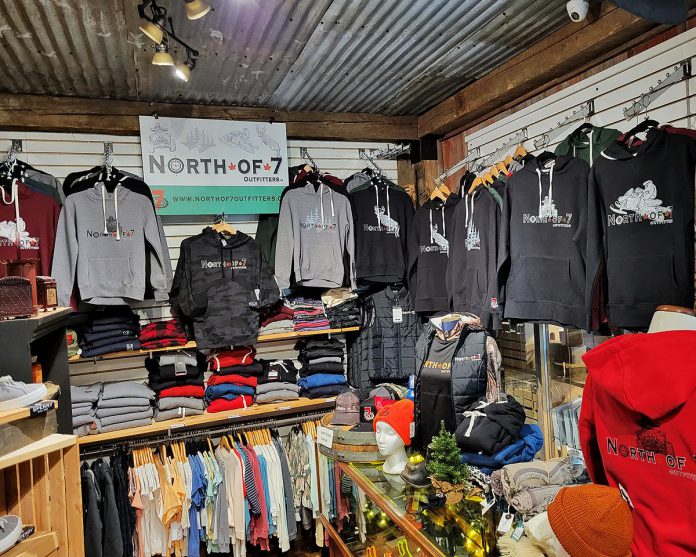 "In the apparel business we see a lot of ideas and brands that we know will have some form of moderate success," Clinton says. "Sometimes we see an idea that we know will hit a home run, and that's how we felt when Angela brought her vision to us."
"Frankly, we're thrilled to be a part of bringing her vision to life," he adds. "It's been very well received, and it seems as if every time I finish an order for her, she's got more. I think she's just scratching the surface of where I think her brand will be a year from now. Angela is a great person with a great product so we're very excited to be working with her."
North of 7 Outfitters has taken off since Angela launched the business this past summer, from her first pop-up store store at Belmont Lake Brewery to now stocking products in four locations — all north of Highway 7, naturally — and also taking orders online.
"All of the locations that carry North of 7 are fully stocked for Christmas," says Angela. "Whether you find us at the Cottage Store in Havelock, at the Lodge in Buckhorn, the Minden Home Hardware, or the Haliburton Home Hardware, it's possible to get unique gifts for your loved ones. And you don't have to wait and see if it gets delivered in time for the holidays, because you can pick it up in store and take it home right away."
The Lodge is an offshoot of Buckhorn's Home Hardware, and it's not a coincidence that North of 7 has found a home in three Home Hardware locations. Home Hardware is Canada's largest independent home improvement retailer, and the company encourages investing in other Canadian businesses.
"Home Hardware is community minded and they like to give Canadian entrepreneurs a chance," Angela says. "It's important to promote Canadian brands and it's important to shop local more than ever. We're all trying to recover from the economic impact of Covid, so when we decide between ordering gifts online from Amazon or running into a local shop to buy a hoodie — whether it's mine or someone else's — it's important to remember that members of our own communities need every sale they can get."
"When you buy a shirt from us, you're supporting my local business, your local community, the people at Imprinted Apparel, and more," she adds.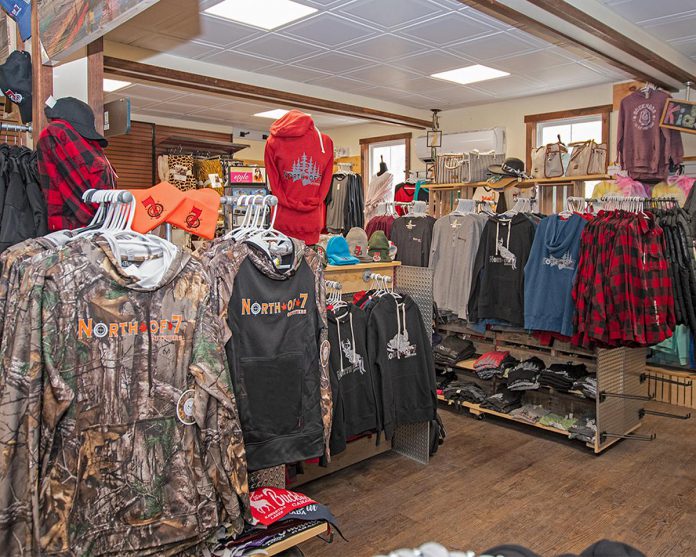 While you can also order North of 7 products through the Imprinted Apparel online shop, Angela notes the deadline for holiday orders has passed. Anything you order online will likely not arrive until the new year because orders take at least two or three weeks to process. However, you can find North of 7 apparel at any of the four brick-and-mortar locations.
"The Lodge and The Cottage have our largest selection of stock right now, but if someone has trouble finding what they need in time for Christmas, I have four boxes of clothing on hand that I can run to any of the four stores that carry my stock," she explains. "I try to accommodate special orders as much as possible and it's something that people love about North of 7. I take suggestions and I'm small enough that I can incorporate feedback into future designs. For example, our new black camo hoodie came from an outpouring of requests."
Angela also says she is planning to expand the North of 7 brand in 2002, include a fishing line for summer and apparel for children that she hopes to launch in the spring. She also hopes to take North of 7 as far east as Ottawa.
"Highway 7 runs about 500 kilometres from London to Ottawa. There's a real feeling of camaraderie among people north of Highway 7 who like to play hard and play outdoors, no matter where they do it along that stretch. Our logo and designs truly reflect that lifestyle."
Cherie Semlitch, co-owner of The Cottage in Havelock — which, along with The Lodge, was the first location to carry North of 7 apparel — says Angela's designs have been very popular with their customers.
"North of 7 Outfitters has been a great add to our clothing line," Cherie points out. "The locals and cottagers absolutely love it and, since its launch, I am happy to say we have had to restock a few times in the past couple of months."
Community support from customers and from other local business owners like Cheriee have been a key ingredient in North of 7's success to date. From a marketing standpoint, Angela says she has relied heavily on social media along with word of mouth from the large fan base that has fallen in love with her brand.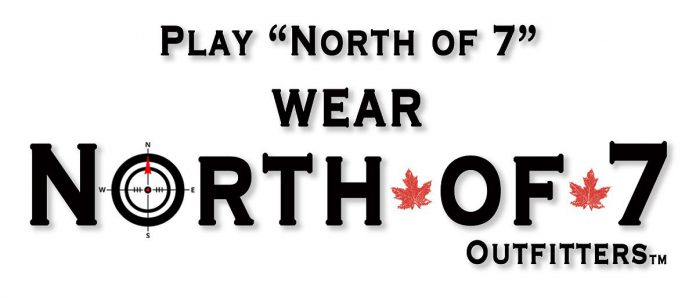 "My family has also been involved," says Angela. "My cousins have modelled my designs, my daughter helped design our logo, and my husband has been a constant source of support and input. And it makes sense because you don't live in the country unless you love being outside with family. Campfires, family get-togethers, all of that kind of stuff — it's what it's all about."
Having experienced both city and country life, Angela has a great respect for the way smaller communities rally around their members when someone is in need.
"In a small-knit community you rely on your neighbours," she reflects. "I think that city-dwellers sometimes forget that there is a way of life in Canada and a culture that says you can 100 per cent rely on other people — and they'll be there for you in a heartbeat."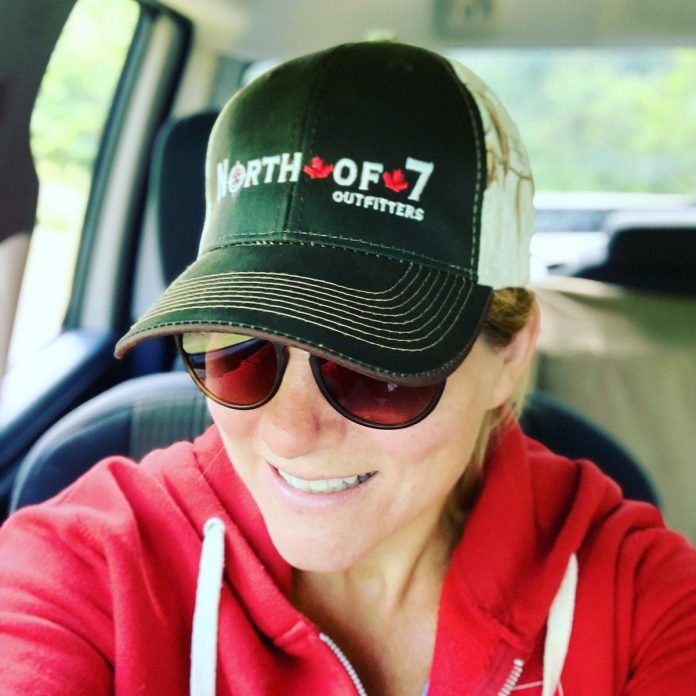 With so many of these small communities thriving north of Highway 7, Angela is confident her brand will continue to resonate and grow.
"For North of 7, this is just the beginning," she says. "I'm facing a big learning curve to grow and expand my business, but I'm committed to the journey. I've put both feet into this and hopefully it keeps growing. I also believe that you don't have to live here to love our brand. All you have to do is love coming up here to play and you can be a part of it too."
For more information on North of 7 Outfitters and to shop online, visit northof7outfitters.ca. You can also find North of 7 Outfitters on Facebook, Instagram, Twitter, and TikTok.
This story was created in partnership with North of 7 Outfitters.