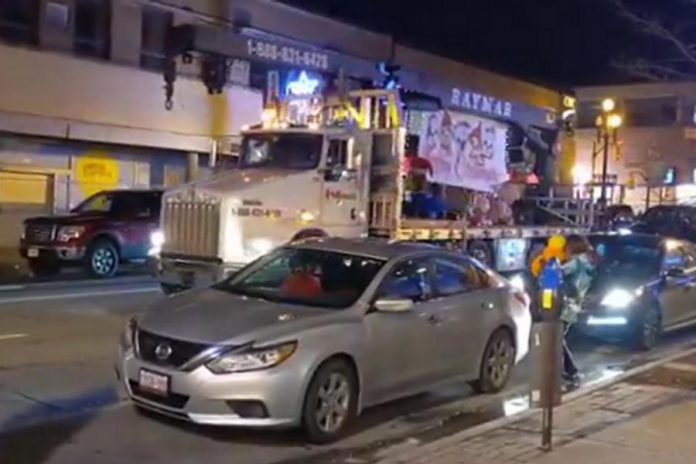 Peterborough police laid more than dozen charges under the Highway Traffic Act following an illegal parade that took place on George Street in Peterborough on Saturday evening (December 11).
The parade was organized by a group of people who object to pandemic-related public health measures, including lockdowns, face masks, and vaccine passports. Organizers distributed flyers in the days leading up to the event, promoting what they called "Miracle on George St." and described as a "Christmas parade".
Organizers objected to the cancellation of Peterborough's official annual Santa Claus parade. Usually organized by the Kinsmen Club Of Peterborough, the parade was cancelled for the second year in a row due to the pandemic.
Earlier this fall, the provincial government gave permission for parades to take place and many other communities in the greater Kawarthas region went ahead with Santa Claus parades.
Advertisement - story continues below
Saturday's parade began at 5 p.m. in the parking lot at the former Peterborough Collegiate and Vocational School (PCVS). Vehicles in the parade, which included decorated flatbed trucks and people handing out treats, blocked traffic as they proceeded down George Street and then crossed Lansdowne Street to Roger Neilson Way.
While organized by a group that protests COVID-19 public health measures, the parade itself did not include any protest signs or messages.
"There were no reported injuries as a result of this event," reads a release from Peterborough police issue on Sunday. "Officers, in coordination with City of Peterborough by-law investigators, worked tirelessly and professionally to ensure public and participant safety."
It's a Christmas miracle, but sad.

What's worse is I do believe they tried their best#cdnpoli #antivaxxers #Peterborough pic.twitter.com/zYS9Cd6VfK

— Caryma Sa'd – Lawyer + Cartoon Creator (@CarymaRules) December 11, 2021
Advertisement - story continues below
Organizers did not seek a permit in advance of the parade, required under city by-laws. During the parade, police blocked side streets while allowing the parade to proceed.
"A police response is not an endorsement, but a commitment to public safety," the media release reads, adding that "unsanctioned events such as this have a high probability for personal injury and property damage."
Following the parade, police say they laid more than a dozen charges under the Highway Traffic Act (HTA), including commercial motor vehicle violations.
"Further HTA charges are under investigation and pending, and it's expected more will be laid," the police media release states. "Peterborough police are also investigating some criminal offences as a result of the event and will report further if charges are laid."