Lindsay's Academy Theatre for the Performing Arts has been renamed FLATO Academy Theatre Lindsay in recognition of a $1.375 million sponsorship agreement with FLATO Developments Inc.
The funds will be distributed over the next 15 years, according to an announcement on Monday (December 13).
Launched in 2005 and based in Markham, FLATO Developments Inc. develops housing projects across southern Ontario, including in Lindsay and Cameron within Kawartha Lakes. The company has made donations to Ross Memorial Hospital in Lindsay and Kawartha Lakes Food Source, among others.
Advertisement - story continues below
"At FLATO, we believe in investing in the communities we serve," says FLATO president Shakir Rehmatullah in a media release. "We look for opportunities to make the community better for everyone. In creating this partnership, we are proud to support Lindsay's arts community and invest in this iconic theatre that is an integral thread in the fabric of the area and is central to making Lindsay such a wonderful place to live, work, and visit."
An initial investment will be used to fund priority capital improvements to the theatre, while the annual funding commitment will help maintain and enhance theatre operations, programming, and marketing.
FLATO Academy Theatre Lindsay will continue to be owned by Academy Theatre Foundation and will continue to operate as a non-profit organization governed by a board of directors. FLATO Developments Inc. will not be involved in the management of the theatre.
Advertisement - story continues below
"This investment marks a new chapter for this special community hub, and we're excited to see it thrive in the years ahead," says board chair Mike Piggot.
With the sponsorship agreement, the logo of the theatre has changed and the marquee on the front entrance of the theatre be redesigned to include the new name in 2020. In addition to the new signage, FLATO has been given rights to advertise within various areas of the theatre and to be identified in the theatre's social media and marketing materials.
In a similar sponsorship agreement, FLATO Developments Inc. also acquired the naming rights for the Markham Theatre.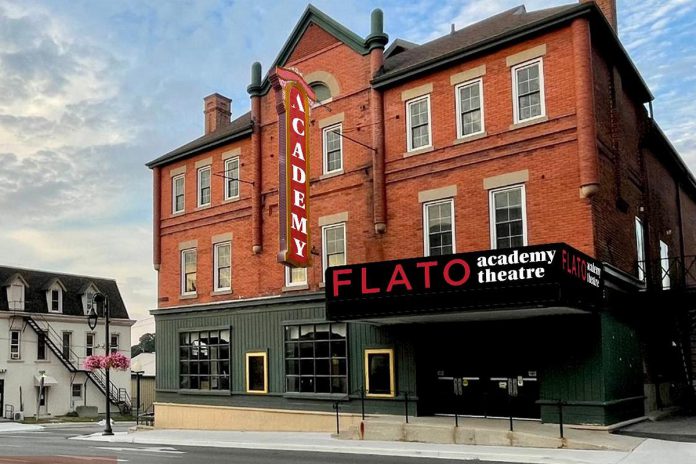 The announcement of the funding agreement comes after the theatre, which has relied on rental income and community donations, recovers from the impact of the COVID-19 pandemic.
Prior to the pandemic, the Academy Theatre for Performing Arts hosted close to 100 performances annually with 20,000 visitors.