This month, food writer Eva Fisher sample miniature pie classics with The Mini Pie Company in Peterborough, tries the "biggest tacos in town" at Mean Bean Burritos in Peterborough, takes sourdough to the next level with Oh So Sourdough in Lindsay, and checks into the Kawartha Buttertart Factory's upcoming second location on Lansdowne Street in Peterborough.
Advertisement - content continues below
Mysterious new Mini Pie Company in Peterborough serves fresh mini pies to order
The concept is simple: fresh mini pies, in a variety of styles, available to order. The Mini Pie Company (705-243-8350) hit the Peterborough food scene in early December with a small but exciting selection of mini pies available to order online.
The people behind the Mini Pie Company requested to remain anonymous, but I spoke with one of the owners via telephone. He says that they are currently focusing on keeping it simple as they start their business.
"We're just trying to get our feet wet right now and go from there."
He says that keeping it small and simple allows them to focus on what matters: good, fresh food.
"We want to change the food culture and work on making good food happen and starting with small little companies like the Mini Pie Company — little things that showcase talent in a simple way."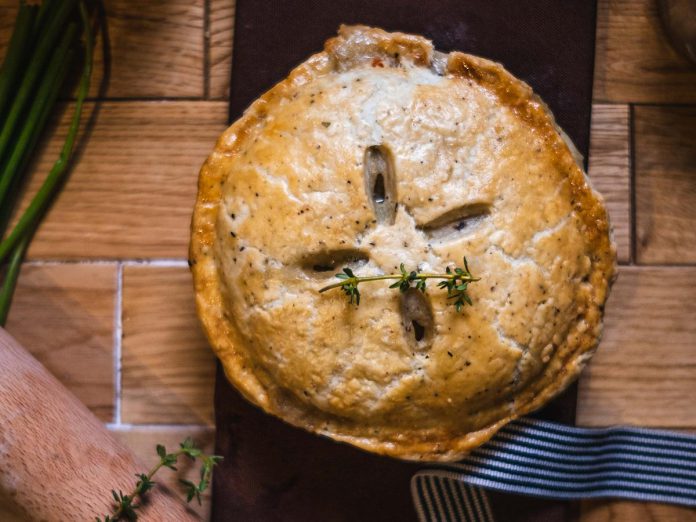 They currently offer just five pies: a peanut butter and banana cream pie, a chocolate ganache pie with candied bacon, a mango custard pie, a savoury chicken pot pie, and an apple caramel pie with a brown butter streusel that the owner says "tastes just like a toffee apple."
"It's as fresh as it can be. Everything's made by hand by people who are Peterborough-raised folk."
For more information and to order, visit minipiecompany.ca. Pickup is from the Dirty Burger Company (211 Hunter St West, Peterborough, 705-400-7335).
Young entrepreneur at Mean Bean Burritos makes the meanest burritos in Peterborough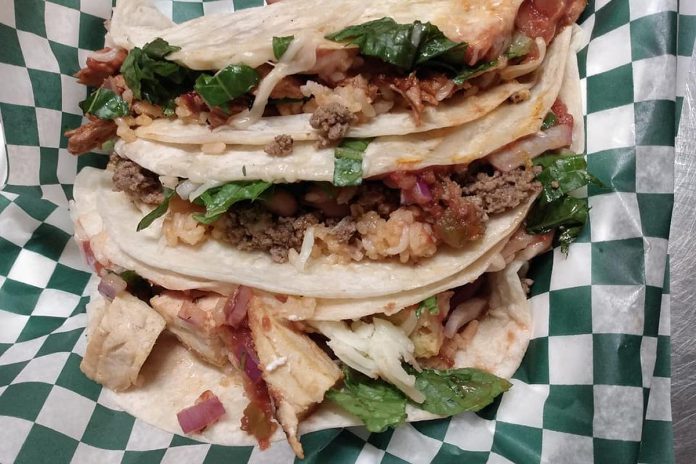 When 25-year-old Shahryar Ali opened Mean Bean Burritos (318 Charlotte St, Peterborough), he wasn't expecting construction to close the street, and he certainly wasn't expecting to have his windows smashed in a break-in after only two weeks in business.
But, despite these hardships, Mean Bean Burritos is finding its own niche in Peterborough's burrito scene.
"We're a Tex Mex food joint serving burritos, tacos, quesadillas, nachos — all of the good stuff," Shahryar explains. "The thing that distinguishes us from the other burrito places in town is we have a very innovative menu. Most of the items you find on our menu you won't find elsewhere."
Advertisement - content continues below
This week Shahryar is debuting a butter chicken burrito and he's working on a macaroni and cheese burrito. His chicken kebab burrito has also been a hit among customers.
The most popular burrito so far is the tinga de pollo chicken burrito. The chicken is cooked in a house blend of spices and seasonings including chipotle peppers. Shahryar suggests that you proceed with caution on this one.
"Personally I think it's way too spicy but I've had customers who want it to be spicier. I will leave it as it is, otherwise I'll get a lawsuit pretty soon."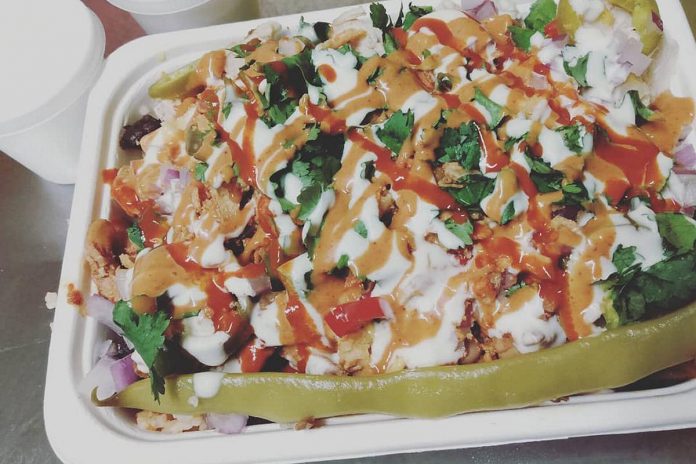 Burrito fans will enjoy the variety of toppings available, and Shahryar promises they won't leave hungry.
"We have 15 to 20 toppings that you can get and we have the best bang-for-your-buck burritos. Our regular burrito can be close to a pound, or a pound and a half depending on what toppings you get. And we do the biggest tacos in town. I would say pretty much the biggest tacos I've ever seen, and I would say the biggest tacos in town."
Shahryar learned to make burritos working at a Mexican restaurant in the Jane and Finch area of Toronto. He also had the opportunity to travel to Mexico.
"I just fell in love with the food. I am South Asian but I was eating more Mexican food than South Asian food. I just felt like it was my calling."
You can follow Mean Bean Burritos on Instagram @mean.beanburritos.
New Lindsay bakery makes everything Oh So Sourdough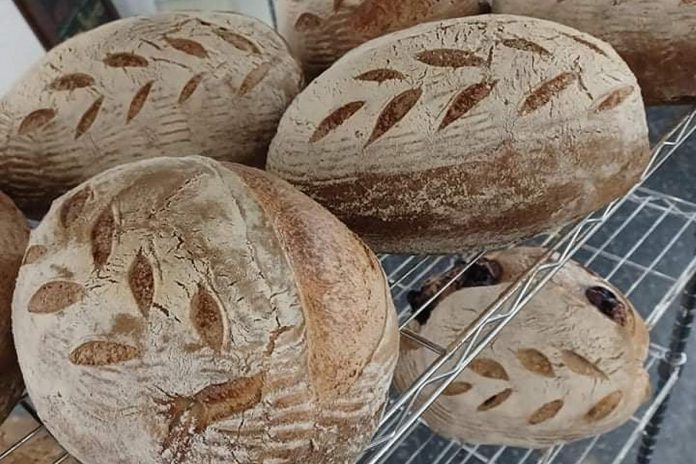 Downtown Lindsay has a new bakery with a sharp twist. Oh So Sourdough (6 Cambridge St. N., Lindsay) opened on November 17th. They offer bread, cookies, scones, bagels, pretzels, banana bread, and more — all of which is made with sourdough starter.
Owner and sole baker Danielle Williamson originally developed an interest in sourdough while working for Mickaël's Café Librairie.
"We didn't do a lot with the sourdough — more I was taught to maintain it. I found a real interest in it afterwards."
After having a baby in 2019, Danielle had the opportunity to expand her knowledge.
Advertisement - content continues below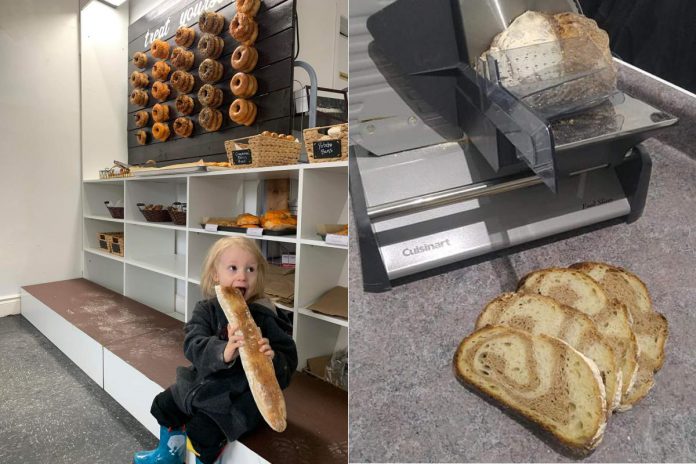 "I decided to try to learn how to grow a sourdough (starter) of my own. And this was something I had no idea about but I started studying it on my own. It's such an interesting concept. You can create something from nothing. If you can care for something enough … it's kind of hard to explain in words."
Danielle's starter was successful, and soon she started her own business selling baked goods from home. She was exploring the idea of turning her sun room into a storefront when the shop at 6 Cambridge Street North became available.
"This was actually a lot more feasible to do (than baking at home) and made a lot more sense."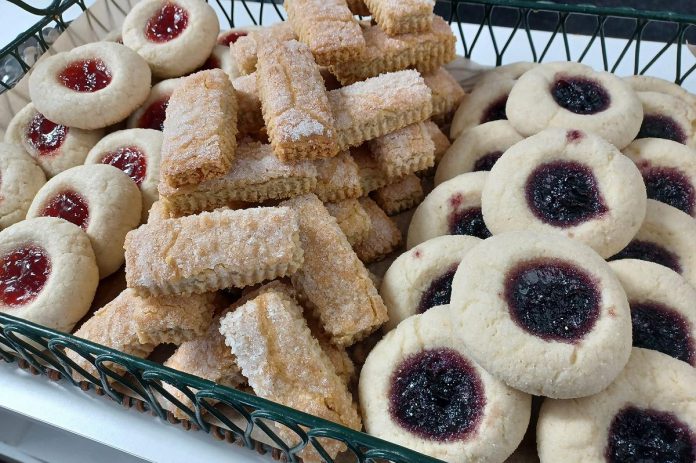 That sourdough starter remains the cornerstone of Danielle's business. Even baked goods that don't require yeast contain the sourdough discard, which no longer rises. Danielle notes that this still contains the nutritional properties and benefits of sourdough, as well as its something-from-nothing magic.
"Sourdough is just flour and water, and then you give it time and you take care of it," she explains. "And anything that has liquid and flour in it, you just replace certain amounts of the flour and the liquid."
You can find Oh So Sourdough on Facebook.
Kawartha Buttertart Factory set to expand with a new Peterborough location
The Kawartha Buttertart Factory (17 Indacom Drive, Douro-Dummer, 705-313-4190) — known for its small but delicious selection of baked goods and for lines that can wrap around the building — is expanding to a second location.
The new bakery will be located in the Parkway Place plaza on Lansdowne Street in Peterborough. Owner Cathy Smith says that they aren't trying to reinvent themselves with this expansion.
"We're trying to create the same atmosphere here in Peterborough as we have in Douro. A small little bakery, nothing big and fancy. We're just keeping it simple."
Advertisement - content continues below
Cathy says that busyness at their Douro location — just off County Road 4 on Highway 28, a popular route for people heading to the cottage — was one key factor that led to the expansion.
"It's very daunting for people that actually live in the area. I know several people who say 'I love your stuff, but I am not waiting in that lineup. You couldn't pay me to wait in that lineup every week to come and get things."
The new Peterborough location will also offer expanded kitchen space, which Cathy hopes will help to keep up with demand, particularly for butter tarts and donuts.
"We're really hoping the donuts are going to take off in Peterborough. There aren't many places to get real homemade donuts in Peterborough and we do have a number of people who will come out to the Douro bakery to take them back to the office, that kind of thing. So I think we're going to see a lot more of that here."
Cathy says that they are currently on track to open their Peterborough location on January 4th, although the typical wrinkles of renovations might cause that date to be adjusted.
In the mean time, you can always grab a selection of tarts, cinnamon buns, donuts, pies and bread at their original location.
"Douro is still going to be open," Cathy says. "It's still going to be there for the cottagers and for people who want to take the drive to go there."
For more information, visit the Kawartha Buttertart Factory's website at thebuttertartfactory.com.