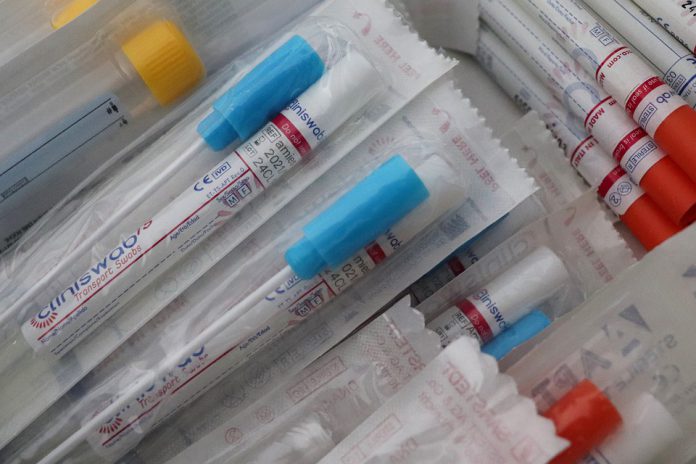 The first suspected COVID-19 case of the omicron variant has been identified in the Kawartha Lakes, Northumberland, and Haliburton region.
In a virtual media briefing on Wednesday afternoon (December 15), Dr. Natalie Bocking, medical officer of health for the Haliburton, Kawartha, Pine Ridge (HKPR) District Health Unit, said a lab specimen has screened positive for a mutation that could indicate the omicron variant.
"It does not 100 per cent mean that it's omicron — it could be other variants — but it's used as an early indicator," Dr. Bocking said, referring to the test that identified the mutation. "It is most likely omicron, because we're not seeing other variants such as the alpha variant."
Advertisement - story continues below
"It still takes one to two weeks to get the results of whole genome sequencing back, so it does take a bit of time to confirm 100 per cent if it is an omicron variant," Dr. Bocking added. "We should expect over the next couple of weeks for more and more cases that are identified to be the omicron variant rather than the delta variant, as the omicron variant starts to become the dominant strain."
Dr. Bocking said the weekly incidence rate has increased to 36.2 cases per 100,000 people, from around five cases per 100,000 three weeks ago. She noted that, by comparison, the Kingston area is experiencing an incidence rate of almost 350 cases per 100,000.
As of Wednesday, there are 59 active cases in the HKPR District Health Unit's region, including 36 in Kawartha Lakes, 21 in Northumberland, and 2 in Haliburton, with 130 high-risk contacts across the region.
There are currently five outbreaks in the region, including outbreaks at three schools and at one child care centre, and one outbreak associated with a children's hockey team. The outbreak in the medical/surgical inpatient ward at Campbellford Memorial Hospital was declared resolved on Tuesday (December 14).
"The increasing cases that we have had locally have been driven by the delta variant to date," Dr. Bocking said. "We are seeing a steady increase now associated now with both a higher number of outbreaks but also a higher number of cases in total, including broader community transmission of COVID-19."
Of the 115 cases identified in the last two weeks, 23 per cent of them have been among children under 10 years old, she added.
Advertisement - story continues below
Dr. Bocking advised that the health unit will no longer be accepting walk-ins at any of its mass immunization clinics as of Thursday (December 16) due to increased demand for third doses. Walk-ins had previously been accepted during the last hour of scheduled clinics.
Additional appointments are being added to clinics to accommodate the increased demand. Anyone attending a vaccination clinic will also now be asked to put on a supplied medical-grade mask, either in place of or over top of their cloth mask.
With the recent increase in cases, the health unit will no longer be offering some non-COVID programming. This includes pausing sexual health clinics, no-doctor vaccination clinics for children, Healthy Babies Healthy Children programming, and some inspection services. The health unit is redeploying staff from these programs back to clinics or case investigation.
Dr. Bocking said she is not issuing any letters of instruction at this point to require additional public health measures, such as was the case in Peterborough on Monday, but it is still "actively under consideration."
"I strongly support a pan-provincial approach," she said. "It's my understanding that we should be learning in the next day or so of potential further provincial measures. However, if we do not see additional provincial measures, then we will be issuing local letters of instruction given the recent surge in cases we are seeing here and then the enhanced risk associated with the omicron variant."
Dr. Bocking said she is also "strongly encouraging" local residents, businesses, and organizations to cancel any large holiday parties.
"We should not be having large holiday parties right now. If you are planning on gathering, these need to be small gatherings, either just within your household or perhaps one other household."