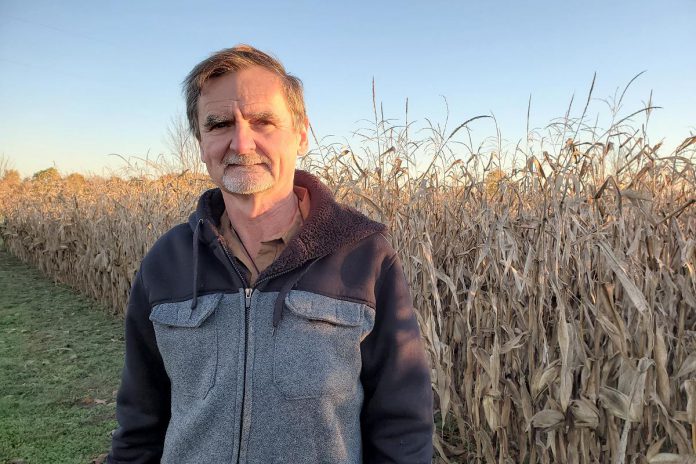 When 62-year-old farmer Richard Tukendorf woke up in the middle of the night, doubled over in severe pain, he knew something was wrong. Then, after he went to the bathroom, he became really scared.
"There was blood in my urine — a lot of it," he recalls. "Something serious was going on. I needed to go to the hospital right away."
At the emergency department at his local hospital, Richard had a CT scan. His doctors told him they were concerned about something they saw on the scan.
"They thought it could be a tumour," he says. "They immediately sent me to see a specialist at Peterborough Regional Health Centre."
The urologist waiting for Richard at PRHC told him he didn't think it was cancer, but wanted to take a closer look to find out what was going on. A scope revealed a ruptured blood vessel in Richard's kidney was the source of his pain and bleeding.
While Richard was very relieved it wasn't cancer, he now had a new fear. Would he need major surgery to fix the problem? Would doctors be able to save his kidney? How would he be able to run his farm if he was recovering from surgery?
Twenty years ago, Richard's fear would have been realized. Surgeons would have had to remove some, or even all, of Richard's kidney. He would have been in the hospital for days and laid up for weeks at home, unable to work.
So when Richard found out he was a candidate for an innovative form of treatment called interventional radiology thanks to advances in technology, he was relieved for a second time.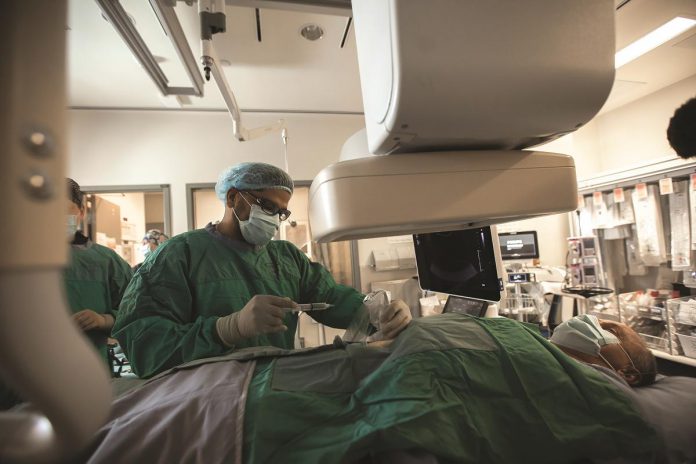 As PRHC expert Dr. Fady Abdelsayed explained to Richard, interventional radiology is a minimally invasive alternative to conventional surgery that uses real-time imaging to steer needles, guidewires, and catheters into tiny incisions in the skin or through blood vessels to perform a procedure.
"Dr. Abdelsayed used a high-tech x-ray to steer a tiny needle through my blood vessels into my kidney," Richard says. "He then used a bit of glue to seal the ruptured blood vessel shut to stop the bleeding."
Although Richard had a local anaesthetic where the tiny incision was made, he was awake during the entire procedure, which took about an hour.
"That's all there was to it — not even one stitch," he says. "The pain was gone instantly as if someone flipped a switch. It felt like a miracle. I've seen medical marvels in movies, but I never imagined I'd experience one."
And because interventional radiology is a minimally invasive procedure, not even requiring stitches, Richard recovered quickly.
"I walked out of the hospital the next day to go home," he says. "I was able to go back to my life and my work as a farmer. That was a huge relief. If I had needed major surgery, I would have been laid up for weeks, unable to do what needs doing on my farm."
According to Dr. Abdelsayed, interventional radiology is the future of healthcare.
"It helps us innovate and push the boundaries of what we can do for patients," Dr. Abdelsayed explains. "It often lets us quickly give a patient relief from pain or help get them a diagnosis sooner. Because it's minimally invasive, patients have less pain, shorter hospital stays, and face fewer risks than with traditional surgery."
"It's remarkable how many different things we can do," he notes. "We can diagnose and treat cancer. We can collect fluid and drain blocked kidneys. We can shrink painful tumours, remove blood clots, and treat infections."
But PRHC's interventional radiology suites are now 13 years old. They're too small to fit the latest state-of-the-art equipment — including CT scans, fluoroscopy, and ultrasound — used during interventional radiology procedures. They're too small to accommodate the number of medical experts needed during the procedures. The suites need to be upgraded and expanded to meet the increasing need for interventional radiology.
"Dr. Abdelsayed and his colleagues perform 6,000 procedures every year, making PRHC one of Ontario's busiest interventional radiology centres in the province outside of downtown Toronto," says Lesley Heighway, PRHC Foundation President and CEO.
"Our facilities are in constant use and the need is only growing," she says. "Because the government doesn't fund equipment, our hospital is counting on your donations. Your support will help PRHC's healthcare professionals provide patients like Richard with the very best care — close to home — with less risk, less pain, and a shorter hospital stay."
"PRHC really needs your help to expand and upgrade their suites to fit the staff and all the advanced equipment they use to treat patients," Richard adds. "You'll be helping Dr. Abdelsayed and his team offer this world-class care to more folks like me for years to come."
With the support of donors, PRHC will build a new step-down unit for rapid and high-demand procedures, add more recovery beds, and create more space for professionals like Dr. Abdelsayed to work.
For more information or to support this needed investment in the future of healthcare at our regional hospital, visit the PRHC Foundation's website at prhcfoundation.ca or call 705-876-5000.
This story was created in partnership with the Peterborough Regional Health Centre Foundation.