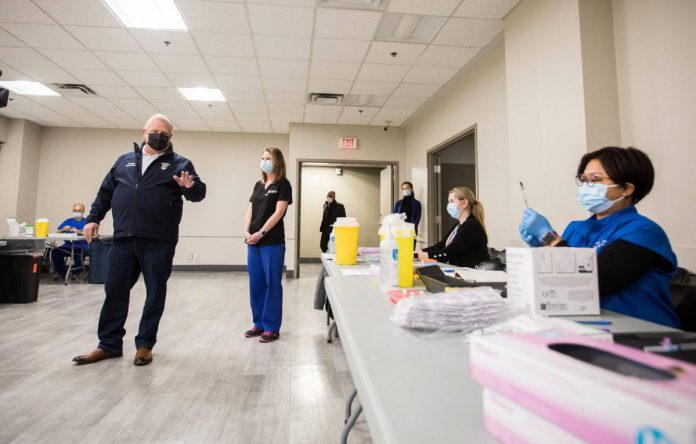 With Ontario reporting a record-high 9,571 new COVID-19 cases on Friday (December 24), a spokesperson for the Ontario Ministry of Health has issued a statement.
"The day after Quebec reported over 9,000 cases in a single day, Ontario has done the same," reads the statement from Alexandra Hilkene, press secretary to health minister Christine Elliott.
"Due to the highly-transmissible nature of the Omicron variant, it was expected that case numbers would increase in the winter months. We expect they will continue to increase over the coming days and weeks, as other jurisdictions are seeing similar case rate increases per capita."
Advertisement - story continues below
"While the province's ICUs continue to remain stable, we expect the number of admissions to rise in the coming weeks as Omicron spreads, particularly among the unvaccinated. To date, the effectiveness of vaccines has meant that despite a rapid increase in cases, we have not seen a corresponding increase in hospitalizations and ICU admissions."
"Investments in Ontario's hospital capacity have resulted in 600 ICU beds being immediately available with nearly 500 more ICU beds available for surge capacity if required. Ontario is ready for an increase in hospital and ICU admissions as we accelerate the booster rollout."
"Vaccines remain the best protection against Omicron, and Ontario continues to urgently ramp up its capacity to administer COVID-19 vaccines, with over 253,000 doses administered Wednesday. As the province continues to administer booster doses to all Ontarians 18 and older over the coming days and weeks, the province has put in place additional public health and workplace safety measures, such as capacity and social gathering limits, that will help to curb transmission and continue to safeguard Ontario's hospital and ICU capacity."
Advertisement - story continues below
"The coming days and weeks will require ongoing vigilance. This holiday season, please celebrate safely, get vaccinated and follow the public health measures that we know work and have protected us over the last 20 months. The Chief Medical Officer of Health will continue to review the data and evidence and our government will act as necessary to protect our health care system and the health and safety of Ontarians."
Friday's increase of 9,571 cases is 3,781 higher than Thursday's case count of 5,790, which was already by far the most cases ever reported in a single day in Ontario since the pandemic began.
Most of Friday's new cases are in larger urban centres including Toronto (2,456), Peel (1,113), Halton (745), Ottawa (624), York (604), Hamilton (487), Middlesex-London (379), and Durham (349).
However, every region of the province is reporting at least 10 cases.
In the greater Kawarthas region, Peterborough is reporting 113 new cases, Hastings Prince Edward is reporting 105, and Haliburton, Kawartha, Pine Ridge District is reporting 60.
Over the next four days, the province will not be issuing updates due to the holidays. The next provincial update will be next Wednesday (December 29), when cases from December 25 to 28 will also be reported.