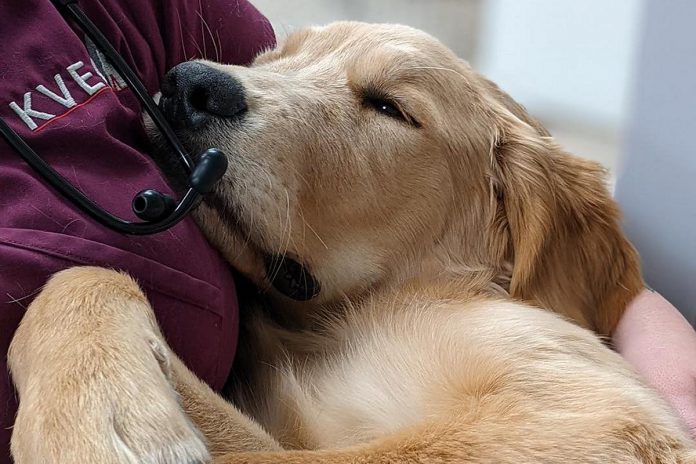 Peterborough veterinarian Kristy Hiltz was looking forward to a quiet New Year's Eve at home with her family.
But when Stacey MacPherson, a registered veterinary technician (RVT) at Dr. Hiltz's Sherbrooke Heights Animal Hospital, messaged her that the Kawartha Veterinary Emergency Clinic (KVEC) was overwhelmed with patients and had to close its doors to catch up, that plan abruptly was put aside.
"She posted a screenshot of a Facebook post that KVEC had made and asked 'What should we do? If it's closed, our clients won't be able to access care.'," Dr. Hiltz recalls.
Advertisement - story continues below
"But it wasn't just our clients who were unable to access care," Dr. Hiltz explains. "If the emergency clinic is closed, nobody is getting care. I called KVEC and asked what they needed from us. 'Do you want us to just man the phones? Do you want us to take non-critical cases until you're back on your feet? Basically, how can we help?'"
Located at 1840 Lansdowne Street West, KVEC is an accredited emergency veterinary clinic with veterinarians, RVTs, and support staff experienced in emergency medicine and surgery. The full-service after-hours clinic services veterinarians and their clients in Peterborough, Kawarthas Lakes, and Northumberland. In 2021, KVEC treated almost 11,000 small animals needing emergency care and treatment.
What Dr. Hiltz learned during her call with KVEC was that the clinic already had 16 patients in its care on December 31 when a large number of emergency cases started to arrive around 9 a.m. By 3 p.m., the clinic had reached full capacity and was forced to close its doors to new incoming patients.
"We put a notice on our Facebook page that we had to shut down," says KVEC office manager and RVT Joanne Pidgeon, noting that — at the height of the crisis — more than 30 animals, both admissions and outpatients, were in the clinic's care.
"That was a difficult message to put out but we had to," she says. "We didn't have a choice."
With Dr. Hiltz's offer to help, along with another offer of assistance from Dr. Leslie Scott at the Norwood Veterinary Hospital, KVEC was able to refer incoming patients.
Advertisement - story continues below
"We were thrilled with the offers of help," Pidgeon says. "It made our day that they did that. They're very compassionate people."
At the Sherbrooke Heights Animal Hospital, Dr. Hiltz had swung into action by 5:30 p.m., assisted by MacPherson. Joining them was a second vet-RVT pairing of Dr. Sara Tratch and Jill Vander Eyken.
"We had five emergencies in four hours," notes Dr. Hiltz. "That doesn't sound like a lot, but when you're having to do blood work, x-rays, and anaesthesia surgery, it was busy. One was a real concern. The others weren't life threatening, but there was a lot of suffering."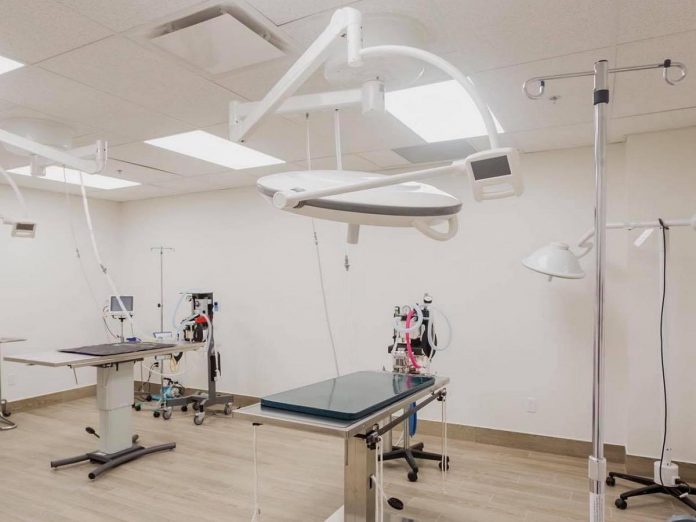 By 9 p.m. on New Year's Eve, the capacity crisis at KVEC had passed and the emergency clinic was one again able to accept new patients.
"We all thought we had the day off," Dr Hiltz says. "Everybody had plans — we missed some important family time. Stacey and I left after 9 p.m. The other team left about 10 p.m. We have so little family time these days, but it was important that the animals were seen."
While the final day of 2021 was hectic for the veterinarians and RVTs involved, Dr. Hiltz says it's a microcosm of a bigger problem.
Advertisement - story continues below
"Prior to COVID, we were experiencing a shortage of veterinarians Canada wide," she explains. "Then COVID hit, and that really precipitated an enormous crisis in terms of our ability to provide services, and also in terms of mental health and burnout amongst veterinarians."
"When the first lockdown happened, there was this gut-wrenching, soul-sucking anguish. I didn't know if we were going to be completely locked down. We didn't know if we were going to be declared an essential service. All I could think about were the animals and the people who are going to watch their animals die, with no access to care and no access to pain management. I almost went out of my mind with worry during those first few weeks of the pandemic."
Not helping the veterinarian shortage challenge was the fact that more people were acquiring animals to keep them company during the isolation of lockdown. In addition, people were paying more attention to their pets as they spent more time with them, prompting them to seek veterinary care in increasing numbers.
"It's not a shortage that's going to be over any time soon," says Dr. Hiltz. "In the meantime, those on the front lines (of veterinary care) are running with no gas in their tanks and consistently being pushed beyond their limits."
"Mental health has become a big issue in our profession. There's now an organization called Not One More Vet to deal with this. Veterinarian suicide is rampant."
A U.S. non-profit organization, Not One More Vet was founded in 2014 by Dr. Nicole McArthur following the suicide of world-renowned veterinarian and author Dr. Sophia Yin. The membership of Not One More Vet's private Facebook group exceeds 28,000 veterinary professionals worldwide.
Advertisement - story continues below
According to Not One More Vet, one in 10 veterinarians and one in five veterinary technicians have contemplated suicide. Statistics from the Canadian Veterinary Medical Association state that one in five Canadian veterinarians and technologists have reported suicidal thoughts. Research from the Ontario Veterinary College published in early 2020 reported 26.2 per cent of Canadian veterinarians had contemplated suicide in the previous 12 months.
For Dr. Hiltz, what transpired on New Year's Eve was her "nightmare coming to fruition."
"I'm incredibly proud of my staff," she says. "I'm a veterinarian but I'm also the boss. To put a message out on Facebook and have three of my already overworked staff, each of whom were looking forward to a break, step up is heartening. Not just us, but the Norwood Veterinary Hospital as well."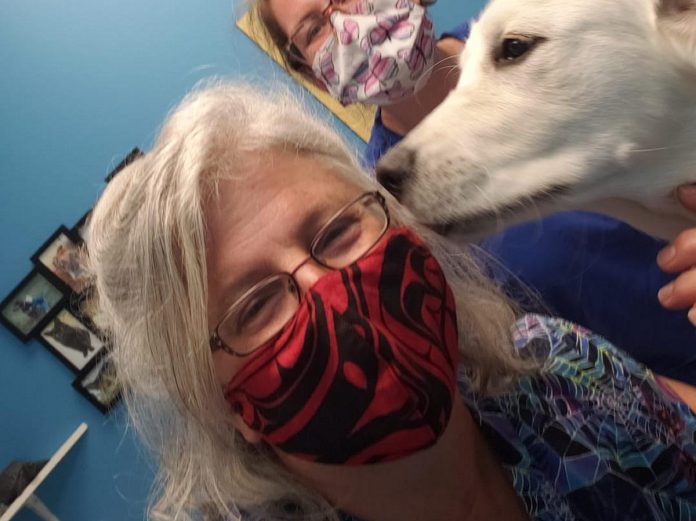 "But as proud as I am, I also know how close to the edge everybody is," Dr. Hiltz adds. "You have to be really careful about what you're asking. In all honesty, it's probably more than I should have asked of my staff."
The capacity crisis at KVEC, Dr. Hiltz says, is an example of how close to the breaking point veterinary medicine is.
"It worked out this time but it's not the big solution we need," she says. "We don't have anymore to give. We're doing everything we can with what we have."