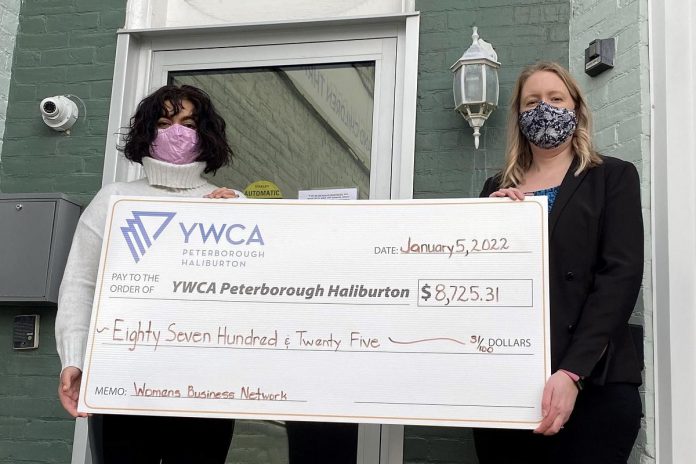 The Women's Business Network of Peterborough (WBN) has donated $8,725.31 to the YWCA Peterborough Haliburton in support of the YWCA Crossroads Shelter for women and children fleeing violence and abuse.
WBN president Christine Teixeira presented a cheque to Ria Nicholson, lead philanthropic advisor with YWCA Peterborough Haliburton, on Thursday (January 6).
The funds were raised in December at WBN's annual holiday gala, where members of the networking organization have come together for more than 30 years to support the YWCA Crossroads Shelter. In 2021, people from the community were also able to add to the fundraising by participating in an online auction.
Advertisement - story continues below
WBN's donation supports the YWCA's Safe Nights Program at Crossroads Shelter, which provides emergency shelter, meals, counselling and personal care supplies for women and children. One safe night at YWCA Crossroads Shelter costs $64.65, beyond what government funding provides, and includes everything from the physical safety of a private room and 24-hour support, to nutritious meals, linens, clothing, and personal care items.
"Being able to supply 135 safe nights to our sisters in the community is something we would not be able to do were it not for the generosity of this community," Teixeira says in a media release. "I wish to express my profound appreciation for our members, volunteers, and everyone who donated an auction item. Many items came from small businesses who gave to our cause despite the current challenges they face in these times."
According to the Ontario Association of Interval and Transition Houses, 58 women in Ontario were killed in 2020-21 as a result of violence by an intimate partner or family member. Violence against women had also intensified throughout the pandemic, because of factors including increased isolation and lack of available services. On any one night, more than 6,000 Canadian women and children sleep in shelters because they are not safe at home.
Advertisement - story continues below
"The Women's Business Network is such an important organization in our community," says Kim Dolan, executive director of YWCA Peterborough Haliburton. "The strong support amongst members extends beyond their meetings to impact so many other women in the Peterborough area."
"The proceeds of the December 2021 WBN Holiday Gala send a strong message to women in our region who experience gender-based violence," Dolan adds. "You are seen, you matter, you are not alone. On behalf of YWCA Peterborough Haliburton and the women we serve, thank you!"