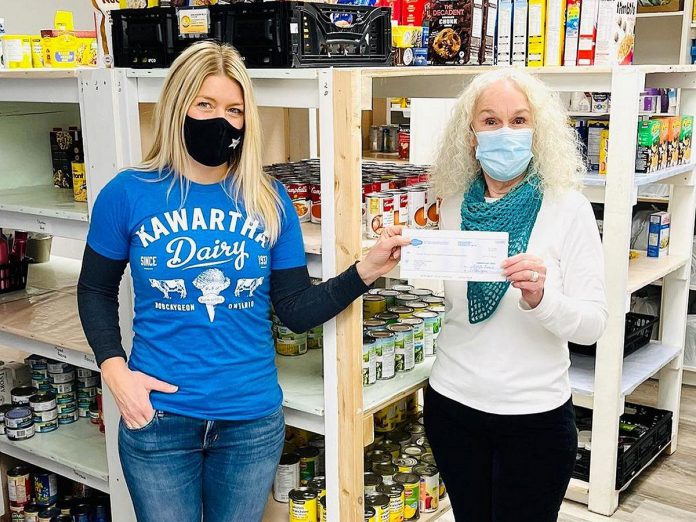 Last summer, two Bobcaygeon businesses — Douglas + Son Vintage Mercantile and Kawartha Dairy — teamed up to launch a line of Kawartha Dairy branded hoodies and t-shirts, with a portion of sales supporting the Bobcaygeon Food Bank.
Kawartha Dairy is an iconic family-owned dairy founded in Bobcaygeon in 1937 (they are celebrating their 85th anniversary this year). Douglas + Son is a custom clothing shop in Bobcaygeon, established by Sacha and Bill Douglas in 2013, that designs apparel inspired by classic northern imagery printed on modern-cut clothing.
In 2020, Kawartha Dairy asked Douglas + Son to design apparel as a holiday gift for Kawartha Dairy staff. The design proved so popular that the two businesses decided to offer branded hoodies and t-shirts to the general public in 2021, with $5 from each item sold going to the Bobcaygeon Food Bank.
Advertisement - story continues below
In December 2021, the two businesses presented the food bank with a cheque for $7,805, representing 1,561 t-shirts and hoodies sold.
"There are an awful lot of folks in need these days, especially in these incredibly trying times and at this time of year," Bill and Sacha posted on their social media accounts in December. "It's our great honour to help out."
Douglas + Son and Kawartha Dairy t-shirt and hoodies continue to be available. You can order one by visiting the Douglas + Son website at douglasandson.ca or by dropping by their retail store at 68 Bolton Street in Bobcaygeon.