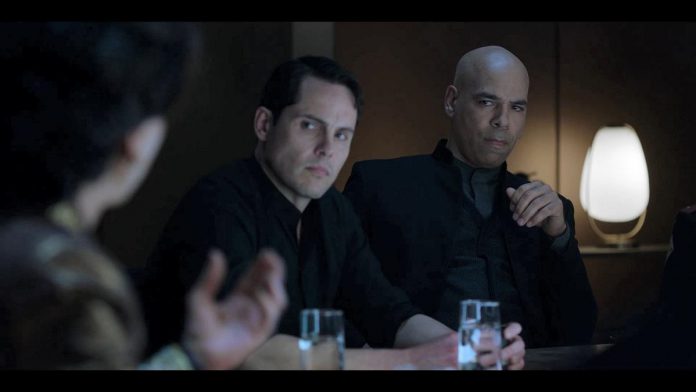 Peterborough's Beau Dixon has two more notches on his acting resume, appearing in two critically acclaimed television series in the past month.
The multi-talented Dixon — who is also a musician, composer, director, and playwright as well as an actor — appears as the Martian prime minister in the series finale of The Expanse on Amazon Prime, and as "The Tuba" character in four episodes of Station Eleven on HBO Max.
In "Babylon's Ashes", the series finale of The Expanse (based on the books by James S. A. Corey, the collective pen name of Daniel Abraham and Ty Franck), Dixon has a speaking role as the unnamed Martian prime minister in a scene where the surviving leaders of Earth, Mars, and the Belt convene at a roundtable on Ceres.
Advertisement - story continues below
Dixon also appears in four episodes of Station Eleven, a limited series based on the 2014 novel of the same name by Canadian writer Emily St. John Mandel. Mainly set two decades after a flu pandemic has killed almost everyone on the planet and resulted in the collapse of civilization, the story follows a group of survivors who make their living as travelling performers.
Dixon plays the role of an unnamed tuba-playing character in the travelling symphony and appears in episode two ("A Hawk from a Handsaw"), episode four ("Rosencrantz and Guildenstern Aren't Dead"), episode eight ("Who's There?), and episode 10 (the series finale "Unbroken Circle").
All six seasons of The Expanse are available on Amazon Prime, and all 10 episodes of Station Eleven are available on HBO Max.
Born in Detroit, Dixon lived in London, Ottawa, and Toronto before moving to Peterborough to be close to his mother and sister.
He is the co-founder and artistic director for Firebrand Theatre, a Canadian educational theatre company, and an artistic associate for 4th Line Theatre in Millbrook. More recently, Dixon became the music director for Sheridan College, Lakefield College School, and the Stratford Festival.
As an actor, Dixon received two Dora Mavor Moore Awards (Best New Play, Best Individual Performance) and two Toronto Critic's Awards (Best Ensemble, Male Lead in a Musical). He was inducted into Peterborough's Pathway of Fame in 2011.
Advertisement - story continues below
It was a blast playing the Martian Prime Minister on the final episode of The Expanse. Thank you to Shoreh Agdelshoo and…

Posted by Beau Dixon on Friday, January 14, 2022