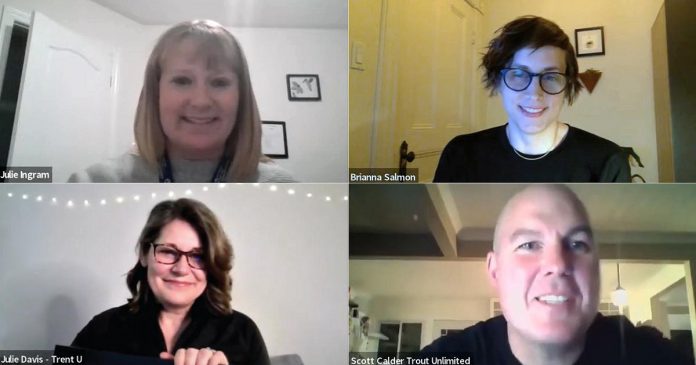 Otonabee Conservation announced the recipients of the annual Environmental Excellence Awards at the organization's virtual annual general meeting on Thursday night (January 20).
Each year, the conservation authority honours four "watershed champions" with the awards, recognizing people and groups who have demonstrated the advancement of watershed health through projects on the landscape and actions that contribute to a healthier environment for everyone.
The Conservation Partnership Award was presented to Peterborough Public Health by City of Peterborough councillor Gary Baldwin, in recognition of the health unit's leadership during the pandemic as well as the health unit's programs and services related to drinking water source protection, water quality monitoring at public beaches, and more. Julie Ingram, manager of environmental health programs at Peterborough Public Health, accepted the award on behalf of the health unit.
Advertisement - story continues below
The Individual Conservationist Award was presented to Brianna Salmon by Mayor Diane Therrien, in recognition of Salmon's leadership as the former executive director of Peterborough GreenUP for five years, and her current role as executive director of Green Communities Canada. At GreenUP, Salmon championed and led a successful five-year capital campaign to increase accessibility and infrastructure at GreenUP's Ecology Park, a community hub for environmental education, native plants, and sustainable gardening practices.
The Business Award was presented to Trent University by Selwyn Township mayor Andy Mitchell, in recognition of the university's leadership in environmental education and stewardship, including the School of the Environment, the Trent Lands and Nature Areas Plan, Cleantech Commons, and the university's first-of-its-kind zero-carbon professional forensics training facility. Julie Davis, vice-president of external relations and Development, accepted the award on behalf of the university.
The Environmental Stewardship Award was presented to the Millbrook chapter of Trout Unlimited Canada by Cavan-Monaghan Township councillor Ryan Huntley, in recognition of the Millbrook chapter's efforts to improve fish populations, fish habitat, drinking water, and the overall aesthetics of the landscape, with a focus on Baxter and Squirrel Creeks. Millbrook chapter president Scott Calder accepted the award on behalf of the group.
Advertisement - story continues below
Along with presenting the awards, Otonabee Conservation appointed a new chair and vice-chair of the board of directors.
Cavan-Monaghan Township councillor Ryan Huntley, previously vice-chair, takes over as chair from Selwyn Township mayor Andy Mitchell, who has filled the role since 2014. Municipality of Trent Hills councillor and deputy mayor Michael Metcalf is the new vice-chair.
Malaika Collette, a youth climate activist and program coordinator with Kawartha World Issues Centre, was the keynote speaker at the annual general meeting. She spoke about her inspiration for climate action in the Peterborough area, and how her passion for climate education has taken her work and activism to the national and international stage, including attending and participating in last year's COP26 in Scotland.