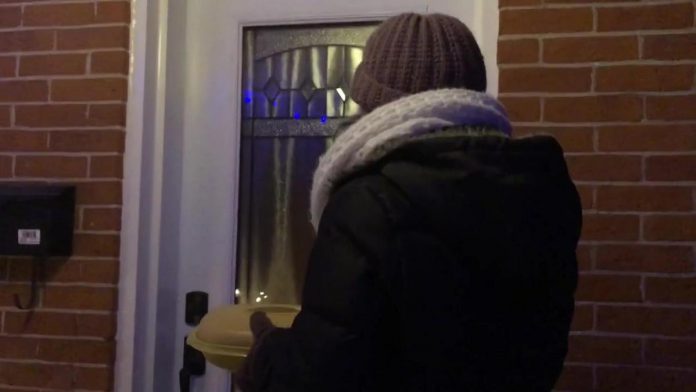 As the Peterborough region experiences "some blunting" of the fourth wave of COVID-19 due to the omicron variant, Peterborough's medical officer of health pledges to stay the course despite protests by anti-vaxxers that turned decidedly personal this past week.
"I think I'd be lying if I said I was okay, but I'm here and I'm doing my job," said Dr. Thomas Piggott during a Peterborough Public Health media briefing held Friday (January 21). "Online and in person, the worst that people are levelling at me is making fun of my last name."
"If they think that's novel or is going to stick, they obviously haven't spent any time in a schoolyard," he added. "But if I wasn't a white male, I hate to think of the further vitriol and hatred I'd be experiencing. I have huge empathy for my colleagues and people that may be experiencing this with even more difficultly."
Advertisement - story continues below
Tweet this quote
This week's protests at Dr. Piggott's East City home, which ultimately led to the arrests of two people, took centre stage during a time put aside weekly to update the community on the current status of the pandemic.
On Saturday afternoon (January 15), a small group of anti-vaxxers showed up to protest at Dr. Piggott's home carrying signs. They dispersed after police arrived. Then, on Wednesday night (January 19), a woman knocked on Dr. Piggott's door in an attempt to serve him a notice headed Trespass, Liability and Cease and Desist.
Upon investigation, city police charged a 30-year-old Peterborough man with criminal harassment and intimidation of a health official under the provisions of the newly minted Bill C-3 that makes it an offence to "provoke a state of fear" in a health professional or a person who assists a health professional in the performance of their duties. Also arrested was a 54-year-old Peterborough woman, charged with the same offences.
The weekly media briefing, which is normally held on Thursday, was moved to Friday to accommodate Dr. Piggott's "need to be with his family" in the aftermath of Wednesday night's front-door encounter.
Advertisement - story continues below
Tweet this quote
Local leaders on the briefing call took turns condemning the actions of anti-vaxxers at Dr. Piggott's home.
"Difference of opinion is not a licence to intimidate or bully or harass," said Board of Health chair and Selwyn Mayor Andy Mitchell. "Protesting at someone's residence is simply wrong."
"It is never appropriate to protest at anyone's home," said Peterborough-Kawartha MPP Dave Smith, adding "That is their property. That is where their family should feel safe. It is 100 per cent wrong and should never be accepted by anyone on our community."
Peterborough Mayor Diane Therrien, who earlier this week called those involved "mosquitoes," said she condemns "this nonsense behaviour in the strongest terms possible."
For his part, Peterborough Police Chief Scott Gilbert served notice his officers are watching and will lay charges as required.
"Ignorance of the law is no excuse," said Chief Gilbert. "If you attend at a health care worker's home and engage in the activities engaged in over the last week, that is causing fear. You should be on notice you will be subject to what the legislation states. If you're going to protest go to City Hall, go to Queen's Park. You don't go to someone's house. That's just unacceptable."
Advertisement - story continues below
Tweet this quote
Returning to the state of the pandemic locally, as of late Thursday afternoon (January 20), 548 confirmed active COVID cases in the Peterborough region were reported. That's down significantly from 1,072 active cases reported at the last health unit media briefing on January 13. However, the number of local COVID-related deaths has risen during the same period, now at 41 — an increase of six over the past week.
To date this week since Monday, 161 new COVID cases have been confirmed locally. That's well down from a pandemic-high weekly new case count of 770 recorded for the week of December 27 although, as Dr. Piggott noted, the decline is due to less testing rather than less transmission.
Meanwhile, outbreaks continue to be a growing concern with 19 currently on the go, accounting for a total of 327 active cases, Eight outbreaks are ongoing at congregate living facilities. In addition, Extendicare Lakefield, Riverview Manor, Fairhaven Long-term Care, St. Joseph's at Fleming, Rubidge Retirement Residence, Sherbrooke Heights Retirement Residence, Kawartha Heights Retirement Living, Peterborough Retirement Residence, Centennial Place (Millbrook), Pleasant Meadow Manor (Norwood), and the Peterborough Regional Health Centre are also in outbreak.
"We know it (the active case count) has decreased by half but that decline is due to less testing and narrower testing criteria, not due to a decrease in transmission," said Dr. Piggott, noting the strain on the Peterborough Regional Health Centre (PRHC) remains considerable, with 34 COVID-related hospitalizations, five COVID patients in ICU and 75 "suspected" hospitalized cases.
On top of that, PRHC continues to deal with serious staffing pressures as COVID takes a toll on employees, forcing their absence from work.
Meanwhile, of the 41 local COVID-related deaths since the pandemic began, 12 have happened since January 1. Dr. Piggott says that hike is a result of the highest infection rates the pandemic has presented to date.
"What we're seeing reflected is an older population in our region that is more vulnerable to severe illness and death," said Dr. Piggott.
"In this fourth wave, our rates of infection have been around the same as the provincial average, but our underlying vulnerability because of age, the number of long-term care and retirement residences, and other risk factors has meant our vulnerability to death is higher in this community."
Of the eight deaths reported since January 12, the ages range from 57 to 97 among five females and three males. Six people died in hospital and two in long-term care homes. Seven involved confirmed cases of omicron, with three not vaccinated, four with two doses, and one with three doses.
As of late Wednesday afternoon (January 12), 86.8 per cent of those 18 and older eligible for a vaccine had received two doses and 56.2 per cent had received three doses. Meanwhile, 49.3 per cent of children aged five to 11 have received one dose. As for booster shots, 49 per cent of all residents eligible aged five and up have rolled up their sleeve for a third time.