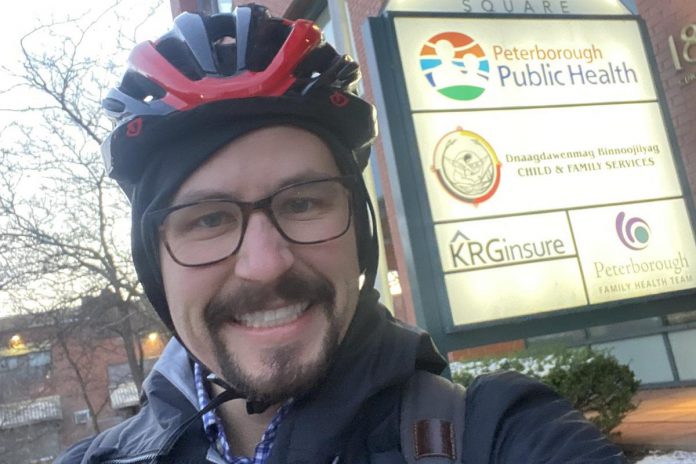 A group of Peterborough-area physicians have issued a statement in support of Peterborough medical officer of health Dr. Thomas Piggott and Peterborough Public Health.
The statement follows recent protests at the health unit and two incidents where anti-vaxxers showed up at Dr. Piggott's private residence in East City — including an incident when an anti-vaxxer knocked on his front door pretending to be a friendly neighbour.
A newcomer to the Peterborough area, Dr. Piggott began working at Peterborough Public Health on December 1. He was previously the medical officer of health of Labrador-Grenfell Health in the northern regions of Labrador, where he also served as the executive lead for population health and rural and remote health in the region. Dr. Piggott's wife is also a family physician and they have two young daughters.
Advertisement - story continues below
The statement is printed in its entirety below.
The Peterborough family physician leadership group and the Peterborough Family Health Team are disturbed and appalled by the recent personal attacks on the Medical Officer of Health, Dr. Thomas Piggott, and the staff of Peterborough Public Health.
We have had the benefit of working closely with Dr. Piggott and have witnessed his compassionate leadership and hard work. He and his team show up daily to help keep our community safe throughout the pandemic, undeterred by the harassment they receive at the front doors of Public Health, or sadly, as Dr. Piggott has experienced, at his home.
These are professionals who dedicate themselves to keeping our community protected against a deadly virus. We find it disheartening and astounding that not only do these events disrupt the Public Health workplace but they have escalated to the front door of a private home, with no consideration to the children inside.
When freedom of opinion turns vicious and vindictive, it becomes personal, and we stand together. We stand with Dr. Piggott. We stand with Peterborough Public Health. We stand with all healthcare workers who have faced threatening, abusive and violent behaviour throughout the COVID-19 pandemic.
Signed
Tom Richard, MD Co-Chair Peterborough Ontario Health Team
Sandra Khan, MD Physician Lead, Primary Care Vaccination Clinic
Wendy Thomas, MD Physician Lead, Community FHO
Bill Shannon, MD Physician Lead, Chemong FHO
Marta Wesolowski, MD Physician Lead, Peterborough Clinic FHO
Dave Carr, MD Physician Lead, Medical Centre FHO
Kim Curtin, MD Physician, Medical Centre FHO
Michelle Fraser, MD Physician Lead, Partners in Pregnancy Clinic
Jim Webster, MD Physician Lead, Greater Peterborough FHO
Duff Sprague, CEO Peterborough Family Health Team