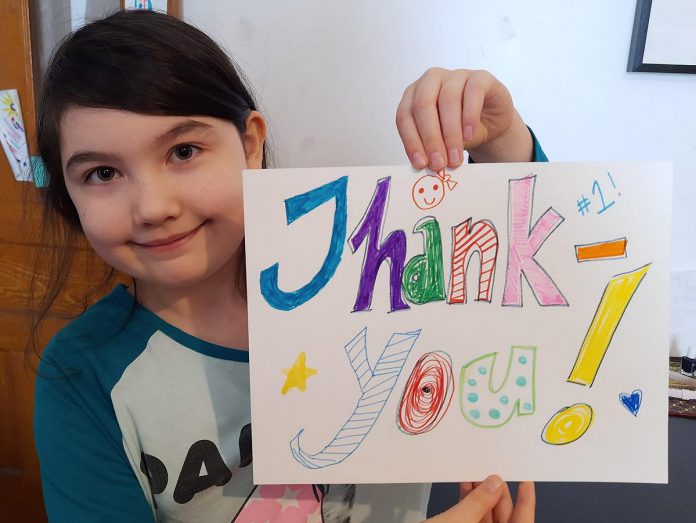 A groundswell of support for Peterborough medical officer of health Dr. Thomas Piggott has evolved into a public Facebook group where local residents can express their appreciation for his dedication to their health and well-being.
Conceived and organized by a small group of Peterborough-area residents, Nogojiwanong Peterborough Stands with Dr Piggott — which has gained over 400 members in the first few hours since it was created — comes in the aftermath of recent protests by anti-vaxxers at the Peterborough Public Health office on King Street as well as outside Dr. Piggott's residence in East City on January 15 and again on January 19.
The latter occurrence, which led to two people being arrested and charged with criminal harassment and intimidation of a health official, saw a woman knock on his door, pretend to be a neighbour welcoming him to the community and then attempt to "serve" him papers headed 'Notice: Trespass, Liability' and 'Cease and Desist' — purporting COVID-19 to be a hoax — while a companion videotaped the encounter. After Dr. Piggott caught on and slammed the door shut, she put the papers in his mailbox. Shortly after, city police arrived on scene.
Advertisement - story continues below
A newcomer to Peterborough, Dr. Piggott was previously the medical officer of health in northern Labrador and a practising family physician who has worked as a field doctor with Médicins Sans Frontières in the Congo in central Africa. Dr. Piggott's wife is also a family physician, and the couple has two young daughters.
"They (anti-vaxxers) crossed the line, causing a lot of stress and unnecessary grief for him and his family," says kawarthaNOW publisher Jeannine Taylor who — along with kawarthaNOW managing editor Bruce Head and kawarthaNOW writer Paul Rellinger, graphic designer Amy E. LeClair, and communications professional Justin Sutton — is behind the online show of support.
"People have repeatedly been asking 'What can we do?'," Taylor says. "They're showing concern for Dr. Piggott and for his family. We want to show him that these groups (of anti-vaxxers) represent a very small number of people."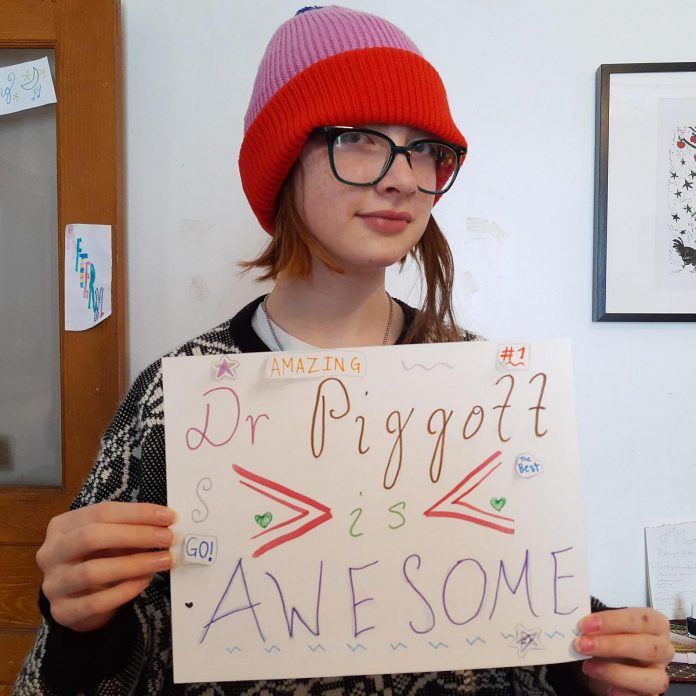 Noting Dr. Piggott has been on the job less than two months — he started in his new role December 1 following the departure of his predecessor Dr. Rosana Salvaterra — Taylor says the idea is to show him, in a big way, that the residents of Peterborough city and county and Hiawatha and Curve Lake First Nations have his back.
To that end, residents are invited to post messages of support for Dr. Piggott (and by extension all public health staff and frontline health care workers) in the Facebook group, as well as post any images and videos that do likewise. Taylor notes there will "zero tolerance" for any hateful vitriol, which will be removed as quickly as possible.
Writer Paul Rellinger, who regularly covers Peterborough Public Health media briefings for kawarthaNOW, says the small group of anti-vaxxers who have targeted Dr. Piggott for simply doing his job in no way represents the broader community.
Advertisement - story continues below
"Peterborough is better than this … much better," Rellinger says.
"That's the message I'd like to see sent to Dr. Piggott. He has to know, if he doesn't already, that his 24-7 efforts to see us through the pandemic are greatly appreciated by the vast majority, and that there's wide and extreme disgust for anyone who trespasses on his personal property, creating fear in him and in his family. In a word, that's cowardly."
Peterborough's medical community is also standing behind Dr. Piggott. On Friday, a group of Peterborough-area physicians issued a joint statement in support of Dr. Piggott and public health staff, praising their "compassionate leadership and hard work."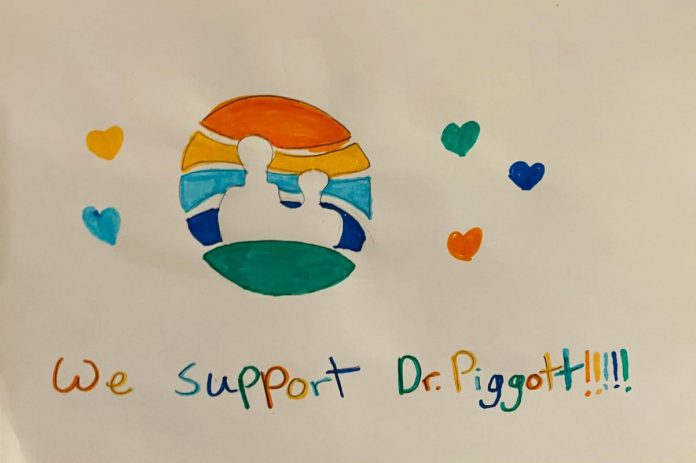 "These are professionals who dedicate themselves to keeping our community protected against a deadly virus," the statement reads in part. "We find it disheartening and astounding that not only do these events disrupt the public health workplace but they have escalated to the front door of a private home, with no consideration to the children inside."
Also on Friday, during the weekly Peterborough Public Health media briefing, local leaders spoke out strongly against anti-vaxxers taking their beef to Dr. Piggott's home.
Peterborough Mayor Diane Therrien condemned "this nonsense behaviour in the strongest terms possible" while Peterborough-Kawartha MPP Dave Smith said "It is never appropriate to protest at anyone's home. That is where their family should feel safe. It is 100 per cent wrong."
Advertisement - story continues below
Taylor notes she expects kawarthaNOW will hear, in some form, from anti-vaxxers concerning this online initiative.
"We've been dealing with that for two years," she says, noting the media often faces animosity from anti-vaxxers for simply reporting pandemic news. "We've had threatening calls. I know other media have been threatened too. It's a problem. I have a sense of how Dr. Piggott must feel, but I can't imagine what it's like to be accosted at your own front door."
"Because of the shameful behaviour of a handful of people, Dr. Piggott's neighbours won't be able to knock on his front door to welcome him," adds kawarthaNOW managing editor Bruce Head. "The Facebook group is a virtual way to let Dr. Piggott and his family know they are welcome and that we appreciate his leadership in keeping us safe during the pandemic."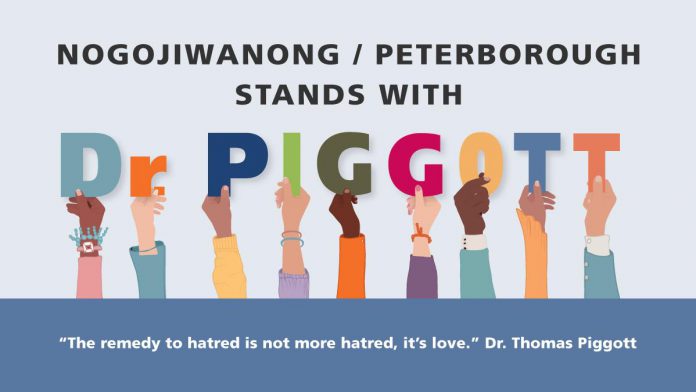 Amy LeClair, who owns and operates a graphic design and brand studio in Cavan Monaghan Township, volunteered to donate her skills and time to create the graphics for the new Facebook group.
"I feel very strongly that Dr. Piggott deserves to hear how important he is to this community," LeClair says. "If I can be a part of that through my work and community spirit, count me in."
For Justin Sutton, seeing what was happening to Dr. Piggott was all the motivation he needed to help organize the group.
"I felt compelled to join this initiative because I think what happened to Dr. Piggott is wrong and dangerous and I wanted him to know the vast majority of his neighbours disapprove of such tactics and won't stand for it anymore," Sutton says. "We want him to know he's valued and we support him."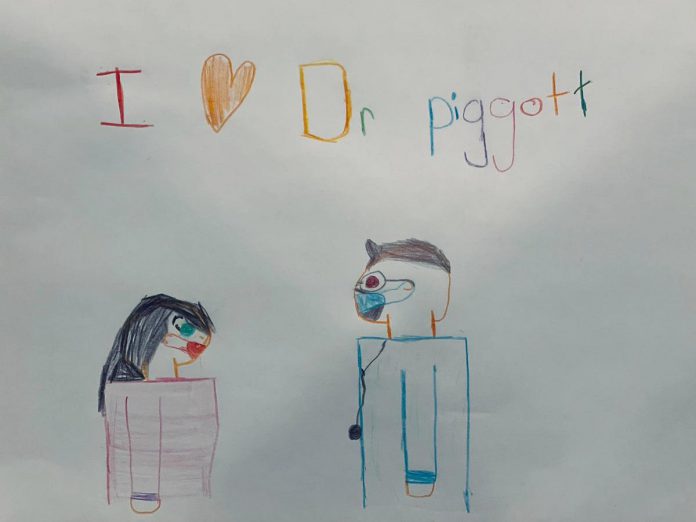 Meanwhile, Peterborough's police chief Scott Gilbert has served notice his officers are watching and will lay charges as required.
"Ignorance of the law is no excuse," said Chief Gilbert at Friday's Peterborough Public Health media briefing. "If you attend at a health care worker's home and engage in the activities engaged in over the last week, that is causing fear. You should be on notice you will be subject to what the legislation (Bill C-3) states. If you're going to protest, go to City Hall, go to Queen's Park. Don't go to someone's house. That's just unacceptable."
Bill C-3, which received Royal Assent on December 17 and came into force on January 16, amends the Criminal Code to make it an indictable offence to "provoke a state of fear" in a health professional or a person who assists a health professional in the performance of their duties. A person convicted of the offence is liable to imprisonment for up to 10 years.
To join the 'Nogojiwanong Peterborough Stands With Dr Piggott' Facebook group, visit www.facebook.com/groups/nogoptbostandswithdrpiggott.
All photos of children/youth and their artwork have been used with the permission of their parents. Last names have been withheld in the interests of privacy.