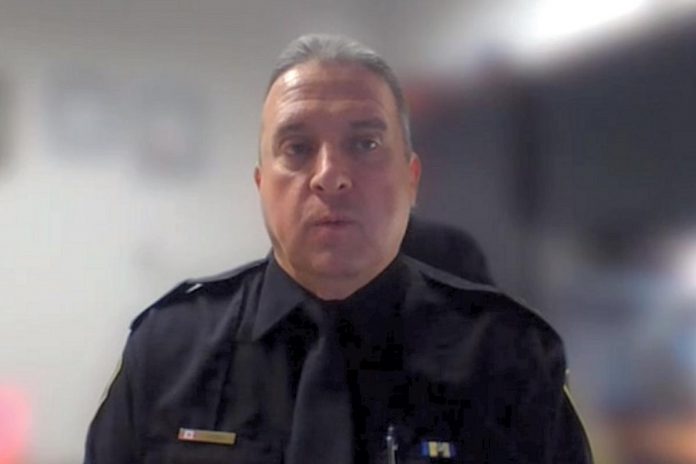 Local participation in the truck convoy making its way to Ottawa to protest the COVID-19 vaccine mandate for truckers was raised at a Peterborough Public Health media briefing held Thursday (January 27).
Local organizers who support the truck convoy have said on social media they intend to gather in vehicles in the parking lot at Crestwood Secondary School in Peterborough early Saturday morning (January 29), before heading off to join the convoy as it makes its way along Highway 401 to Ottawa. In response, the Kawartha Pine Ridge District School Board has denied use of its property for that purpose.
"We're aware of the situation where people may gather at a location where those vehicles may be," said Inspector John Lyons of the Peterborough Police Service at the media briefing. "We are working with the school board. We're monitoring any information that comes to our attention. If there's a presence required, we'll be there."
Advertisement - story continues below
Tweet this quote
"They (the school board) can make a request of us to act as agent on their behalf," he added. "I can tell you we'll be working closely with them (school board officials) moving forward. We'll be prepared to deal with any issues as they come up. If there's a presence there, we'll be positioned to deal with it, again working in relation with the school board."
The truck convoy issue was raised late in the media briefing, which began with Peterborough's medical officer of health encouraging residents to remain vigilant in their adherence to personal infection control measures even after the easing of provincially mandated restrictions on Monday (January 31), which he sees as a positive step.
"It makes sense to ease restrictions that have had a negative impact," Dr. Thomas Piggott said. "But it doesn't make sense to ease off on things that each of us can do in our day-to-day lives, such as continue use of a tightly fitting mask. Such as making sure we're ventilating our spaces. Such as staying home if you are sick. These are things that I implore the public to continue to do."
"Throughout the pandemic, it's been a balance between the measures that can have a negative impact, and trying to ease those as possible while continuing the measures we know have very little (negative) impact but are still helpful."
Meanwhile, just more than two years since the first COVID case in Canada was confirmed at Toronto's Sunnybrook Hospital, a recent downward trend in local active COVID-19 cases continues.
As of late Wednesday afternoon (January 26), 336 confirmed active COVID cases in the Peterborough region were reported. That's down significantly from 548 active cases reported at last week's health unit media briefing.
Advertisement - story continues below
Tweet this quote
However, the number of local COVID-related deaths has again risen and now stands at 48 — an increase of seven over the past week. There have been 20 deaths from COVID since just before Christmas, involving both vaccinated and unvaccinated people.
"We have seen this number increase because, unlike previous waves where Peterborough managed to have a far lower rate of infection, we have matched the Ontario average in a bad way with omicron, and we have seen the proportionate deaths increase accordingly," said Dr. Piggott.
Despite noting that the two most recent people who died were both fully vaccinated with three doses each, Dr. Piggott said people's faith in vaccines' effectiveness shouldn't be shaken. He drew on an analogy in making that point, comparing the risk of death for people who drink and drive to the risk of death for people who are unvaccinated.
"We actually see more motor vehicle collisions and deaths among people who have not had a drop of alcohol. That's because the vast majority — nearly all of the people on the road — do not drink and drive. But when you do drink and drive, the risks are dramatically higher of having a collision and dying."
"Ninety per cent of our community is vaccinated, so even if a smaller proportion of that population gets sick, gets severe disease and dies, the (death) numbers are actually bigger because it's 90 per cent of the population," he added.
Dr. Piggott also pointed to the vulnerability of the local population, comprised of an above-average number of senior residents.
Advertisement - story continues below
Tweet this quote
To date this week since Monday, 82 new COVID cases have been confirmed locally. That's well down from a pandemic-high weekly new case count of 770 recorded for the week of December 27, and 288 recorded just last week. (Editor's note: because of restrictions on the availability of PCR testing, the number of actual new cases is likely higher than reported.)
Meanwhile, there are 16 active outbreaks. Six outbreaks are ongoing at congregate living facilities while Extendicare Lakefield, Riverview Manor, Fairhaven Long-term Care, St. Joseph's at Fleming, Rubidge Retirement Residence, Sherbrooke Heights Retirement Residence, Kawartha Heights Retirement Living, Peterborough Retirement Residence, Centennial Place (Millbrook) and the Peterborough Regional Health Centre (PRHC) are also in outbreak, with the latter currently caring for 21 COVID in-patients.
The local vaccination picture shows that as of late Wednesday afternoon, 87 per cent of those 18 and older eligible for a vaccine had received two doses and 58 per cent in that same group have received three doses. Meanwhile, 51 per cent of children aged five to 11 have received one dose. As for booster shot uptake, 50.5 per cent of all residents eligible aged five and up have rolled up their sleeve for a third time.
"We're almost two per cent higher in third dose coverage compared to last week," said Dr. Piggott, but adding there is "lots of room for improvement" in vaccination of the five to 11 age group.
Walk-in vaccination is now available for those age 12 and up (for first and second doses), those 18 years old and up (for booster shots) and those aged five to 11 (for first doses). Visit peterboroughpublichealth.ca/vaccineclinics for more information regarding clinic locations and hours.
Advertisement - story continues below
Tweet this quote
During the media briefing, Dr. Piggott also took the time to express his appreciation for the Facebook messages of support he has received, and continues to receive, in the aftermath of last week's anti-vaxxer protest at his home in East City — an unsettling experience for him and his family that resulted in the arrests of two people under the provisions of newly minted Bill C-3.
The Facebook group Nogojiwanong Peterborough Stands With Dr. Piggott drew 1,400 members over two days after it was formed by a small group led by kawarthaNOW publisher Jeannine Taylor.
Dr. Piggott said he has been particularly touched by the drawings done by children and posted on the group page, including one that depicts him as a superhero.
"That's very kind and humbling but I assure you there is no superhero costume underneath this," Dr. Piggott said. "I just went to school for a long time to become a public health doctor. But we do have lots of superheroes, not only our Peterborough Public Health team but people all around the community that are doing their part — frontline workers, health care workers, people in our grocery stores, people in our pharmacies, people in our essential services and our utilities … a whole range of people have been our heroes."
"It (the support) makes me blush a lot but I really appreciate it," he added. "It's the true Peterborough that I knew I moved to."
Also on the briefing call were Peterborough-Kawartha MPP Dave Smith, Peterborough Mayor Diane Therrien, Peterborough County Warden J. Murray Jones, and Selwyn mayor and Board of Health chair Andy Mitchell.
In addition, Professor Christopher Kyle of the Trent University DNA Centre provided a thorough explanation of how wastewater analysis provides an accurate snapshot of the level of COVID at any given location.
Peterborough-Kawartha MP Michelle Ferreri, who has not attended any of the 10 Peterborough Public Health media briefings held since she was sworn in last fall, had a representative of her office on the call to take questions and then relay them to her.