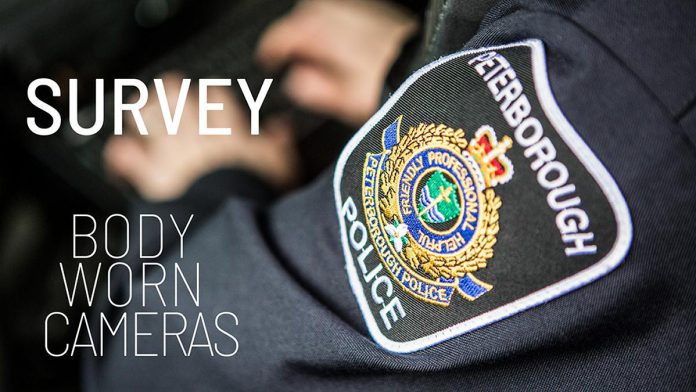 With the help of Trent University, the Peterborough Police Service is seeking the public's opinion on the use of body-worn cameras by local police.
A survey, being conducted in partnership with the Trent Community Research Centre, is looking for input from residents of the City of Peterborough, Village of Lakefield, and Township of Cavan-Monaghan.
"Body-worn cameras have entered the public discourse as a potential tool to increase police accountability," reads a media release. "The exploration of this technology has become important as many police services across the province and the country are in various stages of research and implementation."
Advertisement - content continues below
Tweet this quote
"It's imperative that the Peterborough Police Service understands the community's feelings on body-worn cameras along with the full impact of implementing such technology into the daily activities of the service," says chief of police Scott Gilbert. "Over the past number of years, there has been discussion about the use of body-worn camera technology in the context of officer and public safety."
The survey, which will be available until Monday, February 28th, can be found online at trentu.qualtrics.com/jfe/form/SV_4NuHFe0YLLijHNA. Paper copies of the survey can be requested by contacting the Peterborough Police Service.
"Your survey responses will be useful to the research investigator by gathering the public's opinion on body-worn cameras, whether the community feels if they are needed or not needed and why, and the public's thoughts on whether these devices would improve civilian-officer interactions," reads the introduction to the survey, which is being led by Sabrina Wolanczyk, an undergraduate student in forensic science at Trent University.
Advertisement - content continues below
While participation is the survey is voluntary and anonymous, there are questions on age, gender, ancestry, career, and in which municipality the survey respondent resides or works. According to Wolanczyk, the survey has been approved by the the Trent Ethics Board.
"I believe that this research is crucial for the Peterborough Police Service to not only obtain responses that can aid in the successful implementation of body-worn cameras, but to also enhance transparency and engage the community in this important decision," Wolanczyk says.
"Furthermore, community responses will provide insight into how the public would feel about such a change and can help the service to better serve their community," she adds. "The questions in this survey will allow for the service to gain a general idea of potential concerns the public may have, and reasons why individuals believe body-worn cameras should or should not be implemented."