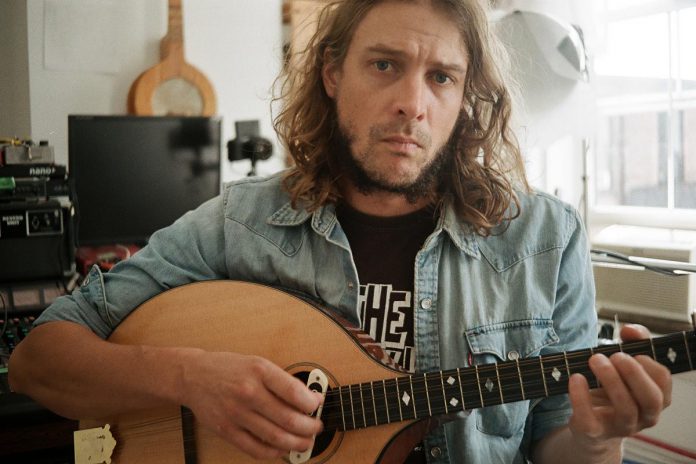 When two legendary Peterborough music worlds collide, how can anything but good result?
Full evidence of that can be found, and heard, in the song "Ballad Of The Pig's Ear."
Dripping with nostalgia, Benj Rowland's ode to the long-gone historic Brock Street pub is the winner of the fourth round of the Don Skuce Memorial Music Collective's ongoing tribute to the late owner of Ed's Music Workshop, who passed in June 2018 after a long battle with cancer.
Advertisement - story continues below
Tweet this quote
Rowland's original demo song will be re-recorded by local music producer and audio engineer James McKenty before heading off to Los Angeles, where it will be mixed and mastered by Grammy Award-winning producer and Peterborough native Greg Wells at his Rocket Carousel Studio.
This is the eighth song chosen for that opportunity since the collective was founded in late summer 2020 by Peterborough musician John Crown and Wells as a tribute to the memory of Skuce and what he meant for countless local musicians over the years.
According to Crown, 28 entries were received and reviewed this round. Rowland's entry, he says, stood out for its "rambunctious energy, the personalized nature of the lyrics, and the candor with which it's delivered."
AUDIO: "Ballad of the Pig's Ear" by Benj Rowland

This is the submitted version of the song to be re-recorded by James McKenty.
"One verse in particular — 'Pretty much grew up here/As sometimes is the fate/If something's too familiar/You end up with love to hate' — has a mature depth of insight," adds Crown.
As for winning the latest round of the Don Skuce Memorial Music Collective' songwriting contest, Rowland is appreciative.
"It's a positive thing, especially right now when it seems like nothing is going on … a nice little boost, a little bit of positive affirmation," says Rowland, a singer and multi-instrumentalist who, pre-pandemic, performed and toured extensively with Josh Fewings in the fuzz-folk duo Mayhemingways formed in 2013.
Advertisement - story continues below
Tweet this quote
Rowland's musical nod to The Pig's Ear — it closed in April 2017 when owners John and Lylie Punter retired, having sold the property to Parkview Homes — is rooted in his "love-hate relationship" with the building that housed a pub for 152 years.
"It was a pretty important music venue at a time when we (Mayhemingways) were sort of coming up," says Rowland, adding "But I was secretly glad it was closing. I wouldn't have to play there for $3 anymore. The song came from the complicated feeling of that."
"It was a great community there," he adds. "The owners were great too. I do miss it but it was a complicated relationship for me … a complicated story of what was happening for me personally, but that's what is was."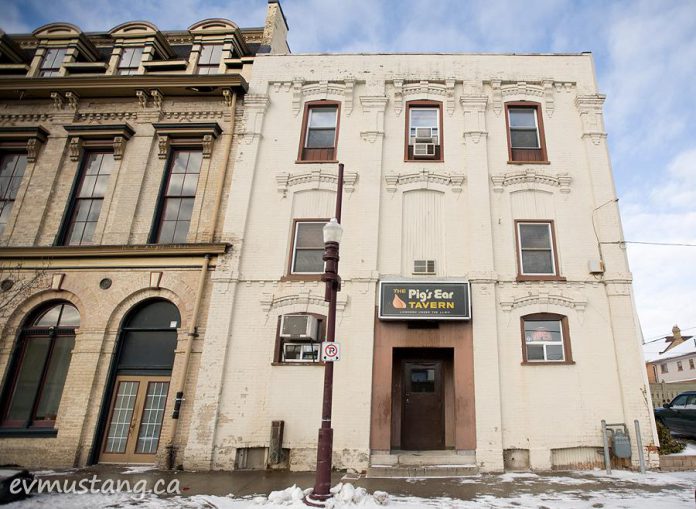 His "contrarian" views of his Pig's Ear experiences aside, Rowland laments the closure of Peterborough live music venues — a list that also includes The Spill, Dobro and, more recently, The Garnet.
"That was one of the things that made Peterborough pretty fun and special," he says. "A lot of touring acts always came through here because of those venues. We're in a pandemic now. I'm surprised anything is (still) open."
For his part, McKenty is grateful to both Crown and Wells for "bringing me in on this project."
Advertisement - story continues below
Tweet this quote
"I'm one of those people — maybe it's the entrepreneurial spirit — that never wants things to get stale," McKenty says. "This has really brought a lot of people into my studio that I might not have met otherwise. You've got your circle of friends, your circle of clients, (but) sometimes it's hard to see what else is out there."
"They've all been such nice people … great songs and varying levels of experience but yet they've been able to deliver in the studio, which is amazing. Some people get what we call in the business red light fever. As soon as you hit record they get nervous. That hasn't been the case."
McKenty, who formerly fronted The Spades before going into the recording business fulltime, is thrilled Rowland's song was chosen.
"It's going to shine even more of a light on a legendary tavern that existed in town here. I'm not shy to say I spent a lot of time in The Pig's Ear."
Like countless other denizens of the Peterborough music community, McKenty's memories of Ed's Music Workshop and its beloved owner remain vivid and heartfelt.
"I didn't spend nearly as much time there as John and Greg, but one of the things that sticks out in mind was going there with my son Noah when he was quite young, probably five or six years old, and Don being so welcoming," McKenty recalls. "He gave us each one of the famous Ed's T-shirts with the logo. It didn't fit my son at the time, but over the years he grew into that T-shirt."
Advertisement - story continues below
Tweet this quote
"It has always struck me that you've got a guitar shop with such amazing instruments in a city this size with someone as knowledgeable as Don at the desk. What a gift to Peterborough and the Peterborough music scene."
Rowland says his Ed's Music Workshop "story" is not unlike that of "lots of other young people. Going there on your lunch break from high school and checking out all the cool stuff he had."
Ahead for Rowland is the scheduled February release of his new album Community Garden, produced by Dartmouth-based singer and songwriter Joel Plaskett, with whom Mayhemingways toured a few years back. "Ballad of the Pig's Ear" is one of the tracks on the new record.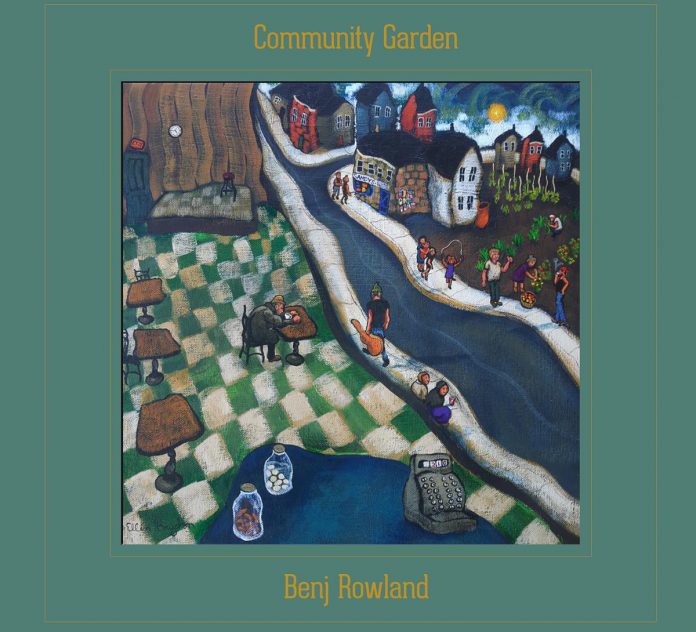 In the meantime, Rowland will continue to host his YouTube livestream show each Sunday 10 a.m. to noon as well as keep busy with his visual art, namely printmaking.
As for the Don Skuce Memorial Music Collective, it will carry on petitioning for original songs and provide the opportunity for winning selections to receive the full McKenty/Wells treatment free of charge. There is, however, one change: the contest will now be offered twice a year as opposed to three times, with the next submissions due on June 15, 2022, and the winning song(s) to be announced July 1.
"This will give writers more time to craft their songs and potentially give us a wider field of songs to draw from each round," say Crown of the change.
For more information on the Don Skuce Memorial Music Collective, including audio recordings of past winning songs and song submission requirements, visit donskuce.com.