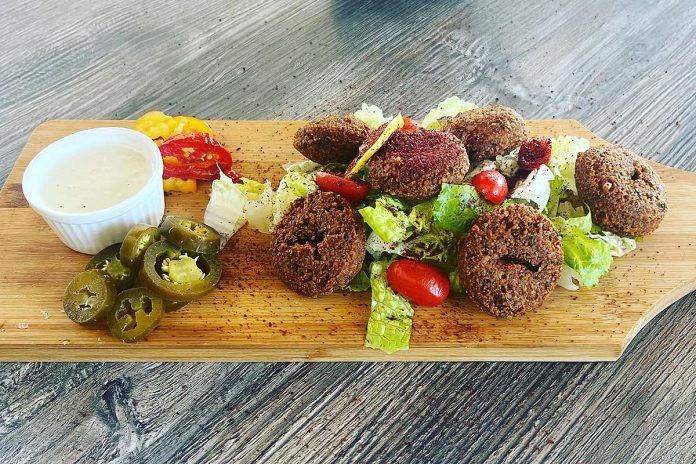 This month, food writer Eva Fisher gets a taste of the Mediterranean with Levantine Grill in Peterborough, takes an inside look at the renovations taking place at The Market at Stoney Lake, tries Japanese fried chicken with new ghost kitchen Kicken Chicken in Peterborough, and discovers local and international flavours with Centre & Main Chocolate Co. in Warkworth.
Advertisement - content continues below
Levantine Grill serves a fresh taste of the Mediterranean using inherited recipes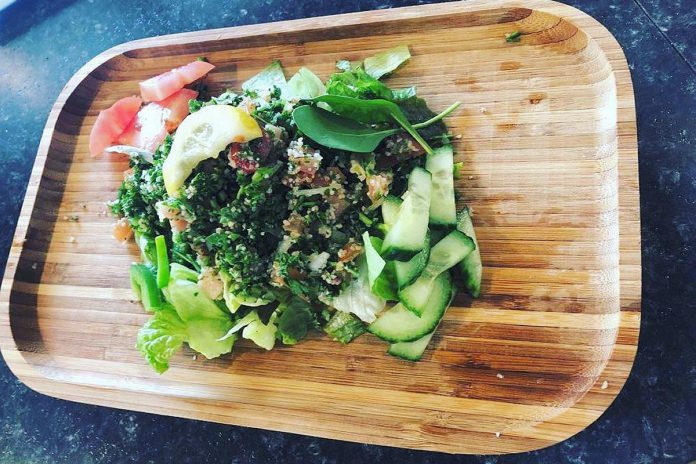 Imad Mahfouz and Hashem Yakan have opened Levantine Grill (356 Charlotte St., Peterborough, 705-745-0770), at the corner of Park and Charlotte in Peterborough. The new restaurant serves a variety of Mediterranean foods including shawarma, kebabs, pies, and salads.
Levantine Grill — the name refers to the region of the eastern Mediterranean that includes modern Syria, Lebanon, Israel, Palestine, and Jordan — is a partnership between a Imad, a chef, and Hashem, a banker. The two met in Peterborough and discovered that they shared the same dream. Levantine Grill was born.
Imad, who studied cooking at the Hotel and Tourism Training Centre in Syria, previously owned a restaurant in Damascus where he worked as a chef.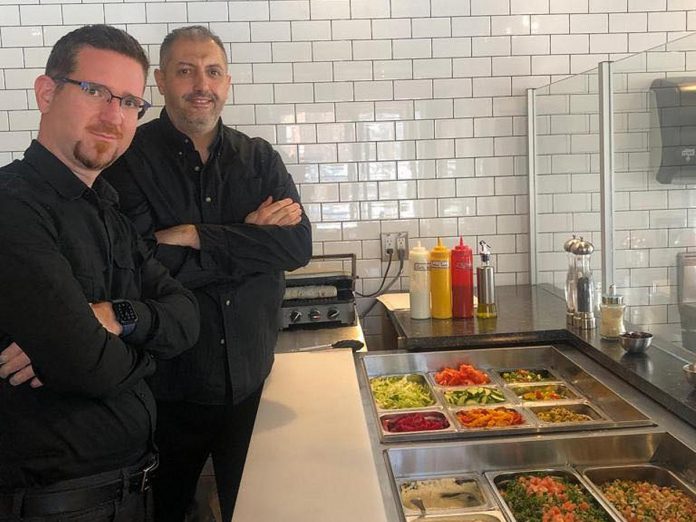 "I believe that a restaurant owner could produce a better quality of food if he makes it with his hands," Imad says, excited to bring a taste of Syria to Peterborough. "When I moved to Canada, one of my goals was to bring back everything I have learned and achieved to the Canadian community."
Hashem is a banker with a master's degree in business management who had been dreaming of starting his own business.
"I have a passion for food and our Mediterranean cuisine is one of my favourites," he says. "I tend to look for establishing a restaurant that serves Mediterranean food so I can present our Levantine culture to Canadian people."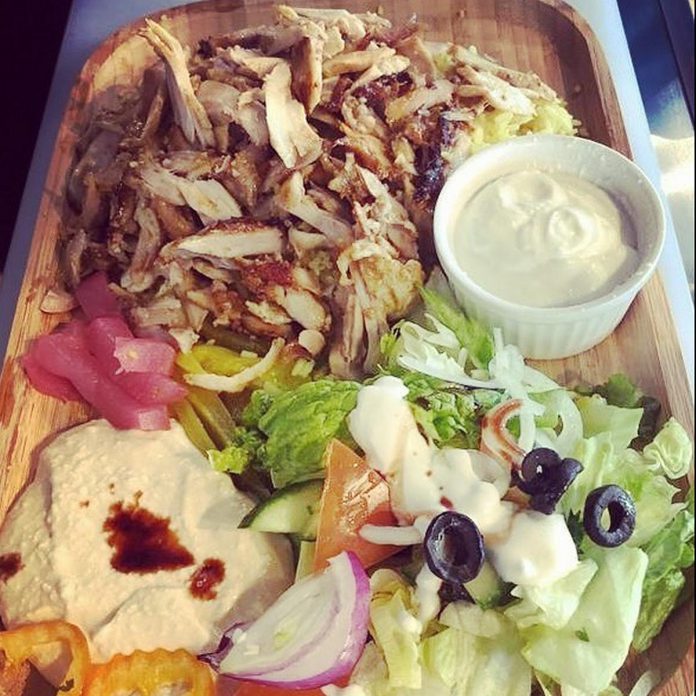 Some of the dishes on the menu are made from family recipes, Hashem says.
"Everything that has Levantine before it is a signature dish, like Levantine Special Pie, Levantine Special Kefta Kebab, and Levantine Baba Ghanouj Salad," he explains. "These dishes have more distinct flavours that come from inherited recipes. But we guarantee you that everything else is also as good as any Levantine special."
Opening in the midst of a pandemic wasn't easy, but Imad and Hashem are excited to serve the community.
"It was a big challenge, but we were able to handle it with the great support of the Peterborough community."
For more information, visit the Levantine Grill on Facebook.
Fireside patio dining, live music, and wine lockers: new owners overhaul The Market on Stoney Lake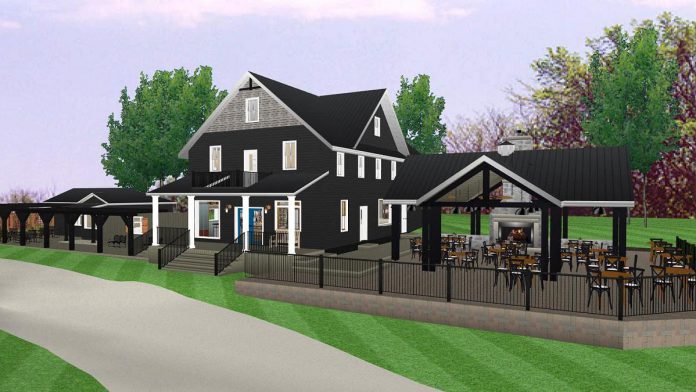 The Market on Stoney Lake (2374 Crowe's Landing Rd., Lakefield, 705-877-1222) is under new ownership, with extensive renovations happening this winter to prepare for a May reopening.
The restaurant has been bought by two husband-and-wife teams: Kevin Errington and Kat Kilbride, and Nelson and Kyla Lang. This isn't their first business venture together: Nelson was the original founder of The Pita Pit, where Kevin worked as director of marketing, and Kat was in charge of operations and store openings for Pita Pit Canada.
Nelson and Kyla have had a cottage on Stoney Lake since 2015, which Kevin and Kat have visited frequently.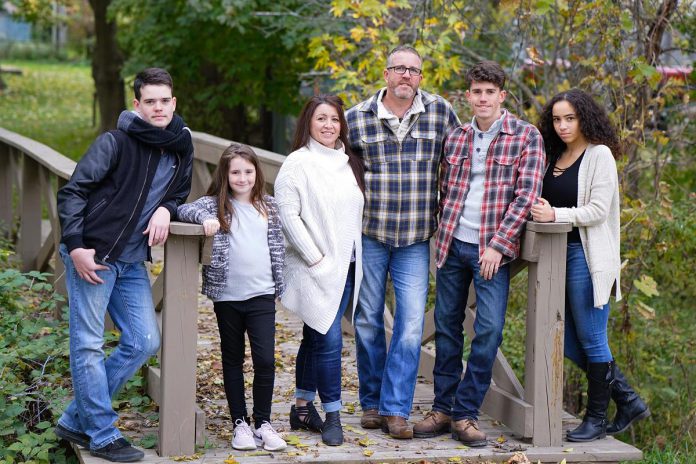 "We're not only all people that work together, we're all good friends and have been for a number of years." Kevin explains. "Stoney Lake has always been our fun spot. It's where we snowmobile in the winter, it's where we boat in the summer, and it's been a place that our two families have been enjoying since 2015."
When the Market on Stoney Lake came up for sale, they saw it as an opportunity to keep a local institution operating into the future.
"It's our way of ensuring that a legacy that's been on the lake for a number of years is not lost and that it's actually improved upon and made better," Kevin says.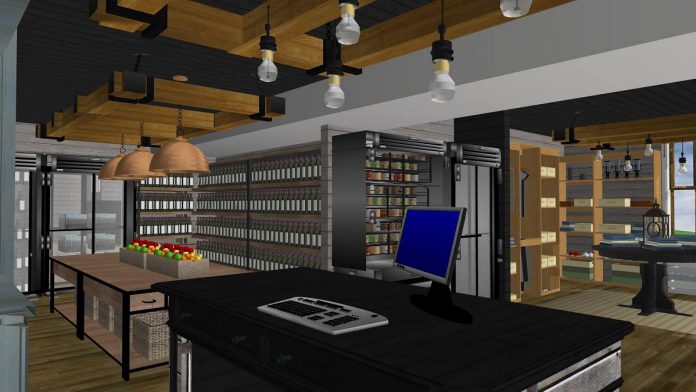 The site is currently under extensive renovations. The floor plan has been completely overhauled to make space for more seating and a bigger kitchen. There will be a large covered patio with a wood burning fireplace and a cutout to make an indoor/outdoor bar.
The Market team have developed connections with private wine distributors, and are planning a fantastic selection of wines not available at the LCBO. Wine lockers will also be available to rent, so guests can bring their own wine collection to the patio.
Ambient lighting will allow them to stay open late and offer live music by the lake.
Advertisement - content continues below
But what about the menu?
"The food experience is going to be casual dining done really well," Kevin says.
They will offer artisan-style pizzas with fresh ingredients and sauces made from scratch, classic poutine, and lots of healthy deconstructed salad options. There will also be hamburgers made with dry aged beef.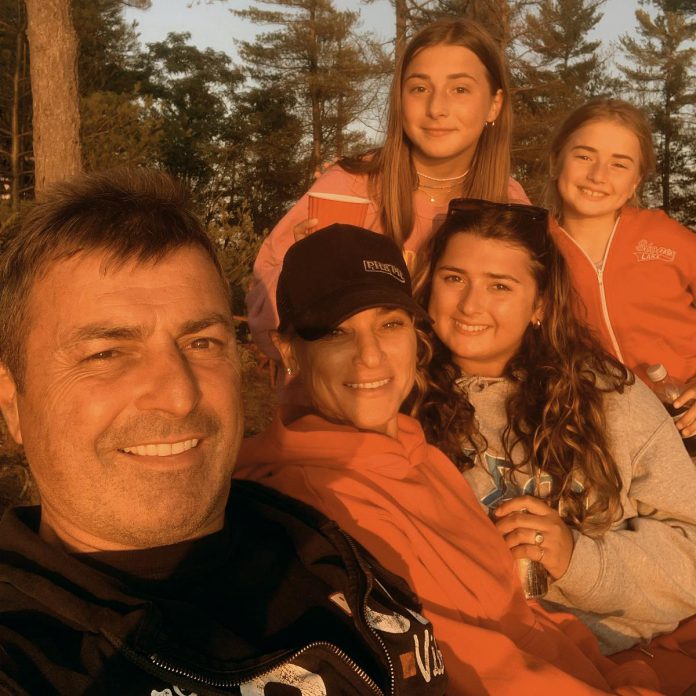 "It's the best hamburger of your life," Kevin asserts. "We take the whole brisket muscle and dry age it for 45 to 60 days. Then, after it's finished its dry age cycle, we'll be breaking that down ourselves into the actual ground burger, and then producing a really good hamburger with a wine-touched caramelized onion that goes on top of it."
"You don't need anything else on top of it," he adds. "You don't need any toppings — the hamburger really speaks for itself."
A soft opening is planned for the beginning of May, with a hard opening on the May long weekend. For updates, visit The Market on Stoney Lake on Facebook.
New ghost kitchen Kicken Chicken specializes in Japanese fried chicken
Now you can get Japanese-style fried chicken delivered to your door in Peterborough. Kicken Chicken recently opened, operating as a ghost kitchen from the popular Vietnamese restaurant and oyster bar Hanoi House (213 Hunter St. W., Peterborough, 705-775-5888).
Japanese fried chicken (also known as Karaage) differs from American fried chicken for two reasons: the chicken is marinated and seasoned before being battered, and it is coated in potato starch instead of flour, bringing a crisp french fry quality to the chicken.
Manager Jordan Sukumaran, who also works for Hanoi House, says the decision to open a ghost kitchen was a way to make it through a difficult time in the restaurant business.
Advertisement - content continues below
"Opening up this ghost kitchen really stemmed from operating a restaurant during this pandemic," Jordan explains. "With all of the lockdowns and stay-at-home orders, we were searching for ways to generate more revenue while keeping our costs down."
Ready to try it? Jordan says that the chicken is the star of the show on their menu, but that doesn't mean you have to stick to chicken pieces.
"Both the fried chicken sandwich — spicy or regular — and our karaage rice bowl highlight our chicken very nicely."
As a ghost kitchen, Kicken Chicken is only available through third-party delivery services.
You can order Kicken Chicken through SkipTheDishes.
Centre & Main Chocolate Co. breaks the mould with exciting new flavour combinations
This February, whether you celebrate Valentine's Day with chocolate or are simply looking for a midwinter treat, Centre & Main Chocolate Co. (50 Centre St., Warkworth, 705-868-2068) has some exciting new offerings.
Co-owner and chocolatier Angela Roest has created The Love Box: a set of bars that is part flavour odyssey and part curatorial project.
"I did some research into different foods and different cultures that are purportedly said to enhance feelings of tenderness, of love, of physical well-being, or increase heart health and circulation," she explains. "I collected a list of all these ingredients and started playing with them."
The result a collection of four different new recipes, all of which have ingredients that are somehow related to love and well-being and wellness.
The Love Box includes: a dark milk chocolate bar with locally grown saffron and rose petals, cardamom, and pistachio; a bar with chili, cinnamon, fenugreek, and local cherries; a bar with cloves, maca powder, nutmeg, and candied ginger; and a bar made with figs, whole almonds, and reishi mushroom powder.
The Love Box is topped with an anatomical chocolate heart, dusted in gold and studded with locally grown alpine strawberries.
Advertisement - content continues below
For those who prefer bonbons, Angela has created the February Collection.
"I don't want to call it Valentine's Day because a lot of people can feel excluded by that," she says. "I guess you can tell from the anatomical heart I don't have a traditional relationship to Valentine's Day either."
The February Collection of bonbons includes a banoffee ganache, a saffron limoncello and passionfruit bonbon, a cherry whisky and dark chocolate ganache, and a hojica and coconut caramel. Angela discovered hojica at a coffee shop and became obsessed.
"When I'm at a cafe or restaurant I like to order things I've never heard of because that's how I learn about new food. There was a drink called hojica and I had no idea what it was but I ordered it and it was fantastic. I later learned that it's roasted matcha that's been ground into a powder. It's so warm and comforting and nutty."
Angela is inspired by local restaurants and local ingredients.
"What I really love most is looking to what's growing around us. Chocolate as we know it — not the traditional Mayan chocolate but solid form chocolate in bars and bonbons — developed in Europe, so the flavours that we associate with chocolate are linked to the flavours that were combined with chocolate in Europe — things that were growing there and were plentiful like hazelnuts and citrus."
"But there's no reason why things that grow here aren't fully wonderful with chocolate, even if they're not traditionally linked as chocolate pairings," she adds. "That's what I really like to explore with what I do: what grows here and what can be combined."
For more information, visit centreandmainchocolate.com.