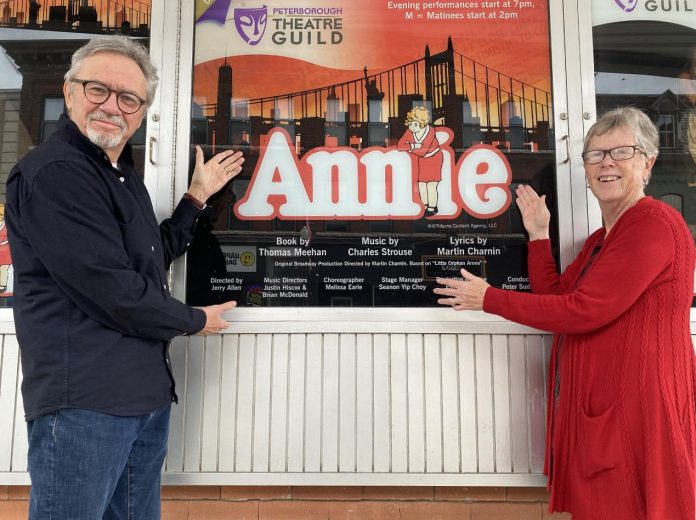 While good things often come to do those who wait, great things inevitably come to those who persevere.
For the cast and crew of the Peterborough Theatre Guild's production of Annie, the past two years have presented one frustrating and disappointing challenge after another. But now, all those associated with the production of the much-loved musical are looking forward, not back, as they ready for an eight-show run at Showplace Performance Centre in downtown Peterborough — the first major theatrical production at the venue since the pandemic began.
First cast in November 2019 with rehearsals held in January 2020 for stagings at Showplace that spring, the mid-March declaration of the COVID-19 pandemic brought everything to an abrupt halt.
Advertisement - content continues below
Tweet this quote
No problem, thought director Jerry Allen at the time. Pivoting, after all, was the name of the pandemic game.
"We thought, 'When do we come back?'," recounts Allen. "Maybe in the summer of 2020? Nope, couldn't do that. In the fall (of 2020)? No, again. In January 2021, I sent something out to everybody involved and said let's aim for the summer of 2021 and we'll see if we can gear up for a November (2021) production."
"A month after we decided that, one of our lead characters, Darcy Mundell (playing Daddy Warbucks), died in his sleep. We asked Mark Hiscox, who auditioned for the role, if he would step in and he said he would."
"We started rehearsals in August 2021. We got to October and we could see there was no way things were going to open up in November, so we shifted to February 2022. Then omicron came along and we couldn't do that. So it was let's shoot for May — our original time slot but two years on."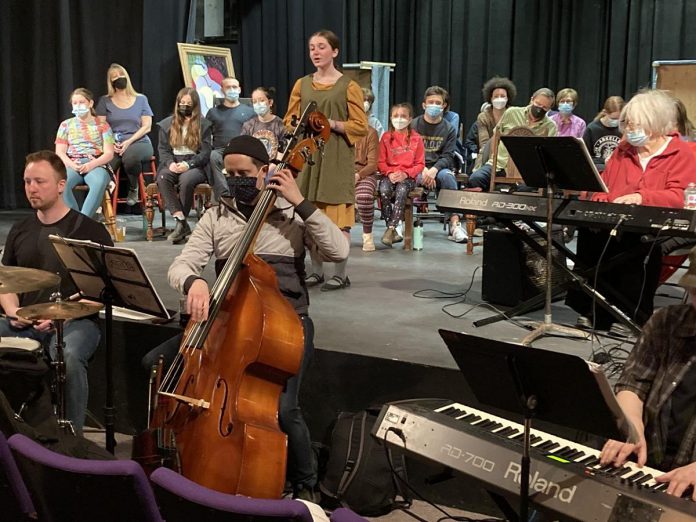 With rehearsals now going full tilt, Annie will open on the main stage at Showplace on Friday, April 29th, with curtain at 7 p.m., with another performance the following night and then again at 7 p.m. from Wednesday, May 4th until Saturday, May 7th. There will also be two matinee performances, at 2 p.m. on Sunday, May 1st and again on Sunday, May 7th.
Tickets cost $34.50 for adults, $32.50 for seniors, and $22.50 for students, and are available in-person at the Showplace box office (10 a.m. to 4 p.m. Monday to Thursday) or online at tickets.showplace.org.
Allen notes there have been a few cast changes from the original lineup, but not as many as one would think.
"Some people had to drop out because their schedules weren't going to work," he admits. "A lot of the orphans, frankly, got too old. There were in grades 9 and 10 and all of a sudden they're in grades 11 and 12. We were trying to keep them as young as possible. A lot of the principal people were able to stay on."
"Lindsay Barr, who was to play Miss Hannigan, had to drop out because she got pregnant and was going to be too far along. We shifted one actor (Heather Knechtel) into that role and brought in Christie Freeman, who's a beautiful singer, to play the role of Grace. There have been all kinds of moving parts, but we're settled now."
Advertisement - content continues below
Tweet this quote
As for the title role, that has belonged to Shay-Lyn Burd since that first casting call.
"She fortunately didn't grow that much," Allen laughs. "She's fantastic — a natural. I tell her to do something and she gets it right away. She embellishes in a good way. It's a very strong cast. Brian McDonald is playing Rooster Hannigan and Natalie Dorsett is playing his girlfriend (Lily). She would have been a natural for Miss Hannigan too. Having two veterans like those two, and Mark (Hiscox) as well (in the role of Daddy Warbucks), it's just so much easier."
Not lost on Allen, and something he hopes will resonate with local theatre-goers, is that Annie "is ideal" for presentation now "after all we've gone through."
"The sun will come out tomorrow. It will be a much better day. It's been a hard-knock life. The last song is New Deal For Christmas. All the themes are absolutely perfect. This is the best musical for this time period. It's such a positive affirmation. Things may appear to be bad, but they will get better. You get knocked down and you pull yourself back up."
"Everybody likes a feel-good story," he adds. "It's very much the same story as Charles Dickens' Oliver. Kids are in desperate situations and being exploited by bad people and some good people come along and save the day."
This is the third time Allen has directed Annie, the first being in 1986 for a Peterborough Theatre Guild staging and the second time at St. Peter's Catholic Secondary School.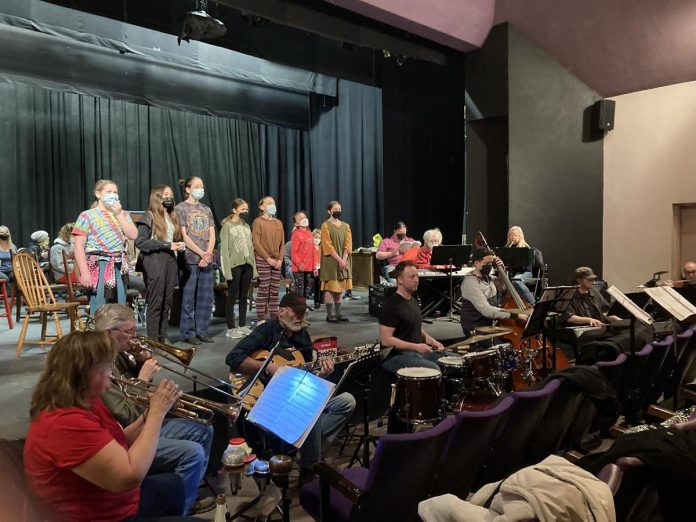 In choosing to present the musical, the Peterborough Theatre Guild has gone with a proven winner. Based upon the popular Harold Gray comic strip Little Orphan Annie and loosely based on the 1885 poem "Little Orphant Annie" written by James Whitcomb Riley, the original Broadway production opened on April 21, 1977 and continued until January 2, 1983 — a run of 2,377 performances — and won seven Tony Awards, including for best musical.
Released as a feature film in 1982, it introduced a much wider audience to its now endeared songs, written and set to music by Martin Charnin and Charles Strouse, including "It's The Hard Knock Life" and "Tomorrow."
The story centres around an orphan in a facility run by the mean Miss Hannigan, who believes that her parents left her there by mistake. When a rich man named Oliver "Daddy" Warbucks decides to let an orphan live at his home to promote his image, Annie is selected.
While Annie gets accustomed to living in Warbucks' mansion, she still longs to meet her parents, prompting Warbucks to announce a search for them — and a reward — which brings out many frauds.
Advertisement - content continues below
Tweet this quote
Musicals hold a very special place in Allen's heart, who has directed 18 of them over a 50-year theatre career.
"It's the bringing together of all the art forms," he says. "You've got music, you've got acting, you've got choreography, you've got set design, you've got lighting … all of these things that people study to become proficient at come together in musical theatre."
And working with young people, well, that keeps him young too.
"We're all still kind of kids at heart. Play acting like we used to do as kids. That's the thing I've always found with theatre, right from the time I got involved. There didn't seem to be any age barriers or differences. You'd be conversing with people on a friendly basis who have a 50-year difference in age."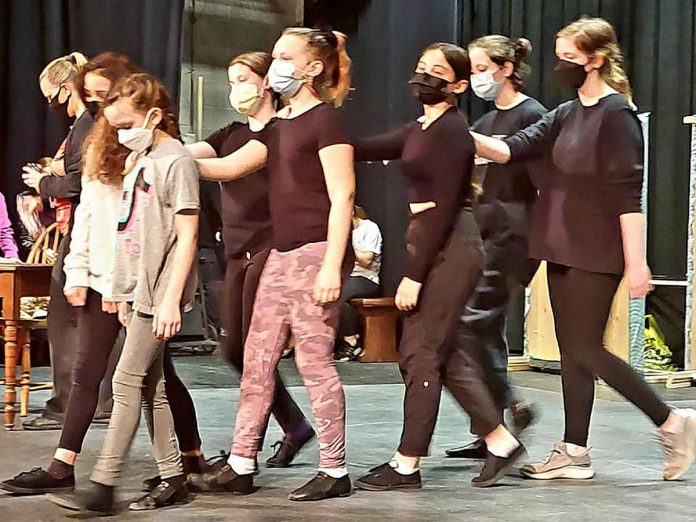 "And there's the social aspect — all the really great people you get to work with, like this woman here," Allen says, referring to past Showplace board chair and Annie production manager Pat Hooper. "It's an odd mix of people. Half of them are introverts and half of them are extroverts. The introverts thrive having extroverts around. Extroverts get a chance to relax a little bit and introverts get a chance to come out a little bit."
For her part, Hooper is over the moon at the prospect of theatre audiences returning to Showplace and is thrilled to work with this cast and crew.
"Of all the productions with the Guild, this has been most collaborative," she says. "We sometimes tend be in our own little silos. The pandemic has created an opportunity — that whole 'We're all in this together' thing. It's like when a tornado comes through and knocks things down. You build better. We're building better."
Advertisement - content continues below
Tweet this quote
"It's an incredibly cohesive group," she adds. "In spite of all they've been through, they all like each other. They applaud each other."
Besides the cast, also very much in the mix is a 10-piece orchestra ensemble under the musical direction of Justin Hiscox and Brian McDonald, who also has a stage role as Rooster, with Peter Sudbury conducting.
Also play key roles in Annie's staging are Melissa Earle (choreography), Seanon Yip Choy (stage management), Karen Workman (props), costumes (Caitlin Haveman), and Shelley Moody (makeup/hair).
And then there's the chorus whose members, says Allen, "don't get all the glory but have stayed with us for the whole two years."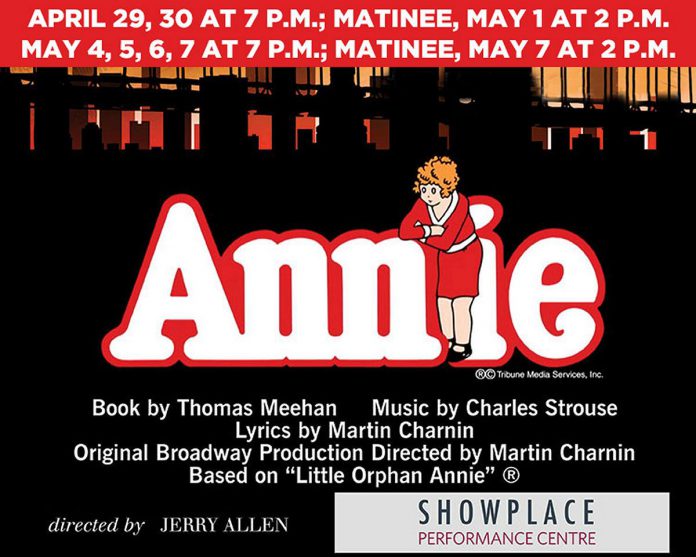 As opening night draws nearer, Allen does admit to some nerves.
"I'll start to get very, very tense over the next couple of weeks," he says.
"I don't take that out on the cast. I've done it (directed) enough to know that they're working their hardest, but I'll get more and more particular with stuff. If you're a painter, you want the right brush stroke. If it doesn't look right, you need to fix it a little bit."
"The goal it to make the audience forget they're watching a play and enter into the illusion. The last musical I did was The Buddy Holly Story (in May 2016). Audiences were up dancing. I thought 'This works.'"
For more information about Annie and the Peterborough Theatre Guild, visit the Guild's new website at peterboroughtheatreguild.com.
kawarthaNOW is proud to be a media sponsor of the Peterborough Theatre Guild.