Alex Soubliere, owner of Peterborough-based fireplace and barbecue retailer Friendly Fires, has donated $25,000 to the Peterborough Humane Society for the new Peterborough Animal Care Centre.
Currently under construction at 1999 Technology Drive in southeast Peterborough, the 24,000-square-foot facility will house the Peterborough Humane Society's adoption and education centre and regional high-volume spay and neuter clinic, as well as the Ontario SPCA's provincial dog rehabilitation centre — the first of its kind in Canada.
"We are so very fortunate to have such a dedicated, hard working and committed team at the Peterborough Humane Society that goes above and beyond caring for animals," Soubliere says in a media release. "The fact that they have spearheaded an initiative to have a new world-class animal care facility built right here in our city is a testament of just how great this team really is."
Advertisement - content continues below
Tweet this quote
"My entire family, including our Portuguese water dog Olive, is very happy that we could help contribute to the new animal care centre and we hope this helps encourage others to do so as well."
In recognition of Soubliere's donation, the Peterborough Humane Society will name the memorial patio at the centre as 'The Friendly Fires Patio'. The gift will also be recognized on the Donor Wall located in the lobby of the new centre as Alex Soubliere & Family / Friendly Fires. Once the Peterborough Animal Care Centre is open, the Friendly Fires Patio will be used for education sessions, business meetings, and for staff and public use.
One of Canada's largest fireplace and barbecue retailers, Friendly Fires was founded in Peterborough more than 20 years ago and has since grown to include showrooms in Cobourg, Kingston, Carloton Place, and Belleville.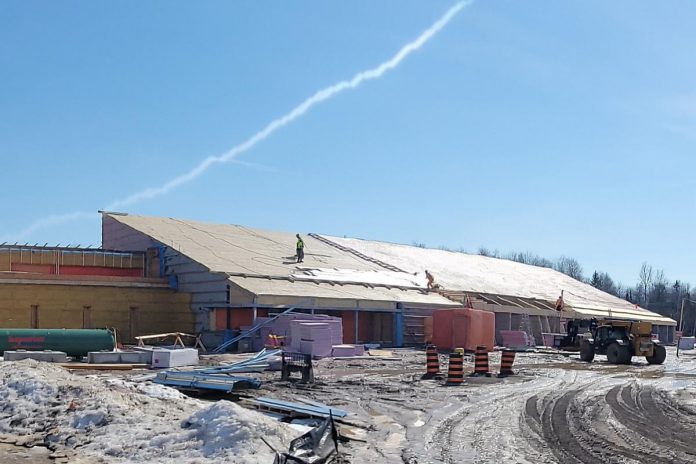 "Support from local businesses like Friendly Fires and individuals like Alex and his family are incredibly important to the success of this project," says Peterborough Humane Society executive director Shawn Morey.
"This new centre will put Peterborough on the map in regards to setting a new standard in animal wellness and care, which in turn will also support our local businesses and community. We are extremely grateful for these relationships, they are what makes our region so amazing."
Construction of the centre is slated to be completed at the end of 2022. For more information or to donate, visit www.ourpetproject.ca and ontariospca.ca/dogrehab.