This month, food writer Eva Fisher raises her glass to Bijoux Bar, a new Belgian-inspired bar set to open this spring in downtown Peterborough. She talks to Cheryl Goodridge of Double Dz's Donuts and Diner about her yet-to-open diner at Pinto's Corner, which will serve fresh brioche donuts, kolaches, and more. And she profiles the newly opened Inn Cuisine, a grab-and-go takeout in Lakefield that offers a taste of the Old Bridge Inn.
Advertisement - content continues below
Le Petit Bar to reopen as Bijoux Bar, a relaxed Belgian watering hole
Many already miss Le Petit Bar in downtown Peterborough, but in its place owner Shannon Mak is creating something new and exciting.
Bijoux Bar (399 Water St, Peterborough, 705-775-7384) will open this spring (date to be announced) and will be modelled after the Belgian brown cafe.
A brown cafe is a relaxed neighbourhood bar with a comfortable atmosphere.
"Brown cafes are local drinking holes, little bars that are relaxed and welcoming — a place anyone can feel comfortable in," Shannon explains. "Somewhere to come for a quiet drink, or a party with friends. A place with lots of regulars. In some regards they are the equivalent of 'dive bars', but I think for some North Americans that's a negative connotation. These places are often institutions, and have been open for many, many years."
Bijoux Bar has yet to open, but Shannon is crafting the space to feel timeless and classic.
"We want to create that feel by making a space that transcends time — nothing trendy."
The space is currently being renovated with new woodwork, flooring, wallpaper and paint, new light fixtures, and a reworked furniture layout.
The drinks menu will be thoughtfully curated: Belgian beers, a rotating wine list, and a tight cocktail menu of primarily classics. The food available will be bar snacks only — think chips, olives, and pickles.
Follow Bijoux Bar on Instagram or Facebook to stay up to date as they prepare to open.
Advertisement - content continues below
Handcrafted brioche donuts are coming to Pinto's Corner
If you love donuts, you're about to get a new pit stop. Cheryl Goodridge is currently renovating the west section of Pinto's Market to open Double Dz's Donuts and Diner (2622 Maple Grove Rd., Peterborough).
Cheryl started Double Dz's Donuts out of her now-closed chip truck, The Spud and the Bull, in late 2019. Always passionate about cooking and baking, her dream was to start a diner.
"I love making doughnuts, baking, and cooking because it brings people together and there's always great conversation and lots of laughs to share."
Double Dz's donuts are made from scratch with a brioche dough and a wide variety of fillings. These have included cheesecake, lemon meringue, double chocolate Reese's peanut butter cup, single malt scotch brownie, and more.
Cheryl says that strawberry donuts are a popular choice — probably because each donut is generously stuffed with fresh strawberries.
The new diner will serve a full diner menu including donuts, breakfast, a full serve lunch menu and kolaches. Kolaches are a pastry that Double Dz's stuffs with breakfast ingredients like egg and sausage. They are originally a Czech dish but they have become hugely popular in the American south.
Double Dz's Donuts and Diner is currently slated to open in early June. You can watch for updates on Instagram, Facebook on their website at doubledzs.com.
Advertisement - content continues below
Grab "gourmet to go" at the Inn Cuisine in Lakefield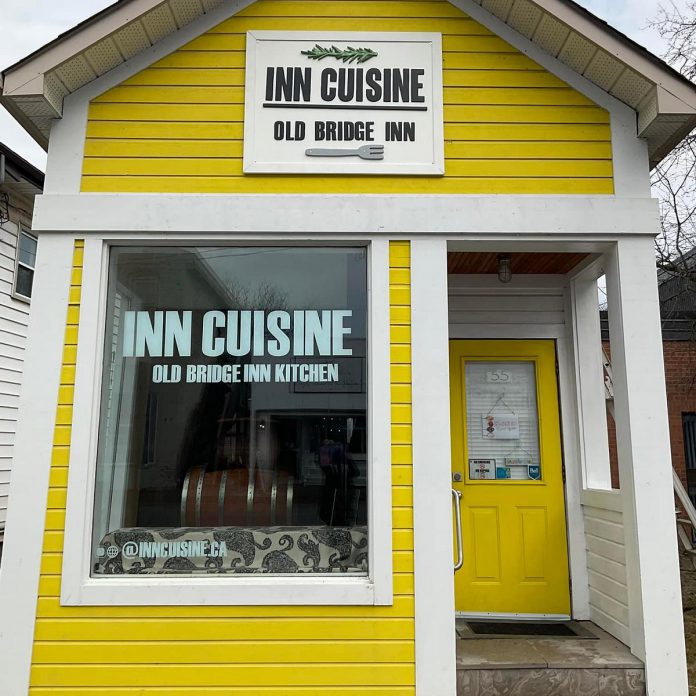 Now it's easier to enjoy a taste of the Old Bridge Inn's kitchen at home.
Owner Kelly Green-Podd and executive chef Evan Podd opened Inn Cuisine (55 Queen St., Lakefield, 705-652-8507) last Wednesday (April 6).
Inn Cuisine offers ready-made meals, soups, sauces, salads, desserts, and more from a pint-sized storefront on the main street of Lakefield.
The dishes are created by Chef Evan, with an emphasis on local ingredients.
Advertisement - content continues below
"Our products are made with the generous support of our farm fresh partners," reads a media release. "We source local, we love local!"
Inn Cuisine is open Wednesday to Saturday from 11 a.m to 5 p.m. It will also be open Good Friday from 11 a.m. to 4 p.m.
For more information, including the weekly menu, visit the Inn Cuisine website at www.inncuisine.ca or follow them on Instagram.