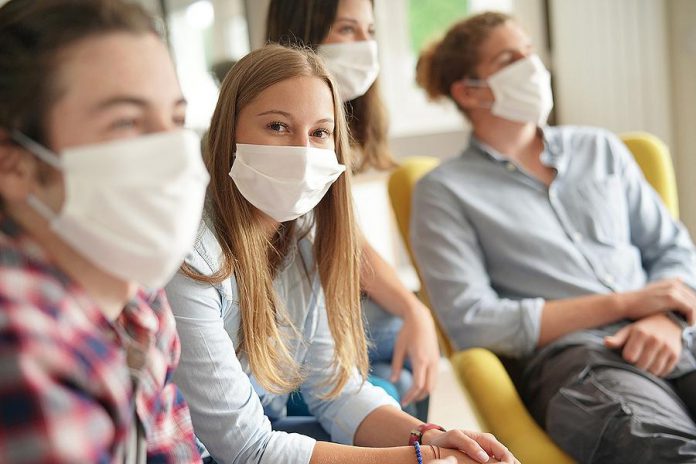 Two days before the Easter long weekend, Peterborough Public Health is warning of a very high risk of COVID-19 transmission in the Peterborough area and is advising residents to wear masks and avoid indoor social gatherings and high-risk settings.
For the first time since it launched two weeks ago, the health unit's COVID-19 Community Risk Index has reached "very high" — its highest level.
The index, which is updated every Wednesday, has five risk levels from very low risk to very high risk, and includes the status of six COVID-19 indicators used to determine the risk level: the local case incidence rate per 100,000, the number of hospitalizations, new deaths, PCR test positivity rate, community-reported rapid antigen test positivity rate, and wastewater surveillance signals.
Advertisement - story continues below
Tweet this quote
Since last week, three indicators have moved higher, with hospitalizations moving from "high" to "very high", rapid antigen test positivity from "high" to "very high", and deaths from "low" to "moderate".
"It is clear that the sixth wave is continuing to surge and I remain very concerned for the health of our most vulnerable residents," says medical officer of health Dr. Thomas Piggott in a media release.
"I know this is not the news we wanted to hear before a long holiday weekend, but the safest course of action is to wear a mask and avoid indoor social gatherings and high-risk settings where transmission can occur. This is important for us all to decrease transmission, but especially those at high risk of severe illness with COVID-19."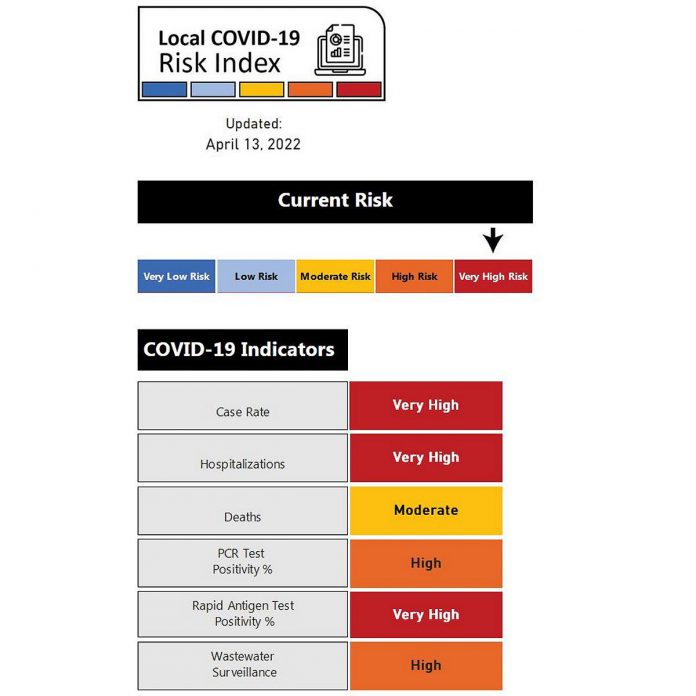 Given the very high risk of transmission, Peterborough Public Health is offering guidance for both the general population and for those who are at high risk of infection (including people who are immunocompromised, medically at risk, unvaccinated, or 60 years of age or older).
For the general population, the health unit strongly recommends wearing masks for all interactions with people from outside your household, avoiding social gatherings in all indoor settings, and avoiding high-risk settings where transmission levels could be higher due to large capacity limits and limited physical distancing.
For high-risk populations, the health unit is strongly recommending using a respirator mask if possible (N95 or KN95).
Advertisement - story continues below
For residents of Kawartha Lakes, Haliburton, and Northumberland, the Haliburton, Kawartha, Pine Ridge (HKPR) District Health Unit has identified a significant rise in viral signal from the municipal wastewater monitoring sites in Cobourg and Lindsay, as well as an increasing number of lab-confirmed cases and new outbreaks in highest-risk settings.
The HKPR District Health Unit is reminding residents to celebrate safely on the long weekend by avoiding the "three Cs": closed spaces, crowded spaces, and close faces.
"Avoiding the three Cs this holiday weekend makes extra sense, when COVID-19 cases are surging," says medical officer of health Dr. Natalie Bocking in a media release. "For instance, indoor spaces that aren't well ventilated can increase the risk of COVID-19 spreading, so open a window if indoors or take the celebration outdoors if the weather permits. Reduce the risk further by sticking with smaller gatherings, not large ones. In addition, wear a tight fitting mask if visiting indoors, especially if someone in attendance is at higher risk of severe COVID-19 due to age or medical reasons."