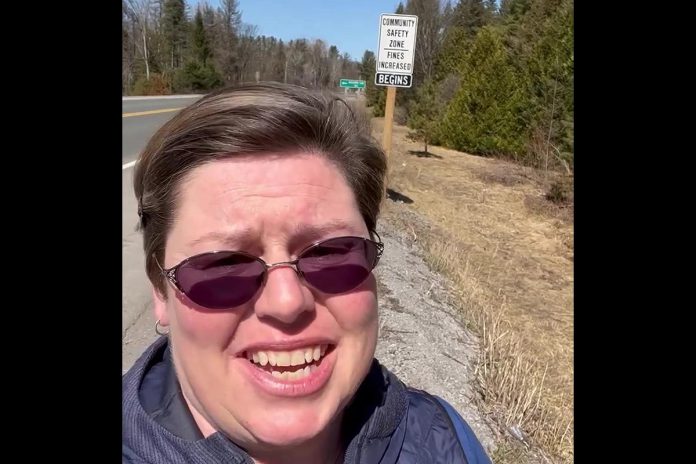 If you use Highway 28 to travel to and from your cottage, be aware there are now two new "community safety zones" along the provincial highway in North Kawartha Township — where penalties for some driving infractions will be doubled.
On Wednesday (April 20), North Kawartha Mayor Carolyn Amyotte posted a video update on Facebook announcing the community safety zones and describing where they are located.
Amyotte says the first zone covers 3.5 kilometres of Highway 28 as it passes through the Village of Apsley, with the second covering 5.8 kilometres of the highway from Haultain through the Hamlet of Woodview.
Advertisement - story continues below
Tweet this quote
Signs have been installed at the boundaries of each zone.
The Ontario Provincial Police have described the two areas as "hot spots" for collisions — including a head-on collision last August that killed a Stoney Lake couple in their 60s. According to the OPP, along with animal strikes, the top reasons for collisions are speeding too fast for conditions, inattentive driving, following too closely, and driver fatigue.
"I'm here to tell you enforcement begins now," Amyotte says in her Facebook video. "There will be no grace period — the increased penalties will be applied immediately. After years of advocacy and hard work, this is a major accomplishment for the well-being and safety of our community and for the tens of thousands of people that travel Highway 28 each year."
Advertisement - story continues below
Last May, Amyotte — who is also chair of the North Kawartha police services board — said the township would be requesting the provincial government designate certain stretches of Highway 28 as community safety zones.
Through a 1998 regulation under the Highway Traffic Act, municipalities can request areas on provincially maintained highways be designated as community safety zones.
In the zones, which are identified through signage, many set penalties are doubled — including for speeding and careless driving.
VIDEO: North Kawartha Mayor Carolyn Amyotte
Hey North Kawartha! This important announcement has been a long time coming! Please check it out and spread the word.

Posted by Mayor Carolyn Amyotte on Wednesday, April 20, 2022