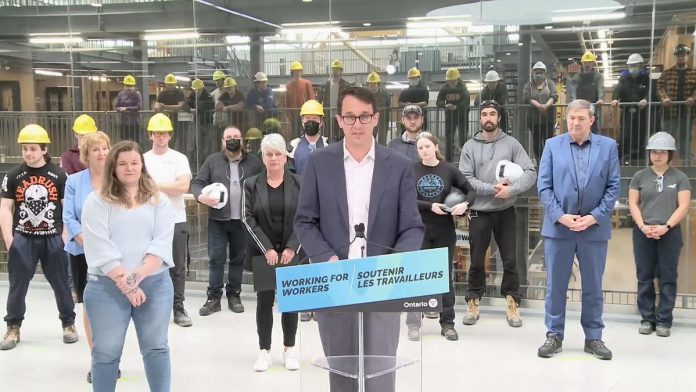 Ontario minister of labour, training and skills development Monte McNaughton was at Fleming College's School of Trades and Technology in Peterborough on Monday (April 25) to announce the expansion of a training program and to take a tour of the school.
Formerly called Second Career, Better Jobs Ontario will now support those looking to train for in-demand work, including people on social assistance, people who are self-employed, gig workers, youth, and newcomers to the province. Previously, only those who were laid off from a full-time job were eligible for the program.
The program pays up to $28,000 in tuition and other costs for short-duration training programs that allow job seekers to match their skills with the needs of hiring employers in the community. Effective Friday, the program is being expanded to include those unemployed for six months or longer and who are part of a low-income household, and will expand eligibility for up to $500 per week in financial support for basic living expenses.
Advertisement - content continues below
"Whether you are a young person struggling to break into the job market, a gig worker hustling to make ends meet, or unemployed and on social assistance, our government is here to give you a hand up to building a better life and stronger province for us all," McNaughton said during the announcement.
Mackenzie Barclay, a welding foundation techniques student at the School of Trades and Technology who was part of the Second Career program, also spoke at the announcement.
"When I first started the program, I didn't know how to weld," Barclay said. "I had never welded in high school — it was never an option that was provided — and I took a leap of faith. I can happily say that upon graduation, I have definitely been caught on that leap of faith and have a job now moving out of school."
Fleming College president Maureen Adamson, who attended the announcement along with Peterborough-Kawartha MPP Dave Smith, Haliburton-Kawartha Lakes-Brock MPP Laurie Scott, and instructors and students from the school, thanked the province and local MPPs for their support.
"Today's announcement comes at a really crucial point as we all know it's been a couple of tough years, and there are workers who are undertuilizied, underemployed, working multiple jobs, and in some cases just trying to get their foot in the door," Adamson said. "And at the same time we've seen in our labour market that there's desperate need for skilled workers."