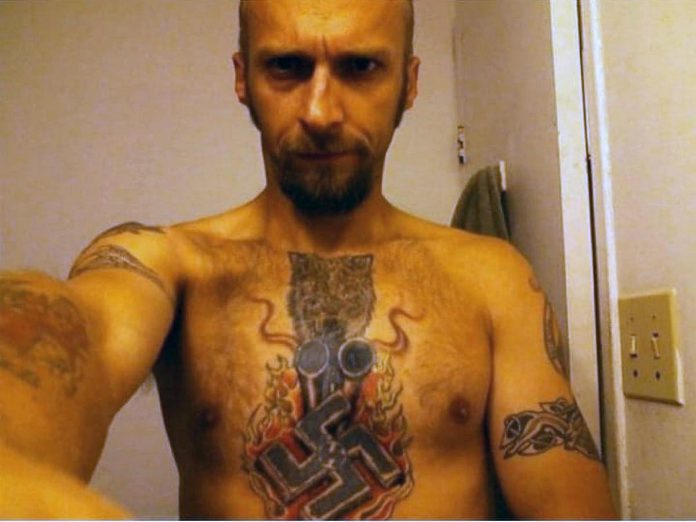 Peterborough police have charged white nationalist and neo-Nazi Kevin Goudreau, a Peterborough resident, in an incident police have classified as a hate bias crime.
On March 31, officers responded to a call about a man outside an apartment building who was yelling profanities and slurs.
According to a story by the Canadian Anti-Hate Network, Goudreau threatened his upstairs neighbours, a lesbian couple.
Advertisement - content continues below
"Goudreau was reportedly circling the building at this time, shouting expletives, slurs, and threats," reads the story, which reports the couple recorded Goudreau and called the police.
"Shortly after the initial incident more information was brought forward, and reasonable grounds for charges was formed," reads a media release from the Peterborough police service.
Goudreau, 44, was arrested and charged with two counts of uttering threats – cause death or bodily harm, two counts of criminal harassment – repeatedly communicate, and failure to comply with a probation order. He has been released on an undertaking and is scheduled to appear in court on May 10.
"Due to the nature of the comments made at the time of the offence this incident has been classified as a hate bias crime," reads the police media release. "A hate crime is a criminal offence committed against a person or property which is motivated by the suspect/offender's hate bias against a racial, religious, ethnic, sexual orientation or disability group."
Police have released Goudreau's name "in the event that there are more victims and for public safety."
Anyone with further information is asked to call Peterborough Police at 705-876-1122 x555. If you wish to remain anonymous, call Crime Stoppers at 1-800-222-8477 or submit a tip online at www.stopcrimehere.ca.
Advertisement - content continues below
Goudreau organized an "anti-immigration" rally in Peterborough in September 2017. He was originally granted a permit to hold the rally at the public square across from Peterborough City Hall, although the city subsequently withdrew the permit.
Various local groups organized a counter-protest called "Solidarity Weekend", with hundreds of people attending to celebrate diversity and inclusivity.
While a handful of supporters showed up for the "anti-immigration" rally, Goudreau was not among them.
Goudreau made headlines again in 2019, when he made a series of social media posts encouraging people to murder members of the Canadian Anti-Hate Network, journalists, and government workers. Although Peterborough police decided not to press charges, the Canadian Anti-Hate Network was granted a peace bond requiring Goudreau to remain at least 200 metres away from board members for one year.
Peace Bond Issued Against Kevin Goudreau Who Probably Complicated His Life Even Further Without Actually Realizing It https://t.co/Wt9oldzJEq 1/ pic.twitter.com/4fiXlq87Cy

— Kurt Phillips🧛‍♂️ (@ARCCollective) August 12, 2019