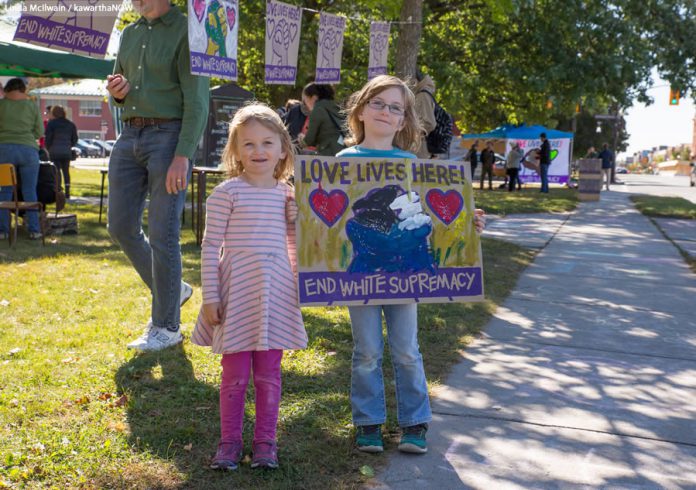 Hundreds of Peterborough residents turned out on Saturday (September 30) for a celebration of diversity and inclusivity called "Solidarity Weekend 2017", intended to peacefully protest a "anti-immigration rally" organized by a known white supremacist who lives in the area.
The event took place on the lawn of Emmanuel Church, kitty corner to Confederation Square in downtown Peterborough where the "anti-immigration rally" was to take place. Although the rally never materialized — the organizer decided to stay away after the City of Peterborough denied him a permit — the Solidarity Weekend event went ahead anyway.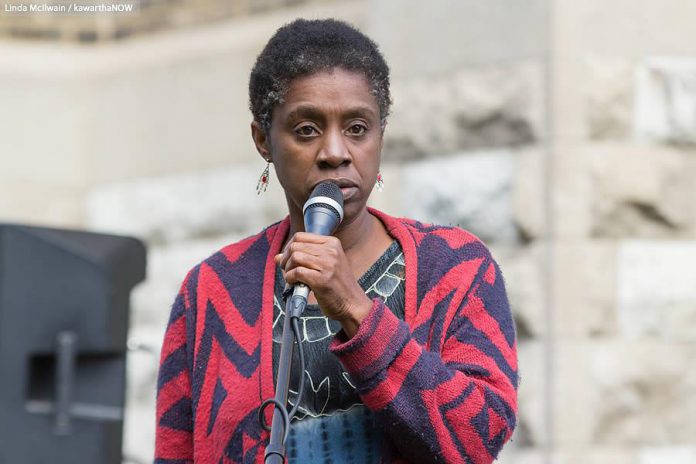 Activities included collective art-making with positive messages of resistance, as well as speeches from speakers including including Kemi Akapo, Dawn Lavell-Harvard from the Native Women's Association and the First Peoples House of Learning, Desmond Cole from Black Lives Matter Toronto, and more.
kawarthaNOW.com photographer Linda McIlwain was there and took the following video and photos.
VIDEO: Kemi Akapo speaks on September 30, 2017 at the Solidarity Weekend in Nogojiwanong/Peterborough

Photo Gallery
Marring the peaceful activities were two minor incidents of violence in Confederation Square, neither of which involved the Solidarity Weekend organizers and participants.
One incident occurred after several people in the crowd began to cover their faces to to disguise their identity. According to police, a disguised woman engaged in a shouting match with another man and, when police attempted to intervene, the woman assaulted a police officer. Police took her into custody at the scene, obtained her name and address (the woman lives in Toronto), and released her.
In the other incident, a Peterborough man was arrested after punching another man in the mouth in Confederation Park. Owen Lucas, 22 years, of Wolfe Street, was arrested for assault causing bodily harm and was held in custody.