Planks of pine, bowls of paint, sandpaper, stencils and paintbrushes are laid out at the back of Peterborough's Black Horse Pub on George Street.
Visitors trickled in last Sunday to the pub, picking up a pint or glass of wine and sitting in front of a blank piece of pine wood, to partake in the Cocktails & Crafting sign-making workshop.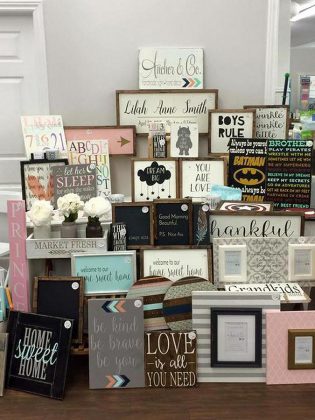 Facilitated by Alex Anchor, owner and manager of Anchor & Co., the workshops are the hottest new DIY trend in Peterborough and the Kawarthas, where you can relax, learn a hobby or, more meaningfully, build an on-trend, farmhouse-classic, inspirational piece of décor for your home, office or cottage — or even as a gift for someone special.
Playing off the trend of creative, interactive parties like what's offered at "painting and wine" classes, the Cocktails & Crafting workshop lets participants work from customizable templates and patterns that fit different styles and tastes.
Essentially, the concept is this: You sign up online for a workshop date and time that works for you, pay the $65-per-person rate online, and then show up.
Once you get to the location hosting the workshop, you grab a drink from the bar (you do have to pay for those), and sit down at a table to get to work. There are a multitude of options, ranging from family surname signs with the option for an "established" date to a world map to sayings from poems and songs.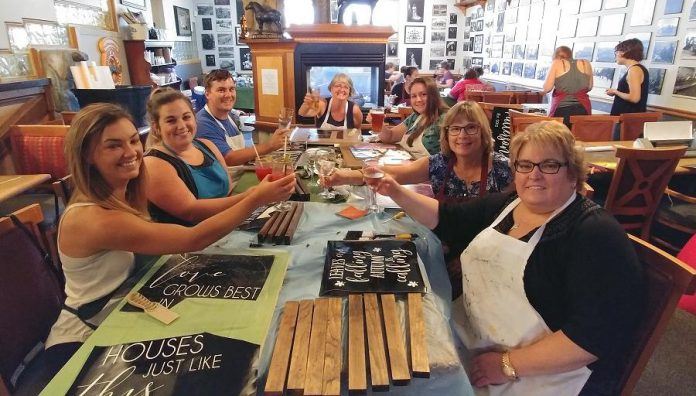 The idea behind the workshop is to foster creativity, even if you don't consider yourself artistic, says Anchor. Most of the people who attend her events have no painting experience, but it doesn't take them long to catch on, she adds.
"The great thing about these signs is that you get to choose your own design and colour scheme, so each one is unique," Anchor says. "It's your own artwork that you're creating. You don't even need a steady hand; you just slap some paint on a board and the end result is beautiful. It's easy for anybody to do, plus, it's a really fun experience."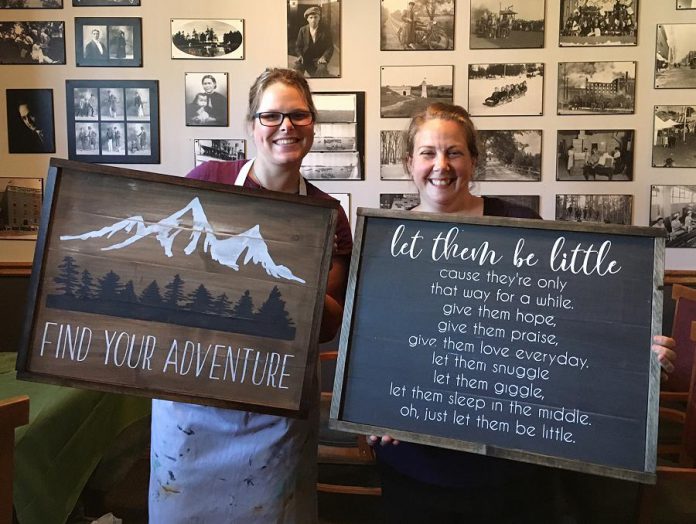 Before attending the three-hour workshop, participants submitted details to Anchor ahead of time about what they wanted on their sign, and she created a personalized stencil.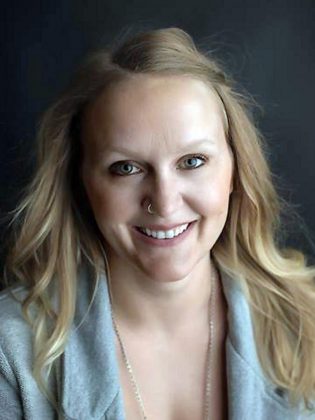 Anchor & Co. provided the needed materials such as boards, stain, power tools, paint and even directions for each chosen project, from wood-staining to applying the stencil, to how to paint an outline of each design on the wooden planks.
Then it was time to start sanding. Some of the self-proclaimed novice painters were hesitant at first, but the staff put them at ease, guiding them through the steps. The groups laughed and chatted, while sipping beverages and layering stencils and paint.
The workshop experience was a first for friends Suelynn Howden and Kate Griffin, who signed up to enjoy an afternoon together and to create a personalized masterpiece that they could proudly call their own. Howden, who looked to Pinterest for inspiration, decided on a sign brandishing her surname for her home's front entrance that needed "some dazzling."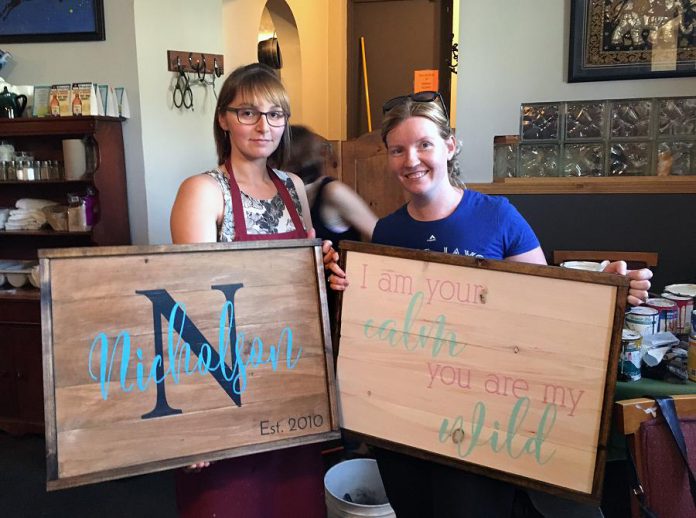 "There's something satisfying about having something in your home that you've made," says Howden. "I think that you appreciate it more knowing that you put time and effort into creating it."
On her own sign, Griffin was creating a line from the book You Are My I Love You for her children's bedroom.
By the end of the afternoon there were 19 new works of art and new friends around the table.
Anchor started hosting the sign-making events last year. The venue changes, but the concept stays the same. You get to socialize, have a few drinks and make a one-of-a-kind signs.
With artistic flair, Anchor says she started making custom signs to sell when she was on maternity leave with her youngest child and wanted a way to make extra income.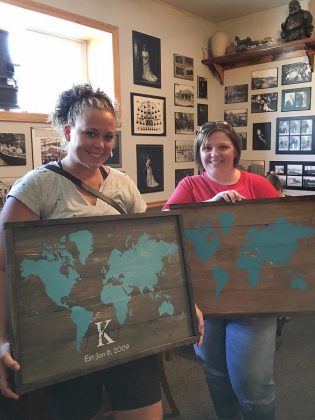 Requests for signs grew, so much so that just one year after opening her store in Millbrook in 2015 where she sold her own pieces and original works from artisans in the region, she closed shop and devoted her time to facilitating workshops full-time.
She now caters to bridal showers, bachelorette parties and team building events. Recently, her workshops have expanded to pubs, offering sign-making "with a twist".
Workshops can accommodate individuals and couples or larger groups, parties and corporate events.
She says a lot of people have said it's really therapeutic.
"Once you get past criticizing yourself, you kind of unwind and think, 'This isn't so bad.'"
Anchor & Co. will host Cocktails & Crafting at Black Horse Pub on 452 George Street North on Sunday, October 15th from noon to 3 p.m. and Wednesday, October 18th from 6:30 p.m. to 9:30 p.m.
To learn more or to sign up for this event or future events, visit the Anchor & Co. Facebook page or email anchorandcosigns@gmail.com.