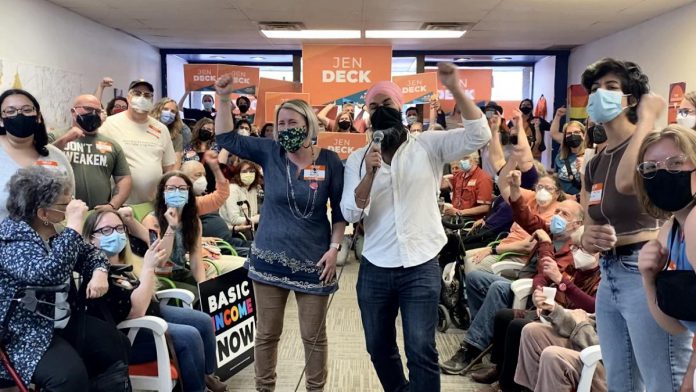 Federal NDP leader Jagmeet Singh made a brief visit to Peterborough on Tuesday afternoon (May 10) to support Jen Deck, the Ontario NDP candidate for Peterborough-Kawartha in the June 2nd provincial election.
Singh dropped into Deck's campaign office at 349 George Street North in Peterborough at around 2:35 p.m., navigating his way through a small group of protestors outside the office.
After a warm welcome from Deck's supporters, Singh addressed the crowd of supporters.
Advertisement - story continues below
"It's a great honour to be here," Singh said during his remarks, asking the crowd to give a round of applause to Deck. "Jen is an education worker, and education workers are so fundamental to building a good society."
On April 26, Ontario NDP leader Andrea Horwarth also visited Peterborough to welcome Deck as the local Peterborough-Kawartha candidate.
Those vying to become the next Peterborough-Kawartha MPP on June 2 include Deck, incumbent Dave Smith of the Conservatives, Greg Dempsey of the Liberals, Robert Gibson of the Green Party of Ontario, Tom Marazzo of the Ontario Party, Dylan Smith of the None Of The Above Party, and Rebecca Quinnell of the New Blue Party.